BWW Reviews: Slow Burn's MEMPHIS Gives Music of the Soul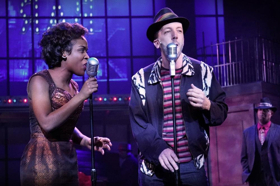 From the first raps on the drum and swinging jazz notes, from those first blues and reds across the low-lit Beale Street bar, and, certainly, from the first low drawling notes to croon out of Dante L. Murray, Memphis sits you down and tells you that this isn't Hairspray. This is grit, this is real, this is music, this is Beale. Abandoning the nuances of the 2009 Broadway production in favor of heightened realism and a grimmer city street, Patrick Fitzwater's Memphis keeps the dance swaying, the blues sinful, and the singing like a demon possessed.
Memphis is a neglected 2009 Broadway hit, detailing a fictionalized radio DJ who was the first to spin black rhythm and blues on a white radio station. Huey Calhoun feels the music inside him, and dares the truths of Beale Street, falling in love both with the music and a woman who sings it. Memphis isn't a flashy children's show about the power of love, but rather, illustrates tragedy, pain, what cruelties man inflicts on man, and won't leave you feeling happily ever after.
The music, on the other hand, will knock you to your knees. Fitzwater has always been one for the most gripping scores, and this challenge certainly took him to the music's core. What we're left with is a spectacle, one worth closing your eyes to pinpoint every piece of his harmonies, where the solos are piercing and the chords are nothing you'll find south of an Alabama Southern Baptist church. While the sound tech is still working balance on the leads against the backing ensemble, they simply transform the score from what David Bryan penned into something impossible to imagine.
Leading the charge is Slow Burn newcomer Brian Golub, Fitzwater's Huey Calhoun. Many a Huey has come, marking the score up and down octaves for their personal needs, but it's questionable as to whether any performer has been as daring and improvisational as Golub. One infamous number, 'Radio', is almost guaranteed to see a vocalist drop the final note down - Golub raises his final bars an octave before tap dancing a floor above the note. He also doesn't take much cue from Chad Kimbell's original accent and characterization, something that continues to plague regional productions, preferring to give Huey a more pitiful, rather sorrowful existence. Instead of feeling that Huey is pathetic, Broward will view a Huey all too capable and understanding of his actions, as they watch his slow downfall.
At his side for most of the show is the riotous Khadijah Rolle, a superstar with a voice ten times her size. From her first number with Dante Murray's Delray, she sets the stage for the sheer emotion and passion she's sure to bring throughout. Her 'Colored Woman' is a product of Rolle's talent, her rage, her personal pains, and will go down as one of the most memorable solos in this year's theatre season. To put it simply, Rolle could give Jennifer Holliday a run for her money in terms of her frustrated and soulful voice decrying the world in belting fury.
Fitzwater's Memphis is a rare showcase of talents, from top to bottom, roles small and large. Audiences would do right to keep an eye on Darius J Manuel as Gator - a performer well known for his vocal ability now in the productions' most trying and emotionally strained roles. His opportunity to shine, a shock within the show's narrative, is shattering. Manuel is a force of nature as the act closes, one that needs an entire intermission in order for audiences to regain their senses.
Playing Delray, Rolle's brother in the show, is the towering colossus of a voice, the twice aforementioned Murray. For an actor of his size, intimidation is a simple step away, though Murray manages to imbue his threat and anger into a voice that layers so artistically well with his other cast. He and Brian Maurice Kinnard, as the comedic Bobby, seem to be the balancing act behind each of the leads in massive numbers. Kinnard, whom many will recognize from last year's Big River, spends his time chewing the scenery behind the main narrative, until he shuts the house down in act two's 'Big Love.' The two also work wonders behind Shelley Keelor, as Huey's conservative mother, a belt that does justice in a low-energy second act. Keelor is a dash of humor, a flash of dry wit in otherwise grim scenes, and her insane vocal flexings in 'Change Don't Come Easy' are a gift.
But, even alongside these dynamos, smaller performers burst out. Elijah Word, playing a Little Richard imitation and various other characters, dances and sings with an infectious smile that leave as much of an impression as any solo. Michael Ursua, now functioning as Fitzwater's musical director, must have sold his soul to get this cast to work so fluently with his direction, a band that rocks and rolls the night away.
A hurdle in mounting Memphis will always be technical - the requirements of such a large dance show, with countless costuming and wig difficulties, and the lighting? Fitzwater must have been planning this show for years, himself providing choreography for his most challenging dance numbers. 'Radio' and 'Scratch My Itch' are exceptional, and, despite some asymmetrical and mistimed steps in early numbers, his choreo stands up with pride. The lighting and set work wonders together, with the reds and purples Thomas Shorrock shines against Michael McClain's grimy radio signs and underground bar settings are the realism Fitzwater needs. Rick Pena's coordination of costuming and wigs are a joy, using the Broadway designs and handling the challenging changes succinctly. Jackie Lawlor, Fitzwater's stage manager for the past few shows, conquers her newest challenge completely, making this the most technically seamless and transitionary show the company has ever seen.
Memphis is a dark reminder of America's successes and, still living, failures. The complete vocal monster that is born under Fitzwater, with Golub and Rolle vying for the most gorgeous vocals the Amaturo has ever housed, alone should fill the house for every show. Adding the other performers and strengths, like Murray's vocals and Word's contagious energy, the technical accomplishments of Slow Burn's team, and the love brought to the stage leave Memphis a diamond in the spring season. Memphis stands up, sings its truth, and if you don't listen quickly, you may just miss it.
Memphis runs March 22th-April 8th at the Broward Center for the Performing Arts. Tickets may be purchased online or at the door.
Photo Credits: Rodrigo Balfanz