BWW Review: FUN HOME at Playhouse On The Square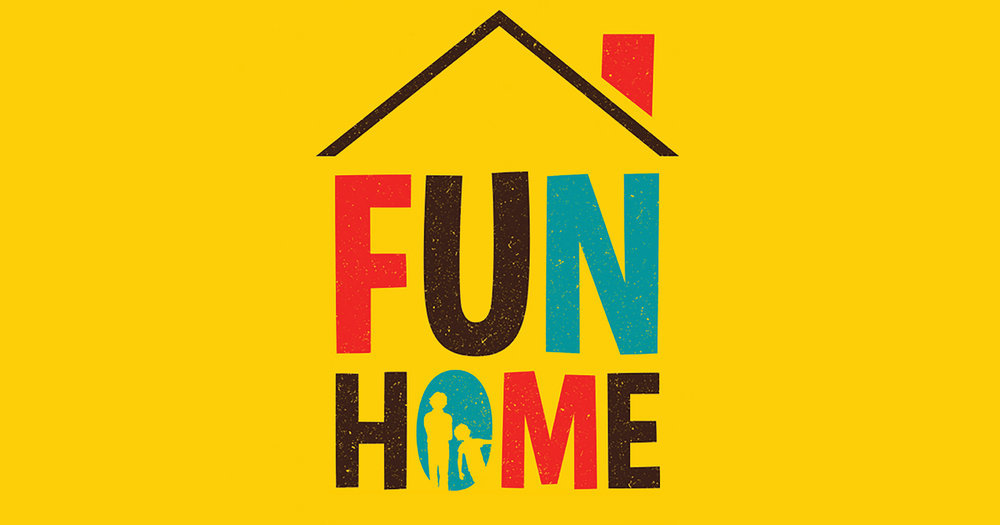 Following its opening on Broadway in April 2015, Lisa Kron and Jeanine Tesori's innovative and decidedly modern musical Fun Home enjoyed a 582-performance run and garnered five 2015 Tony Awards, including Best Musical. Based on Alison Bechdel's graphic novel depicting of her childhood and coming of age, including most prominently, her realization of her sexuality and complicated relationship with her gay father, Fun Home currently finds itself in the capable hands of Memphis's Playhouse on the Square.
It is hard to imagine a production like Fun Home making its Memphis debut at any other venue. Now approaching its 50-year anniversary, Playhouse on the Square (a fixture of Overton Square's renaissance) has carved out a reputation among avid local theatergoers as the go-to company for cutting edge theatrical works that are not necessarily showcased at Memphis's Orpheum, where national touring companies predominate, catering to large crowds and packing seats with more standard fare. Playhouse's committed group of resident thespians are by and large local Memphians, which affords audience members the opportunity to see the familiar faces of performers in multiple roles and shows throughout the course of a season. Not only does it facilitate a sense of connectedness between audience and cast, but it also imbues Playhouse's productions with a sense of intimacy and community, qualities on which the effectiveness of a show like Fun Home depends.
Those trademarks of a Playhouse production are on vivid display in its iteration of Fun Home, directed by Dave Landis. While the Broadway production at the Circle on the Square Theater was presented in the round, the Playhouse audience is instead greeted by the two-story frame of the Bechdel Funeral Home, which fills nearly the entire space within the proscenium. For the production design to afford the structure such prominence is befitting. After all, this "Fun Home" (as the Bechdel children playfully call it) becomes a primary character in and of itself. The open frame structure gives the home an air of translucence. And despite the efforts of the family patriarch to obfuscate the home's (and its residents') hidden truths by filling it with paraphernalia, as the story proceeds, the audience can see through it to an increasingly striking degree.
Adult Alison Bechdel (Joy Brooke-Fairfield) serves as the story's narrator, who recalls the story of her young life behind a sketch table. She introduces the audience to the members of her family, including her father Bruce (Stephen Huff), mother Helen (Carla McDonald), and brothers Christian and John (Austin DeVine and Charles "CJ" Santo respectively). Then, of course, there is Small Alison (Sarah Johnson). Together, the family welcomes the audience to their house on Maple Avenue, where their ability to polish, shine, rearrange and realign masks Bruce's and Helen's inner discontent. Later vignettes depict college-aged Medium Alison (Brooke Papritz) as she becomes captivated with her first girlfriend Joan, an Oberlin College campus activist (Heather Zurowski), and comes out to her parents. Rounding out the small cast is Danny Crowe, who portrays a series of male characters with whom Bruce ultimately gives in to his impulses, thereby revealing his repressed homosexuality.
As a single-member Greek chorus, Ms. Brooke-Fairfield deftly walks the fine line between inserting herself into the action and disappearing into the background of the story she is telling. She is always present, reacting with equal authenticity to recollected moments of intensity and levity, including most delightfully, some of the cringe-worthy first interactions between Medium Alison and Joan. She is given a pair of the show's strongest musical numbers, "Maps" and "Telephone Wire," on which her vocal tone pleasantly evokes that of Joni Mitchell.
Tackling perhaps the show's most challenging role in Bruce (for which Michael Cerveris won a Tony Award), Mr. Huff at times struggles to convey the character's multiple dimensions. While he ably reflects Bruce's inner pain and torment, the audience is hard-pressed to empathize with him, particularly as he becomes increasingly abusive, aloof and irresponsible. Nor does his Bruce exude the charm or charisma necessary to render his dalliances believable.
As Small Alison, Johnson packs a punch, delivering the crowd pleasing "Ring of Keys" with innocence, yet clarity of purpose. As perhaps the production's most well-known musical number, Ring of Keys is the musical moment for which audience members familiar with the Fun Home score eagerly await. It's an ample expectation to place on the diminutive 12-year old Ms. Johnson's shoulders, but she handles it with commitment and aplomb.
There are moments when the cast's technical vocal chops do not quite meet the bar set by Tesori's score. In fairness, this production was reviewed past the middle of its run, and the score is demanding, not in its big notes, but in its need to balance deft rhythms with the lyrics' role in driving the narrative. Nonetheless, there are two notable exceptions in Ms. Papritz and Ms. McDonald. Ms. Papritz is excellent. She fully embodies the painfully yet pleasingly awkward sexual awakening of Medium Allison, from her facial expressions, to her physical ticks and posture. Her rendition of "Changing My Major," another highlight in which she analogizes Joan's finer features to a college course catalog, not only hits the comedic mark, but is also sung beautifully. Then there is Ms. McDonald, who as Helen, is given the "11 o'clock" number in the heartbreaking "Days and Days" in which she answers how she could have let so much time go by in silence, knowing full well her husband's proclivities. Her rendition just about stops the show.
For those looking to leave the theater with a belly ache from laughter or a grin from ear to ear, Playhouse on the Square's Fun Home is probably not the production of choice. However, for an extremely well-executed exemplar of the current state of modern American musical theater and cause for introspection, Memphis theater-goers will be hard-pressed to find a more cathartic local offering.
Fun Home runs through May 27, 2018 at Playhouse on the Square, 66 South Cooper Street, Memphis, Tennessee 38104.
Related Articles View More Memphis

Stories

Shows