The '70s And '80s Live Again With The Classic Rock Orchestra At Husson University's Gracie Theatre
The evening will feature rock anthems from such notable artists as Fleetwood Mac, Journey, The Beatles, Heart, Pat Benatar, and many more.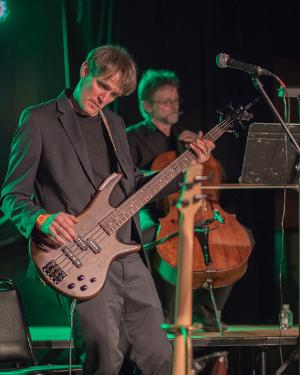 Pull out your bell bottoms and spray your hair so it stands up high! The Classic Rock Orchestra will be performing on Saturday, January 21, 2023 at 7:30 p.m. at Husson University's Gracie Theatre. This eleven-piece orchestra will be performing legendary and nostalgic anthems from the '70s and '80s including a variety of rock anthems from such notable artists as Fleetwood Mac, Journey, The Beatles, Heart, Pat Benatar, and many more.
"This concert is the perfect combination of nostalgia and rock 'n' roll classics," said Jeri Misler, managing artistic director of the Gracie Theatre. "The band is tastefully balanced with extraordinary singers, a big band sound, and some of the finest orchestrations found anywhere."
Famous composer Robert Moody said, "The Classic Rock Orchestra is, quite simply, one of the finest pop bands available today. The music of groups like Kansas, Journey, and Boston is now coming into its own as a hallmark of nostalgia for multiple generations of pop enthusiasts. Attending the concert is a great way to sing all your favorite songs at the top of your lungs."
The show is conceived by the creative team of orchestrator Chris Eastburn and singer/multi-instrumentalist Joe Boucher who brought "Piano Men - The Music of Elton and Billy" to the stage. "Piano Men" has been playing to sold out audiences with symphony orchestras across the United States since 2011.
Band members include vocalists Susie Pepper and Johnny Martinez as well as Joe Boucher on the piano and guitar. Boucher also provides vocals. Chris Eastburn handles the orchestrations and the bass guitar, with Gary Backstrom on guitar and Steve Hodgkin on drums. The band receives additional orchestration from musicians with the Boston Symphony Orchestra.
Ticket prices range from $32.00-$42.00, depending on seat selection. They can be purchased online at gracietheatre.com or by calling the box office at 207-941-7888. Groups of eight or more are entitled to a 10% discount.
For patrons who would like to put together a customized package of multiple shows, The Gracie's "You Pick 4" season tickets include premium seats for at least four shows of the purchaser's choice at a special discounted price. The premium seats located in the orchestra section are available for a limited time. Patrons can purchase tickets for the "You Pick 4" plan now through February 23.
Single tickets range from $20.00 - $47.50 over the course of the season, depending on the show and the seat. Ticket prices vary depending on the performer. Multiple show purchases using the "You Pick 4" discount will reduce the overall cost by 20%.
The Gracie Theatre, in a collaboration between artists, students, and university constituents, is an intimate and inviting performing arts facility that provides hands-on experiential learning and technical support services for the Husson University community through a combination of diverse cultural programming and community engagement. Learn more about the Gracie Theatre and upcoming shows at GracieTheatre.com.
For more than 120 years, Husson University has shown its adaptability and strength in delivering educational programs that prepare future leaders to handle the challenges of tomorrow through innovative undergraduate and graduate degrees. With a commitment to delivering affordable classroom, online and experiential learning opportunities, Husson University has come to represent a superior value in higher education. The hallmarks of a Husson education include advanced knowledge delivered through quality educational programs in business; health and education; pharmacy studies; science and humanities; as well as communication. According to an analysis of tuition and fees by U.S. News & World Report, Husson University is one of the most affordable private colleges in New England. For more information about educational opportunities that can lead to personal and professional success, visit Husson.edu.