Maine State Ballet Presents HANSEL & GRETEL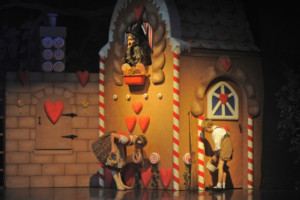 Maine State Ballet presents a treat for the young and the young at heart this summer with an upcoming production of Hansel and Gretel, an original ballet created by Artistic Director Linda MacArthur Miele, August 9 through August 18, at their 175 seat Lopez Theater.
Based on the classic German fairy tale by The Brothers Grimm, with a score gleaned from the opera of the same name by 19th century composer Engelbert Humperdinck, Hansel and Gretel tells the story of a poor woodcutter's children who become lost in the woods. As night falls, guardian angels watch over them and keep them safe. In the morning, they stumble upon a house made of gingerbread, candy, and other delicious treats. There they meet a kindly witch, who is not at all what she seems.
Hansel and Gretel is one of the few narrated ballets in the Maine State Ballet repertoire, which makes it easy for younger children to follow. Up and coming young dancers Aidan Volk, of Cumberland, and Elizabeth Chadbourne, of Falmouth, play Hansel and Gretel, with Fred Bernier as the witch. Company dancers, along with many younger dancers, are featured in various corps de ballet and solo roles.
With original choreography by Miele, imaginative scenery and extraordinary costumes designed by Associate Director Gail Csoboth, and dark and mysterious lighting designed by Fred Bernier, Hansel and Gretel is sure to delight newcomers as well as the more seasoned ballet lovers in the crowd.
Maine State Ballet's Hansel and Gretel runs August 9 through August 18, 2018, at the Maine State Ballet Lopez Theater, 348 U.S. Route One, Falmouth.
Performance times are Thursday and Friday nights at 7:00pm, and Saturdays at 2:00pm and 7:00pm.
Tickets are priced at $17-$23 for reserved seating, with a $2 discount for seniors (62 & over) and children (12 & under). Order tickets online at www.mainestateballet.org or call the Maine State Ballet Box Office at 207-781-3587 for more information.
Maine State Ballet, based in Falmouth, Maine, is one of New England's leading performing arts institutions and twice named Maine's Best Dance Group by Downeast Magazine. Its two components are the School for the Performing Arts, offering instruction in ballet, tap, jazz and other dance styles to more than 500 children and adults; and the Maine State Ballet Company, comprised of more than 25 professional dancers. Maine State Ballet is a nonprofit organization.