BWW Reviews: Ogunquit Playhouse Mounts Regional Premiere of BILLY ELLIOT
Assembling a stellar cast and creative team, the Ogunquit Playhouse has mounted a powerful production of the Elton John-Lee Hall 2005 musical, Billy Elliot. Based on the 2000 film, both directed by Stephen Daldry with original choreography by Peter Darling, Billy Elliot movingly tells the story of a Yorkshire working class boy who discovers his unlikely passion and talent for ballet and who must win his coal miner father's acceptance for his chosen vocation.
Set against the background of the bitter 1984 mining strike which pitted the workers' life and death struggle against Margaret Thatcher's push to close the mines, Billy's discovery of his artistic gift becomes his ticket not only to self-fulfillment, but also to escape from his family's bleak existence.
Sir Elton John's dark and propulsive score - part rock, part "legit" - quotes folk and classical idioms as well, while Lee Hall's book and lyrics bring to life the colorful characters who populate this small British town. Music Director Ana Flavia Zuim conducts the seven-person offstage orchestra with confidence and aplomb.
The Ogunquit Playhouse has put together a production marked by brilliant choreography, a strong adult and children's ensemble of singer-actor-dancers, and compelling direction by BT McNicholl, who had directed on Broadway. McNicholl sets a taut pace and moves his performers briskly through the accelerating dramatic tension of the plot. He handles the large ensembles effectively, allowing the actors time to create individualized characters in the crowd, and he displays a particularly deft hand in working with the fifteen-person children's ensemble.
Adam Pelty recreates and adapts the original choreography with imagination and flair. He demonstrates wit in staging Mrs. Wilkinson's ballet classes, creates electric tension in the miners' angry numbers, and allows Billy's balletic talent to develop visibly throughout the course of the play, making his Act II pas de deux, complete with aerial acrobatics, absolutely breathtaking.
To the title role, young Noah Parets brings a dazzling dance technique, vocal heft, and a winsome acting presence. A veteran of the national tour, Parets seems, like Billy, born to dance and to inhabit the stage with his mesmerizing talent.
Armand Schultz makes Billy's father an empathetic character - all repressed frustration and anger in Act I and gradual, grudging comprehension and acceptance in Act II. His touching solo, Deep in the Ground in which he remembers his late wife by singing her favorite song through an alcoholic haze, is a defining moment. Anastasia Barzee projects just the right blend of brashness and tenderness as Mrs. Wilkinson. Anthony Festa as Billy's older brother Tony, plays the quintessential angry young man with a feline magnetism. Dale Soules makes a sympathetically daft, yet wise, Grandma; Elysia Jordan is a gentle, radiant apparition of Billy's deceased mother, and Joel Blum is a blustering, generous George.
The rest of the ensemble shines with several special cameos created by Stephen Hanna as the Older Billy/Scottish dancer, Greg McCormick Allen as the tipsy accompanist, Mr. Braithwaite, David Benoit as a kindhearted Big Davey. Among the children's ensemble little Henry Barzee Asnes is adorably innocent, and Alec Shiman is a standout as Michael, Billy's cross-dressing friend - at once cocky, vulnerable, brave, and ultimately unable to escape as Billy does.
Campbell Baird's set makes expressive use of Ogunquit's wide stage. Baird creates the iconography of the gritty Yorkshire town with ever-present, looming silhouettes of smokestacks, grimy, dun-colored brick row houses, and massive laundry lines. On occasion, however, one has the sense of too much scenery, especially in the large, lumbering interior rolling units, and though the crew manages the scene shifts gracefully, one wonders what effect a more open stage with a few stylized elements might have achieved.
Jack Mehler's lighting design contributes effectively to the oppressiveness of the setting, creating some striking effects with the miners' helmets and the factory lights which burn with ominous intensity. Dustin Cross' costumes capture the working class 80s ambiance, while Eric Martin's sound design nimbly balances the offstage orchestra with the onstage actors.
Billy Elliot is an inspiring personal and political tale that reaches out to audiences with its messages about parenting, discovering one's potential, and embracing the arts as an avenue of self-expression and spiritual fulfillment. The Ogunquit Playhouse's first-ever re-imagining eloquently addresses these themes, letting the excellence of its production serve as testimony to the liberating power of theatre, music, and dance.
Billy Elliot runs until July 25, 2014 at the Ogunquit Playhouse, 10 Main Street Route 1, Ogunquit, ME 207-646-5511 www.OgunquitPlayhouse.org.
Photos Courtesy of the Ogunquit Playhouse
Born and raised in the metropolitan New York area, Carla Maria Verdino-Süllwold took her degrees at Sarah Lawrence College and Fairleigh Dickinson University. She began her career as a teacher... (read more about this author)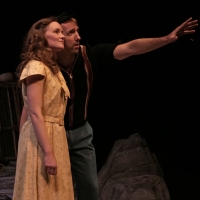 Good Theater Celebrates 20th Anniversary with Ambitious and Affecting CAROUSEL

November 17, 2022

The current production of Rodgers & Hammerstein's CAROUSEL at the Good Theater represents the realization of a lifelong dream for Executive/Artistic Director Brian P. Allen, and the show that he has conceived and directed is both ambitious and genuinely affecting. Marshalling all the resources that this small company can command, Allen has created a chamber version of this 1945 masterpiece that preserves the heart of the tale and pays homage to what is arguably Rodgers & Hammerstein finest score.
---
Review: THE VICTORIAN LADIES DETECTIVE COLLECTIVE Confronts Convention, Gender Bias - and a Serial Killer

November 7, 2022

The Public Theatre's production of Patricia Milton's THE VICTORIAN LADIES DETECTIVE COLLECTIVE is a witty, sophisticated, clever examination of late Victorian mores, skillfully embedded with subtle feminist rhetoric, and all encased in the classic mystery thriller format. Add to this recipe a handful of zany, colorful characters and some facile repartee, and the end result is a delightfully period piece with a compelling contemporary twist.
---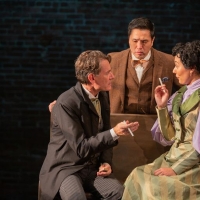 Review: The Ever-Elusive SHERLOCK HOLMES at Portland Stage

October 31, 2022

For its second offering of the season Portland Stage regales its audience with Steven Dietz's adaptation of William Gillette and Sir Arthur Conan Doyle's original play, Sherlock Holmes: The Final Adventure. The play, a re-imagined period piece, offers a low-key, witty take on the familiar characters and material with enough twists and turns to satisfy Conan Doyle fans.
---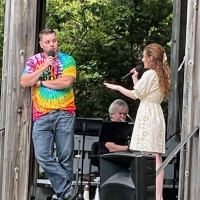 MSMT Draws Large Crowd for Concert on the Mall

August 25, 2022

What better way to cap what has been billed as MSMT's Revival Season than with a free, festive outdoor event that, despite intermittent showers, drew a large, enthusiastic crowd? That is exactly what MSMT did on August 24 when it presented its annual MSMT Concert on the Mall as part of the Brunswick Downtown Association's summer series. In a program designed to thank the community for its loyal support of the theatre, especially during the pandemic, the seventy-five-minute concert featured performers from the company's current main stage show, KINKY BOOTS, as well as other local artists in a rousing and engaging program of musical theatre selections.
---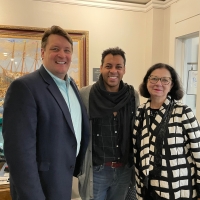 Resilience, Acceptance, and Change: The Healing Lessons in KINKY BOOTS

August 20, 2022

"Lola gains her strength from her resilience," says Stephane Duret, who plays the drag queen star of MSMT's KINKY BOOTS. "Sometimes she feels like an island, alone in this world she has created. But she survives. She's got her Angels for support, her chosen family, and even when she gets a little slap in the face from Charlie, she comes back to their partnership. That's her resilience." "And Lola challenges others to be accepting and to change their perspective," continues MSMT Artistic Director Curt Dale Clark. "I consider it important for MSMT to present something that can cause change in a community, and this show with Stephane's and the entire cast's unbelievable performances is doing just that!" His remarks draw applause from the capacity audience at MSMT's final Peek Behind the Curtain panel discussion, moderated by Carla Maria Verdino-Süllwold, BWW's Maine editor, on August 17 at Curtis Memorial Library in Brunswick.
---