Review: RAGTIME Explodes in Rhythm and Rhyme
In a bold, beautiful, and powerful production of Ragtime, the Ogunquit Playhouse gives its audience a compelling reminder that, as E. I. Doctorow once said, "history is the present." The 1996 musical with book by Terrence McNally, music by Stephen Flaherty, and lyrics by Lyn Ahrens resonates perhaps even more strongly today than it did then with its raw grappling with the issues of race, prejudice, hope and violence and the struggle to define and achieve the American dream. Set in the volatile melting pot of pre- World War I America with its booming industrialization, the influx of vast waves of immigrants, and the social norms challenged by tenuous race relations, Ragtime weaves together the stories of three very different families as each seeks to find his place in the American tapestry.
Terrence McNally's book, based on the novel by E.I. Doctorow, is brilliant, cohesive piece of theatrical writing that blends storytelling and drama, stylized ensemble pieces and intense interpersonal scenes. The Tony-winning author manages to preserve the epic sweep of the novel at the same time that he finds the intimacy of the characters and even the moments of humor and irony in the tale. Stephen Flaherty's music and Lyn Ahrens' lyrics create a syncopated, virtually sung-through score that pulses with the excitement, the explosiveness, and the brewing tensions of the time at the same time that it explores tender moments of heartfelt interiority. The ensemble and solo pieces are woven seamlessly into the narrative flow, and each major character has his opportunity to shine.
Director Seth Sklar-Heyn creates a perfectly modulated, beautifully paced account of the play. He seems to draw on the innate rhythms of the work - the syncopated - jagged, often jarring, but also propulsive and energized beat of ragtime - to set the tone, and he punctuates this underscoring with moments of fiery passion and tender emotion. The fluid staging and the choreography by Jesse Robb (fight sequences by Joe Bostick) propel the drama toward its devastating conclusion, and the ensemble, used like a Greek chorus, as well as the historical characters like Emma Goldman, Houdini, and Evelyn Nesbit provide an historical context for the individual human dramas. Music Director Jeffrey Campos draws eloquent vocal performances from the cast and a soaring account of the instrumental music from the eight-person off-stage orchestra.
Tim Mackabee's set design, comprised of a grille work of metallic arches that configure easily into gates or interior walls while still preserving an open feeling, adds measurably to the flow and the sense of universality of the work. Richard Latta's lighting design creates a kaleidoscope of moods and includes some powerful dramatic effects, especially in the second act. Molly Walz coordinates the elegant period costumes (with wigs/makeup by April Spain), which are based on the original Santo Loquisto designs. Kevin Heard creates a richly nuanced sound design that throbs with intensity, though there continues to be the occasional sense of disconnect between singer and sound when actors are stage center.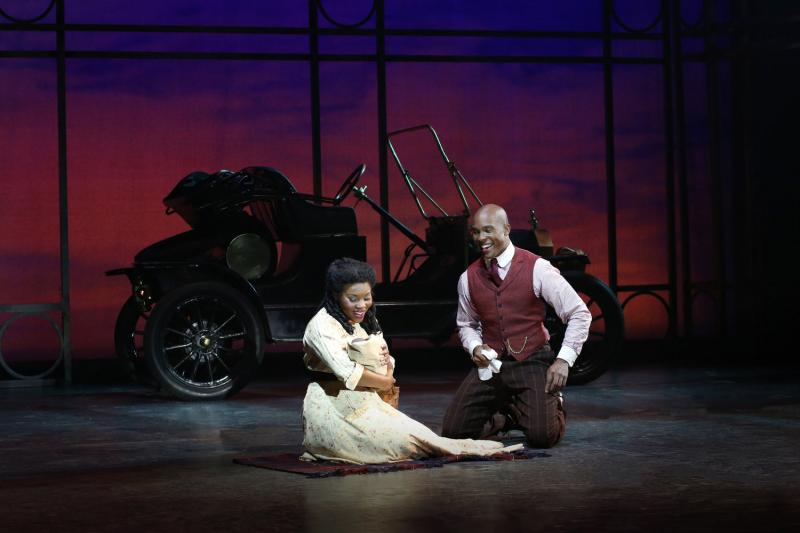 The Ogunquit Playhouse has assembled a first rate cast, grounded by the six principals. Darnell Abraham is a riveting Coalhouse Walker, who makes the character's transition from dignified gentleman to embittered terrorist both believable and empathetic. He delivers his big vocal numbers in a creamy baritone capable of stabbing intensity. As his beloved Sarah, Lindsay Roberts uses her meltingly beautiful and darkly timbred soprano to sculpt memorable moments such as he lullaby "Your Daddy's Son" and the duet "Wheels of a Dream."
Kirsten Scott gives a radiant performance as Mother; she is completely believable in her dignified, compassion, and quiet struggle for identity, and she, too, makes a strong impact in her solos, "What Kind of Woman" and "Back to before." As her conventional husband, Jamie LaVerdiere manages to flesh out the character of Father so that his stifling upper class propriety, prejudice, and male chauvinism is ultimately redeemed by his act of courage and decency at the end. Julian Decker is convincing as Mother's brother, whose tormented quest for justice turns him from upper class gentleman to radical revolutionary.
Josh Young is a charismatic Tateh, who inhabits the role of the Jewish immigrant turned entrepreneur with vocal and dramatic passion. His solos are among the most compelling in the production with "Gliding" and the duet "Our Children" highlights. Freddie Kimmel as Houdini and Carly Hueston Amburn as Evelyn Nesbit offer a bit of surreal and witty historical commentary as they flit through the script with their aerial feats, while KLea Blackhurst is an intense Emma Goldman and Rod Singleton a commanding Booker T. Washington, whose final confrontation with Coalhouse Walker gives the play its moral voice.
Tyler Wlads was winsome as the Little Boy and Ella Luke-Tedeschi waifish as the Little Girl. Sam Hartley (Stanford White), Joel Robertson (Admiral Peary), Eric R. Williams (Matthew Henson) Mary Malaney (Kathleen), Kate Turner (Brigit), cameos all turn in well etched cameos, while Darius Crenshaw and Anna Noble execute a lovely memory ballet. The remainder of the cameos and ensemble roles are nicely portrayed and woven into the fabric of the piece.
Ragtime is an American masterpiece, The issues it addresses are as timeless as the American experiment and as universal as the crazy patch quilt of humanity itself, and the Ogunquit Playhouse has honored that in a production that is beautifully connived and crafted. Moreover, they have chosen to present a work that is as bold as it is beautiful, as challenging as it is inspiring at a time when the theatre, more than ever before, must inspire and uplift. Now, when the voiceless once again need to be heard, when civility and enlightened ideals are seemingly in short supply, and when racism, intolerance, and hatred foment beneath the surface of our society, Ragtime holds a not-to-be-ignored lesson for us all.
Photos courtesy Ogunquit Playhouse, Gary Ng, photographer
Ragtime runs at the Ognquit Playhouse, 10 Main Street, Ogunquit, ME from August 2 - August 26, 2017 207-646-5511 www.ogunquitplayhouse.org