Review: GRUMPY OLD MEN at OGUNQUIT PLAYHOUSE
Based on a film starring Jack Lemmon, Walther Matthau and Ann-Margret that hit movie theaters 25 years ago, Grumpy Old Men the Musical is currently playing at the Ogunquit Playhouse in what is touted as the US premiere of the production.
I always get nervous with premiere productions. It usually means that a script is still being tweaked and perfected in hopes of becoming a standard bearer in the theater world archives. The premiere launches the effort, often with a few shortcomings, though there is anticipation that it will reach full potential in the future.
Grumpy Old Men the Musical hits the mark right from the start; there's no shortcomings here. With a well written fun script, laced with comic one liners, loveable characters, and a lighthearted musical score, Grumpy Old Men exceeded all my expectations.
And there is plenty to love with two TV icons in the cast, Sally Struthers and Hal Linden. Struthers, of course, was in the groundbreaking show, All in the Family, a series that changed the landscaped of television forever. Linden was the likeable Barney Miller in the series of the same name. Both stars are no stranger to the stage where their experience, timing, and mere presence can charm any audience. I would expect nothing less from this duo that garnered Emmy and Golden Globe awards along with Linden's Tony Award honors.
The action is set in Wabasha, Wisconsin (think Prairie Home Companion) where two aging neighbors, Max (Ed Dixon) and John (Mark Jacoby), have been feuding for more than fifty years over the fact that John once wooed a girlfriend away from Max. That's what particularly makes Max grumpy as he blurts out greetings to John like, "Good morning, dickhead," prompting the quick response, "Hello, moron." They share other insults: "You have a face that makes onions cry." "The lifeguard was off duty when you jumped into the gene pool." There's even a reference to Viagra falls. (Insert your own joke here.)
The rivalry reaches new levels when a free spirited young beauty, Arial Truax (Leslie Stevens) moves to the neighborhood and the bitter enemies compete for her attention.
Adding flair to the story is the local sporting goods and convenience store owner, Chuck Barrels (Doug Eskew) and his often-confused cousin, Punky (Sally Struthers). John is quick to get advice from his father, Grandpa Gustafson (Hal Linden) and his perky daughter, Melanie Norton (Laura Woyasz) who secretly has a crush for Jacob Goldman (Kevin Massey), the son of his archenemy, Max.
The family feud and love triangle are simply a calm backdrop for John's bigger problems- tax evasion -brought to light by IRS agent, Sandra Snyder (played delightfully by Brenda Braxton).
The show is wonderfully supported by an ensemble of towns folk who often sing about the joys of Wabasha including John Battagliese, Blake Hammond, Eric Jon Mahlum, Kelly Methven, James Taylor Odom, Heather Jane Rolff, Brooke Singer and Christina Tompkins. (Could they be the town's Chamber of Commerce?)
This show was penned by Dan Remmes, with music by Neil Berg and lyrics by Nick Meglin (who attended a table read of the show before he recently passed at the age of 82.) Director for the Ogunquit production is Matt Lenz.
Everything works extraordinarily well in this premiere production. The story is fun and the characters lively, engaging, and memorable. While the music has no stand out tune, the audience is treated to a great mix of styles.
The number, I Like the Way Things Are, is a thoughtful look at the two old friends who are well set in their ways while the tune, Your Own Home, is a pleasant look at how a house becomes a home by the people who live in it.
There are moving moments like Eskew's melodic, An Angel, when he describes meeting Ariel and Dixon makes the most of a reflective, Family or Friend.
Braxton shines in Snyder Comes Along, the first musical number I have ever seen about an Internal Revenue Service agent and Stevens relishes in Heat Wave.
Dixon and Jacoby are seasoned stage performers who make this show believable. It is wonderful to see these two theater veterans creating textured characters and not just stereotypical cutouts.
Struthers is brilliant as usual making the most of every comic moment. She owns the Ogunquit stage. And Linden, who is remarkably fit for 87 years of age, has the audience eating from the palm of his hand. Thanks to Ogunquit Playhouse for bringing this caliber of entertainers to Maine.
While Grumpy Old Men first debuted in a production in Canada in 2011 and never gained traction on the theater scene, I suspect that this new American version might prevail better than its predecessor. It has every element of a solid musical that could easily become a favorite of theaters everywhere from community productions to professional companies. There are great roles for eccentric characters, young lovers, and, of course, two grumpy old men.
Don't miss this premiere of Grumpy Old Men the Musical. You will be rewarded with a great evening of theater on a stage that overflows with talent.
Photos by Gary Ng
It was his time growing up in the White Mountains of New Hampshire where Dan Marois "got the bug" for theater and entertainment. He earned his bachelor's degree from Boston Univer... (read more about this author)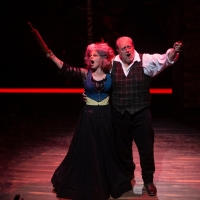 Review: SWEENEY TODD-THE DEMON BARBER OF FLEET STREET at Seacoast Repertory Theatre

September 26, 2022

What did our critic think of SWEENEY TODD-THE DEMON BARBER OF FLEET STREET at Seacoast Repertory Theatre?
---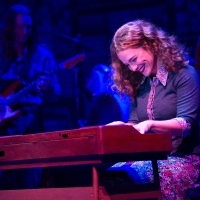 Review: BEAUTIFUL - THE CAROLE KING MUSICAL at Ogunquit Playhouse

September 21, 2022

What did our critic think of BEAUTIFUL - THE CAROLE KING MUSICAL at Ogunquit Playhouse? The show is a revealing story about pop music icon, Carole King. While many know of her success as a solo vocalist and song writer after releasing the album, 'Tapestry,' few will know about her previous career as part of a songwriting team that produced a string of hits in the 1960s. (Today, more than 400 of her compositions have been recorded by over 1,000 artists resulting in 100 single hits and six Grammy awards.)
---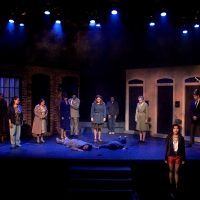 Review: BLOOD BROTHERS at Weathervane Theatre

September 6, 2022

What did our critic think of BLOOD BROTHERS at Weathervane Theatre? Blood Brothers by Willy Russell is a one-of-a-kind musical theater production that is currently playing at the Weathervane Theatre in Whitefield, New Hampshire.
---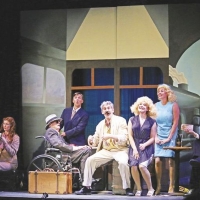 Review: LUCKY STIFF at The Barnstormers

August 28, 2022

What did our critic think of LUCKY STIFF at The Barnstormers?
---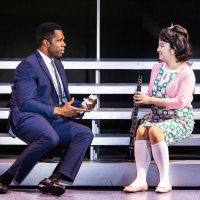 Review: MR. HOLLAND'S OPUS at Ogunquit Playhouse

August 22, 2022

Mr. Holland's Opus is a world premiere new musical currently running at the Ogunquit Playhouse based on the 1995 motion picture of the same title. It is a story set in San Francisco in 1969 about a successful musician and composer, Glenn Holland (Akron Watson) who switches careers to become a first-time music teacher at John F. Kennedy high school so that he can spend more time with his wife, Iris (Anastasia Barzee).
---