Actors Theatre Of Louisville Presents THE CURIOUS INCIDENT OF THE DOG IN THE NIGHT-TIME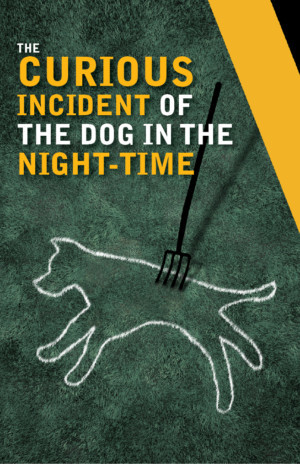 Actors Theatre of Louisville is thrilled to announce the upcoming production of The Curious Incident of the Dog in the Night-Time from September 18 - October 10, 2018, presented as part of the Brown-Forman Series. In this Tony Award-winning adaptation of the bestselling novel, autistic teenager Christopher investigates the mysterious death of his neighbor's dog after he's wrongly accused of the crime.
Tenacious and intelligent, Christopher is an autistic teenager who's better at solving equations than reading social cues, and he sometimes struggles to navigate a world that's stubbornly out of sync with how his mind works. But when his investigation uncovers painful truths about his family, he dares to strike out on his own, embarking on a thrilling adventure in this Tony Award-winning adaptation of the bestselling novel.
Actors Theatre's associate artistic director, Meredith McDonough, will direct. Audiences will remember her recent productions at Actors Theatre, including last season's Angels in America, Parts One and Two; The Santaland Diaries; and the Humana Festival of New American Plays premiere of Marginal Loss.
McDonough shares, "The Curious Incident is a classic 'whodunit' story that surprises and delights as it becomes a story of empowerment for this young man. The play is presented non-linearly as it evolves for Christopher; it beautifully reflects his experience the world with great theatricality. For the creative team, it's an exciting challenge to keep the audience guessing, waiting to see what happens next!"
Alexander Stuart makes his regional debut as Christopher Boone. Stuart recently earned his B.A. in theatre from Columbia College Chicago, where he worked with Interrobang Theatre Project, Citadel Theatre Company and RhinoFest 2018 at Abaisses Theatre.
Tina Chilip (Classic Stage Company, Fiasco Theater, Ma-Yi Theatre, National Asian American Theatre Company, Huntington Theatre Company - IRNE Best Actress nom) makes her Actors Theatre debut as Christopher's beloved teacher Siobhan.
Local audiences will be delighted to see two familiar faces from last season return to the stage: Brian Slaten (Angels in America, Parts One and Two) and Jessica Wortham (Marginal Loss) in the roles of Christopher's parents.
Sherman Fracher, Sunny Hitt, Maya Loren Jackson, Luis Moreno, Trevor Salter and Seun Soyemi create the ensemble, each playing multiple roles.
The creative team features scenic design by Kristen Robinson, lighting design by Paul Toben, costume design by Kathleen Geldard, sound design by Christian Frederickson, media design by Philip Allgeier and movement direction by Sam Pinkleton. Talleri McRae will serve as the production's Access & Inclusion Consultant. Paul "Pablo" Mills Holmes will serve as production stage manager, Jessica Kay Potter will serve as assistant stage manager and Jenni Page-White will be the dramaturg.
This production presents a unique opportunity to collaborate with members of the autism community. Actors Theatre continues its relationship with the Kentucky Autism Training Center at the University of Louisville and developed partnerships with members of Kentuckiana Autistic Spectrum Alliance (KASA) and the Kentucky chapter of the Autism Self-Advocacy Network (ASAN). Autistic advisors and autism specialists provided support and feedback to Actors Theatre staff and artists working on the production, led by Actors Theatre access & inclusion consultant Talleri McRae.
Actors Theatre is committed to investing in accessible theatre-going experiences and will present a Sensory Friendly performance on Sunday, October 7. This performance affords a relaxed atmosphere with slightly raised house lights. Audience members are encouraged to move about or exit the theatre as needed. McRae explains, "The performance itself will remain virtually unchanged, though the theatre environment may feel different. Actors Theatre will provide patrons with detailed information about what they can expect while at the theatre, as well as a list of some of the more sensory-intense moments in the show, and when to expect them."
The Theatre will offer an open captioned performance on September 29 and an audio described performance on September 30. For more information on the facilities and all services offered, visit ActorsTheatre.org.
Tickets are now on sale to the public and are priced from $25. Tickets can be purchased by calling The Actors Theatre Box Office at 502.584.1205 or online at ActorsTheatre.org. Special ticket rates for groups of 10 or more are available by calling 502.585.1210.
The Curious Incident of the Dog in the Night-Time is made possible in part by series sponsor Brown-Forman, the Kentucky Arts Council and Fund for the Arts. Additionally, Actors Theatre's educational outreach for The Curious Incident of the Dog in the Night-Time is made possible by Yum! Brands Foundation and their sponsorship of Actors Theatre's Student Matinee Series.
Related Articles View More Louisville

Stories

Shows
More Hot Stories For You