Click Here for More Articles on Hollywood Bowl
BWW Review: Salonga, Grier, Hilty, Bart & Company Lead Charming Arden-directed ANNIE at the Hollywood Bowl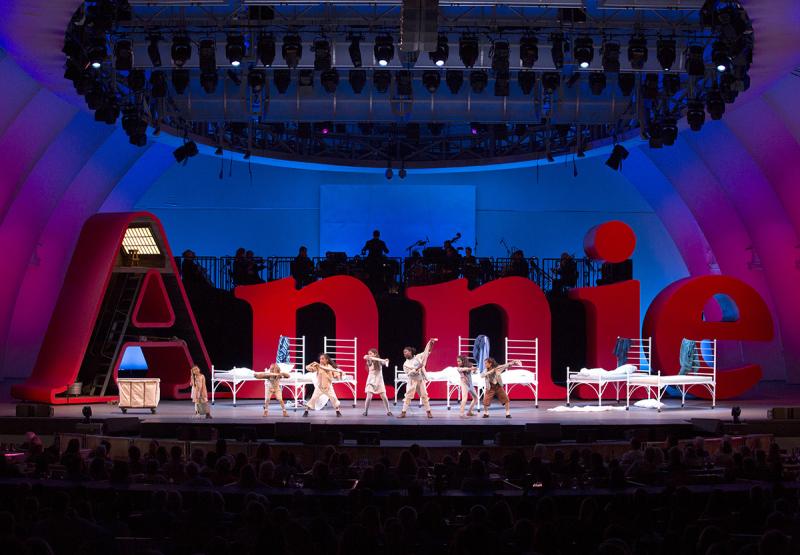 Quite possibly the most popular family-friendly stage musical of all time, ANNIE---the classic 1977 Tony Award winner for Best Musical that's based on Harold Gray's "Little Orphan Annie" comic strip from the ye olde days of newsprint---seems like a no-brainer choice to appear as the annual all-star summer musical at the world-famous Hollywood Bowl.
Filled with funny, inoffensive humor, an endearing set of child characters, a cute dog, and a songbook overflowing with memorable classic show tunes ("A Hard Knock Life," "Easy Street," "Maybe," "You're Never Fully Dressed Without A Smile," "Tomorrow"), ANNIE has the kind of demographic-defying mass appeal that's easy to enjoy whenever a production appears nearby.
So it's actually not a surprise that this plucky, unabashedly charming new production---now causing giddy bursts of laughter and collective choruses of "awwww's" at Hollywood's iconic 18,000-seat outdoor arena for two more performances this weekend---is such a perfect fit. And judging by its marvelous opening night performance this past Friday, July 27, the production itself is sure to win over anyone in attendance of its remaining shows.
I mean, what's not to love?
First, there's a darling set of impressively talented kids playing precocious orphans that somehow find joy and mischief in their daily lives despite being essentially enslaved at the orphanage by a cruel, shrill drunk who can't stand them. There's also a dreamy list of top-notch, theater-trained adult actors honed in musical comedy and divalicious vocals that automatically elevate everything around them. And then there's the pleasing splendor of hearing Charles Strouse's classic score, under the direction of Todd Ellison.
From almost every angle, this ANNIE has a lot of positives in its favor.
Though nothing particularly groundbreaking has been unearthed in this Hollywood Bowl iteration of this beloved classic (nor does it need to), its end-goal of being a wholly entertaining, supremely enjoyable musical has certainly been achieved ten-fold.
As always, the story begins in December 1933, where we meet a precocious group of girls of varying ages living at an orphanage. Their self-appointed "leader" is charismatic 11-year-old Annie (the wonderful Kaylin Hedges). Kind, sweet and super optimistic, Annie still holds on to the hope of being reunited with her long-lost parents, who've left behind a note and locket for her when she was dropped off at the orphanage many, many years before.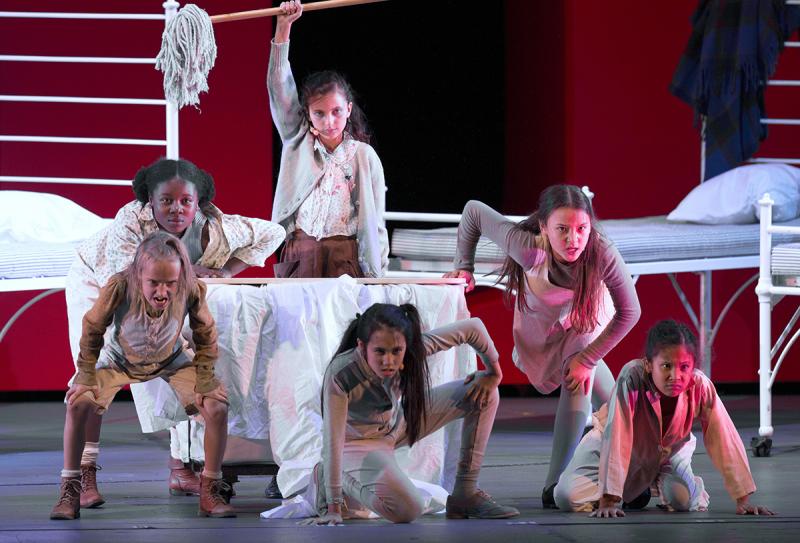 Unfortunately for the orphans, their home (and their lives) are under the control of perpetually hungover Miss Hannigan (the super funny Ana Gasteyer). Thinking it would be better to find her parents outside the walls of the orphanage rather than wait for their return, Annie devises a successful escape that allows for a meet-cute with a stray dog she names Sandy and, later, comes face-to-face with the poor citizens of NYC hit hard by the policies of former President Herbert Hoover.
Alas, Annie's escape is a short-lived one. Luckily, a policeman returns her to the orphanage at the most opportune time: Grace Farrell (the exquisite Lea Salonga)---personal assistant to Billionaire Oliver "Daddy" Warbucks (David Alan Grier)---has arrived at the orphanage seeking to host-foster one of the girls at the orphanage for a two-week stay at the Warbucks estate during the Christmas holiday!
Annie, of course, manipulates her way into being the one and only candidate.
Thus begins Annie's new start---or is it? Though Mr. Warbucks declares sometime later that he wishes to formally adopt Annie, her desire to find her real birth parents puts a pause in his plans. Warbucks soon makes it his top priority to locate them for her, even offering to pay out a huge $50,000 reward for any significant info that leads to their location.
Meanwhile, back at the orphanage, Miss Hannigan gets a surprise visit from her grifter brother Rooster (Roger Bart) and his gal pal Lily St. James (the hilarious Megan Hilty). The three of them soon hatch a plan to steal the Warbucks reward money for themselves by having Rooster and Lily pose as Annie's long-lost parents. Will they be convincing enough?
Under the deftly creative direction of Michael Arden---who earned much-deserved Tony nominations for directing the recent Broadway revivals of SPRING AWAKENING and ONCE ON THIS ISLAND---this ANNIE seems to pace itself methodically to give all its moving parts the breathing room to present their respective moments in the musical in the best manner possible, even if it means slowing transitions to a crawl. Perhaps it's just the nature of mounting a production on the enormous stage of the Bowl that forces shows to be scaled this way, but, for me, it's almost a subtle way to give the massive audience the chance to savor each scene and to enjoy it more as it is happening rather than have it be rushed past them on a grand scale.
With that in mind, the cutesy individual parts from the oh-so-adorable kids ensemble all get their appropriate spotlights, the graphically innovative "set" is unveiled piece-by-piece like a series of slowly unwrapped presents, and the show's hilarious, comedic moments are mined for every bit of their stage time for maximum reactions.
And speaking of that clever set... wow, it was certainly the biggest and most delightfully unexpected surprise of the night. Designed by Dane Laffrey, what we initially assume may be just be oversized letters that replicate the musical's title logo, slowly morph---one letter at a time---into specific architectural features of a given locale. Given the scale of the letters (and the Hollywood Bowl stage itself), the whole thing makes all the actors look like moving figures within a living, breathing comic strip.
Also worth noting is how Arden's stylistic choices in his direction style are well-matched with Eamon Foley's dynamic choreography.
But, more than anything, what truly made this a fun evening was the performances given by its gathered ensemble.
Right smack in the center is winsome newcomer Hedges, who plays the title role of Annie, the smart and unapologetically optimistic orphan who, out of sheer industriousness and luck, wins a two-week holiday stay at the palatial home of one of the world's richest bachelors. Hedges is terrific, arming her performance with such infectious glee, palpable confidence, and impressive vocal chops. The 10-year-old often finds herself going toe-to-toe with plenty of stage vets, yet holds her own and manages to be a lovable presence with every appearance.
Her version of "Tomorrow?" Just lovely.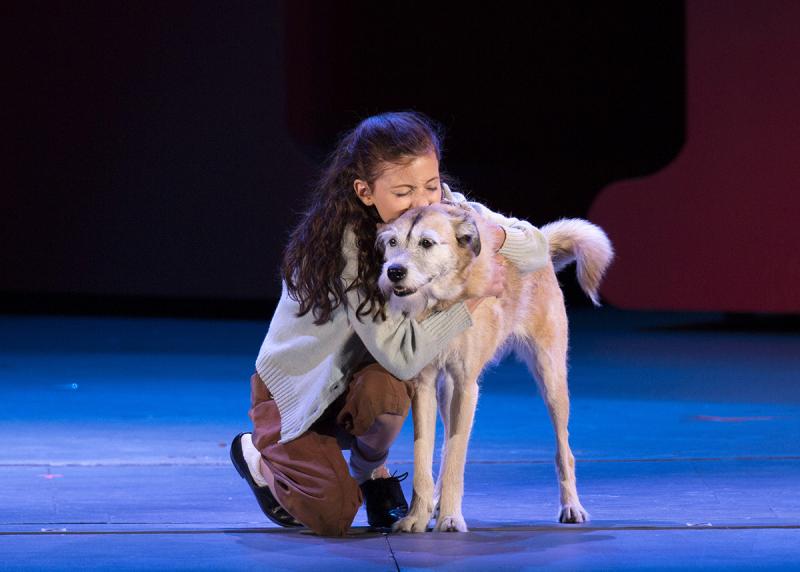 A significant surprise this year for the Hollywood Bowl's summer musical is a noticeable lack of stunt casting for one or two of the main roles in the production, which historically have been given to actors that don't necessarily have musical theater work on their résumés, but are big and famous enough of a marquee name to merit curious interest.
Given all the additional variables of the production---including a set of young actors who, thankfully, all prove to be excellent---I believe it was a smart choice for this production of ANNIE to go with proven musical theater actors (and top-notch ones at that) for the lead adult roles... ones that can slink into their respective costumes with little worry over whether they'd do well.
In that sense, seeing the names of Lea Salonga, Roger Bart, Ana Gasteyer, David Alan Grier, Megan Hilty, and Steven Weber attached to the project certainly adds some stage street-cred to the production. Of course, to no one's surprise, every single one of them are all wonderful and should all be more than enough of a reason to see this production.
As Oliver "Daddy" Warbucks---the billionaire who ends up adoring the PR-stunt turned foster daughter Annie---Tony nominee Grier makes for a truly teddy-bear-ish billionaire, who can be business-gruff one moment yet gently affectionate the next.
Playing Grace Farrell, Mr. Warbucks' ever-attentive personal secretary, Tony winner Salonga is just classy and regal in the role, and, of course, has a gorgeous singing voice that is still the envy of many. I had a great time trying to guess the geographic origins of her character's accent which I found to be fresh and so playfully fun for the character. Having just recently exited the Broadway production of ONCE ON THIS ISLAND, it's nice that she and Arden could work again on such an exciting project together.
Elsewhere, "Easy Street" comedy trio Gasteyer, Bart, and Hilty are all spectacular in their respective roles. Gasteyer's deliciously evil Miss Hannigan is a real hoot, and I could argue that her portrayal here could be just as definitive as Carol Burnett's version from the film adaptation. Tony nominee Bart does great goofy work as Miss Hannigan's grifter brother Rooster, who is clearly having a ball hamming it up with every appearance. The divine Ms. Hilty is just stunning both acting and vocal-wise as Rooster's grifter partner/paramour Lily St. Regis. The role feels so right for her, particularly when she and Bart enter in Act 2 disguised as Annie's supposedly long-lost parents. Ohmigosh, she was sooo good and is clearly having a lot of fun over-enunciating her "Canadian" Hick accent to deliciously wicked effect.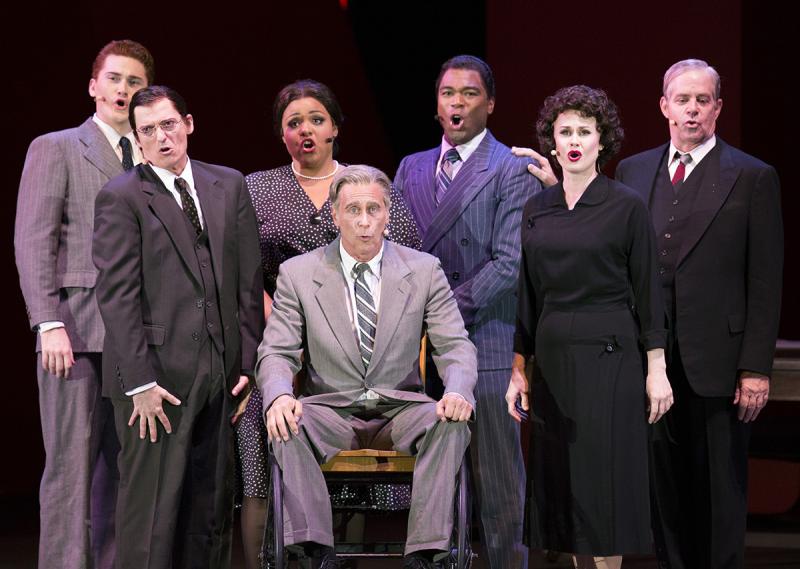 Other standouts include the very amusing Weber as the very amusing President Roosevelt, a close friend of Mr. Warbucks; Amir Talai as radio personality and toothpaste ad-man Bert Healy; and SPRING AWAKENING alum Ali Stroker as "Star to Be" during the dreamy "NYC."
And have I mentioned how awesome all the kids are in the cast? Kudos to Arden and his casting team for finding all these wonderful pint-sized talents for the production. A special "shout out" to Annie's orphanage pals Marlow Barkley (Kate), Amadi Chapata (Pepper), Noe Lynds (July), Rae Martinez (Tessie), Olivia Madison Zenetzis (Duffy), and adorable scene-stealer and audience favorite Malea Emma Tjandrawidjaja (Molly).
A proven crowd-pleaser for decades, and now thoughtfully upscaled with great enthusiasm for the Hollywood Bowl, ANNIE, to put it mildly, is just the kind of escapist musical we may all need right now. Chockfull of admirable optimism, infectious joy, and the timeless message of hope, love, and kindness, ANNIE is definitely a throwback worth savoring now in such harsher, more volatile times that we live in.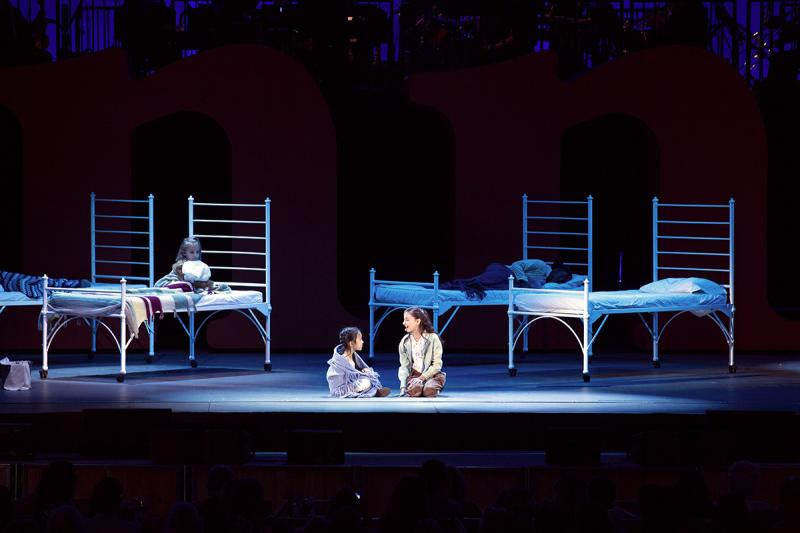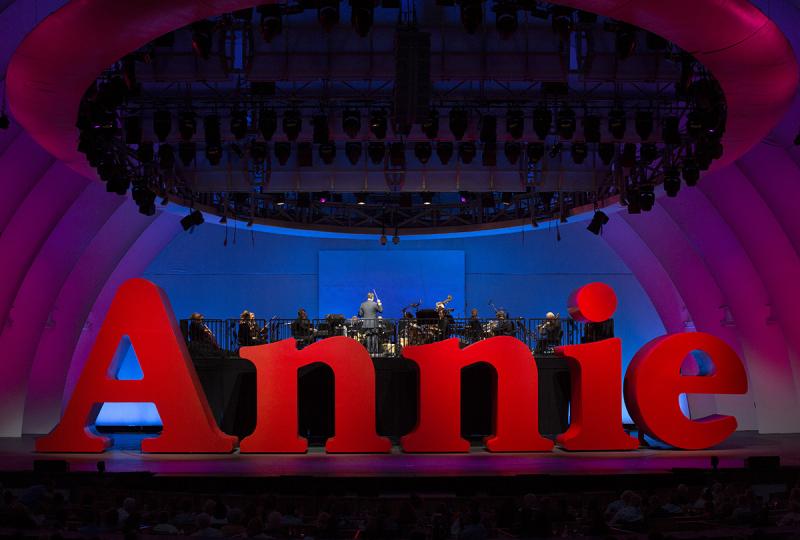 Follow this reviewer on Twitter: @cre8iveMLQ
Photographs taken by Craig Mathew at the Hollywood Bowl, provided courtesy of the Los Angeles Philharmonic Association.
-----
Performances of ANNIE, featuring book by Thomas Meehan, music by Charles Strouse, lyrics by Martin Charnin, choreography by Eamon Foley, musical direction by Todd Ellison, and direction by Michael Arden continue at the Hollywood Bowl for two additional performances on Saturday, July 28 (at 8:00 pm) and Sunday, July 29 (at 7:30 pm). Any remaining tickets may be purchased online at HollywoodBowl.com, by phone at 323-850-2000, in person at the Hollywood Bowl box office, or by calling Ticketmaster at 800.745.3000, and at all Ticketmaster outlets.