Review: CalRep Shines Light on a Woman's Struggle For Freedom in Powerful Production of MACHINAL at CSULB
In the second production of Cal Rep's 29th season, the cast and crew of Cal State Long Beach's MACHINAL did not shy away from bringing to light the deserved and necessary attention needed on the story of a woman's struggle to freedom, making their Opening Night a call to consideration and action for social change.
Written by Sophie Treadwell in 1928, MACHINAL follows the story of a woman named Helen Jones, who longs for societal and personal freedom but finds herself restricted within the confines of 1920's society as she tries to achieve it. Julianne Just, director of CSULB's production of MACHINAL, states that "While much has changed in our world since the play first opened on Broadway, in our current political and social climate, MACHINAL still rings startlingly true. The voice of society at large is stronger than ever."
As the play begins to unfold on stage, we begin to realize that for Helen Jones, society's voice indeed proves strong. She finds that no matter which way she turns or which path she chooses, she is ultimately caught in the confines of society's views of the place of a woman. Set in the 1920's, Helen seeks freedom from her suffocating day job and chooses to marry the rich George H. Jones, despite her personal beliefs, for financial security, with the hopes of a chance at rest. Once she is married, however, she discovers that she has just moved further away from the freedom she seeks. With a moving and powerful performance by April Sigman-Marx as Helen Jones, the play journeys from a story of a young woman's desire for freedom to her tragedy painted by society's expectations.
MACHINAL's ensemble proved exceptional, from the play's opening scene to its very last second. With cast members Riel Paley, Bryce Maniex, Brendan Backman, Alejandra Machado, Saby Ramirez, Joshua Kemmling, and Jose Vargas playing parts as people that crossed paths with Helen's, the ensemble brilliantly created a world that seemed to impeded and intrude on Helen's life, making it obvious she wanted to escape from it. Their continuous whispers of lines that had been said onstage worked as echoes of the words that may have haunted Helen's mind. Just as each man represented some part of male society, so did each woman represent women, collectively, at this time, going from working as a secretary to serving their husbands to working as obedient nurses to trying to do as much as they can within their expectations of living. Without the ensemble of this production, the set being transformed from a dull secretary's office to a lonely bedroom to a courtroom where the matters of life or death lurked in the air within a matter of seconds may have never happened. This ensemble, essential and talented, was one that provided this story with richness and truth.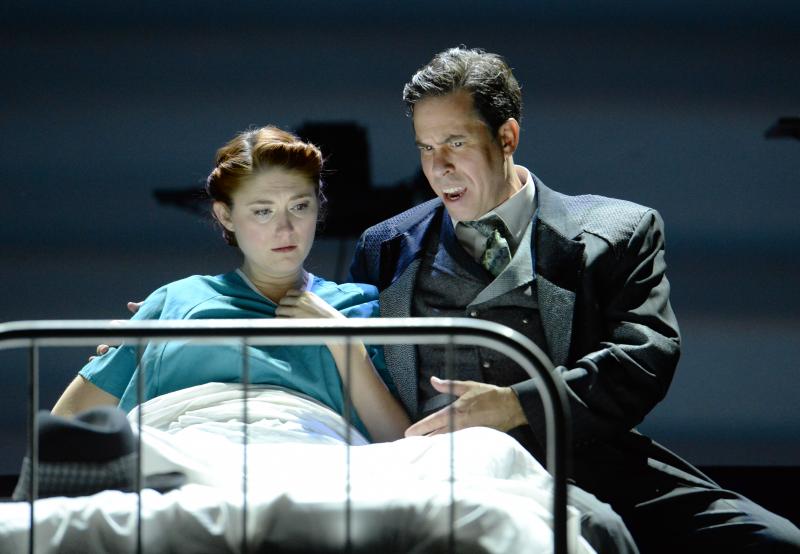 Tom Trudgeon delivered a striking performance as George H. Jones, Helen's husband, being all the more reason Helen should wish for freedom. His intimidating advancements and way of speaking towards her seemed so horrifyingly real that gasps were heard throughout the audience, as Trudgeon's performance mirrored a stark and real representation of many marriages. Simultaneously however, Trudgeon's honesty and skill highlighted the truth in how men believed that women and wives should do nothing more than obey and love. The source for Helen's unhappiness and the distance between Helen and Jones, was stunningly riveting and evident in April Sigman-Marx and Tom Trudgeon's performances.
Before the show even began at 8:00 pm - at 7:55pm, April Sigman-Marx appeared on stage in front of the audience, wandering between her bed, her room, and her belongings. Touching her gloves, her clothes, her pillows, and being mesmerized by the lampshade representative of the moonlight that grabs hold of Helen's attention, Sigman-Marx had the audience captivated before the lights even went down. Sigman-Marx's deliverance as Helen Jones, as a woman so distraught and negatively affected by what society tells her she must do was perfectly moving and incredible. From her very first scene, it is evident that Helen is living her life on the edge of insanity as a single working woman. As the play progresses, showing the relationship between Helen and her mother (Leslie Valdez) and through the stages of her marriage, Sigman-Marx brings the audience to a new level of understanding that was higher than before, with each flawless monologue delivered. Even against the fantastic performances and booming voices of Brendan Backman and Jose Vargas as the lawyer and prosecutor during Helen's court case, her voice, with her troubled ramblings and heart-rending speeches about family, freedom, love, work, and money powered through and rose above the voices of the men. April Sigman-Marx's portrayal of Helen Jones was nothing short of stunning and real. As the play came to an end and the bright spotlights flashed and blinded the room, the audience rose to their feet as she received her well-deserved standing ovation.
Brilliantly noted in MACHINAL's Playbill Program is the cast listing which lists April Sigman-Marx's name following the role of "Helen/Young Women," suggesting that Helen's position was not unique to just herself, but to many of the women at this time. This cast delivered an incredible portrayal of what life was like for any woman living in Helen Jones' shoes, and what it was like to live with the thoughts running through her mind. On the play's relevance today, Julianne Just states, "A lot of the play is the idea that we live in these machines and these machines make us compliant [...] How do we break the machine?" Treadwell's play leaves us to wonder just that, questioning life as Helen does. Though we have made great strides, perhaps we are still not so far from 1920's society. Perhaps this is something we still need to consider, and CalRep's MACHINAL truly urges us to remember that these are the stories we should continue to tell.
Cal Rep's production of MACHINAL runs through October 21, 2017. More of CSULB's Theater Arts productions can be found at calrep.org.