BWW Review: DISNEY'S NEWSIES! THE MUSICAL at Argenta Community Theater
The Argenta Community Theater cast of Newsies may not be the King's of New York, but they are most definitely the King's of North Little Rock. Argenta never fails putting on a fantastic show. Led by Director Vincent Insalaco, and produced by Judy Tenenbaum, the casting was superb, the set was envious, and the choreography was top notch--and looked like so much fun!
Disney's Newsies is based on the newspaper strike of 1899, where newspaper boys and girls called Newsies didn't like that the papers raised their prices from 50 cents to 60 cents and decided to unite and fight. Their efforts cost sales to drop by 70%, caused a city-wide child labor strike, and led to an investigation on children in the workforce.
So, I will start with the cast, which was mostly school-aged children with a handful of seasoned adults. The charismatic leader of the Newsies' union was Jack Kelly, played by 15 year old Will Porter, who made you want to to believe in a paradise like Santa Fe. His character portrayal was sincere and heart felt, mixed in with a bit of boyish mischief and bad boy charm. Annslee Clay, who played Katherine Plumber, reminded me of Alicia Silverstone, and her dance skills in that prim and proper dress was admirable. Caleb Allen and Corbin Pitts, who played brothers Davey and Les Jacobs, held the sibling relationship throughout the play, even through parts that were not spotlighting their characters, and Jackson Karl's "Crutchie" was endearing, and a bit like an older Tiny Tim.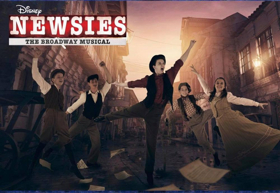 Not to be outdone by the kids, Laura Grimes played a very charming and cheeky Medda Larkin, who watched after the kids, and before this, who knew Joseph Pulitzer was such a bad guy? Well done James Norris. One surprise that snuck up on me was the random drunk guy that kicked the kids out of the deli. I may have laughed a little too loud at that one.
The set was phenomenal. For such an intimate area, the Argenta really makes use of their space. This set, designed by Jimi Brewi, was two stories and sturdy enough for a chase scene and quite a bit of dancing up and down the stairs. Neighbors beside me were commenting about how great the city looked lit up in blue lights.
The real winner of this show, though, was the fabulous choreography--WOW!-no seriously--WOW! This stage must be one of those it's bigger on the inside type of stages, because I think there may have been 18 or more kids all jumping in the air at the same time at one point and flipping and tapping. The tapping.....now that was something. Moriah Patterson choreographed a stellar performance. This cast has some serious talent!
Michael Heavner did a wonderful job on the orchestration. I have been to several shows that featured Heavner's handiwork, and this one is, by far, my favorite one.
Newsies plays through Saturday, March 9, and is selling out fast. To get your tickets, visit www.argentacommunitytheater.com.

Related Articles View More Arkansas

Stories

Shows