Alhambra Theatre & Dining Presents THE BEST LITTLE WHOREHOUSE IN TEXAS Beginning Next Week
Performances run February 9 through March 12, 2023.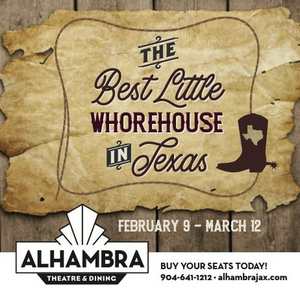 For the first time in nearly two decades, the Alhambra Theatre & Dining will stage the musical comedy, The Best Little Whorehouse in Texas. The second show of the Alhambra's 2023 Season (it's 55th season) officially opens Friday evening, February 10. It will be preceded by two "preview" performance on Thursday, February 9.
This happy-go-lucky view of small-town vice and statewide political side-stepping recounts the good times and the demise of the Chicken Ranch, known since the 1850's as one of the better houses of ill repute in all of Texas. Governors, senators, mayors, and even victorious college football teams frequent Miss Mona's cozy bordello, until its nemesis, Watchdog, focuses his television cameras and his righteous indignation on the institution. Nominated for seven Tony Awards, including Best Musical, this bawdy-but-wholesome crowd-pleaser skewers pretension, celebrates life and touches the heartstrings. A raucous, red-blooded, hilarious musical comedy about a "Lil Ole Bitty Pissant Country Place," Best Little Whorehouse in Texas took Broadway by storm and continues to enthrall audiences worldwide.
Based originally on the movie which starred Dolly Parton (Miss Mona) and Burt Reynolds, The Best Little Whorehouse in Texas premiered on Broadway at the 46th Street Theatre on June 19, 1978. Directed by Peter Masterson and Tommy Tune, the production featured Carlin Glynn, Henderson Forsythe, Delores Hall and Clinton Allmon, and ran for 1,580 performances. Jacksonville actor and Alhambra legend, Lisa Valdini, will reprise her role as Miss Mona. Valdini has appeared in countless Alhambra shows over the last 25 years.
The Best Little Whorehouse in Texas runs February 9 through March 12, 2023. The Alhambra Theatre & Dining is located at 12000 Beach Blvd, Jacksonville, FL. Alhambra tickets start at just $45 and include a three-course meal that changes for each show, a Broadway-style performance and complimentary parking. Tickets can be purchased online at www.alhambrajax.com or by calling 904.641.1212. Next up at the Alhambra is Arsenic & Old Lace.