Literary Managers & Dramaturgs of the Americas Names 2018 Bly Creative Capacity Grant Recipients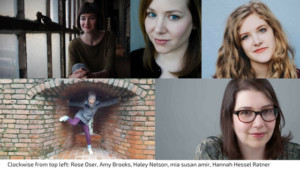 The Literary Managers and Dramaturgs of the Americas (LMDA) is pleased to announce the 2018 recipients of Bly Fellowships and Grants. "In the fourth year of this boundary-expanding grant program, applicants proposed nearly $250,000 in dramaturgical projects. I remain deeply inspired by the range of exciting proposals received from across Canada, the United States, and Central America," said LMDA President Ken Cerniglia.
The Bly Creative Capacity Grant awards are funded by LMDA Lessing Award winner and former Board Chair Mark Bly, who pledged the organization $100,000 to support artists as they explore and expand the boundaries of dramaturgy in the Americas. "At a time when on our Continent, especially in the United States, there is an urgent need for boundaries and walls visible and invisible to be challenged, diverse communities to be connected, we are pleased to support several Dramaturgs in their desire to explore the role artists and theatre makers can play in advancing justice in the face of widespread cultural and economic inequality and exploitation," said Mark Bly.

LMDA Bly Grants and Fellowship for 2018 have been awarded to:
mia amir - Vancouver
Unsettling Dramaturgy: Crip and Indigenous Process Design in the Studio, on the Stage, and in the Street
Unsettling Dramaturgy is a research colloquium bringing together Crip (mad, d/Deaf, sick and disabled) and Indigenous dramaturgs and theatre makers from across the Americas, for a year of collaborative programming, starting spring 2018. This project considers the studio, the stage, and the street as porous and interconnected politicized spaces, where urgent critique can occur, and visionary futures can be imagined, practiced, enacted, and then disseminated to/co-created with a wider public. - LMDA Bly Grant $7,500
Amy Brooks / Roadside Theater - Kentucky
Theater Building Community
Institutional dramaturgs from three Appalachian cultural centers of civic engagement will partner with the digital design cooperative CoLab to create a web-based organizing site to catalyze and support the development of community-based plays. This dramaturg-curated website will connect theater artists and cultural organizations with each other, with humanities and social science programs in higher education, and with other institutions exploring the role theater plays advancing justice in communities with histories of cultural and economic exploitation.
- LMDA Bly Grant $5,000
Haley Nelson / Kitchen Dog Theater - Dallas
Integrated Dramaturgy
Kitchen Dog believes that theater should look and feel like the community we serve and that our audience should reflect the diversity of Dallas. Yet, our audience demographics have yet to be meaningfully impacted. Through our "integrated dramaturgy" initiative we aim to meaningfully connect to communities whose stories are in the plays we present and begin to see them as active participants in our audiences. We also strive to create positive change in Dallas by sharing our project results with our local sister theaters. - LMDA Bly Fellowship $7,500
Rose Oser / Z Space ­- San Francisco
Problematic Play Festival
What makes a play too "problematic" to produce? The Problematic Play Festival, to premiere in fall 2018 at Z Space, will generate conversation about the play selection processes and the topics that are "off the table." Through an open submission process, the panel will seek out playwrights who are willing to discuss, stage, and confront their "problematic" work, providing a space for in-depth, critical, facilitated conversation between artists and audiences.
- LMDA Bly Fellowship $3,000
Hannah Hessel Ratner / The Welders - Washington DC
Dramaturg as Creator
The Welders playwrights' collective allows each member artist an opportunity to bring their creative vision to fruition as the "Lead Producing Playwright." In taking on that title to build their 2018 production In This Hope, Hannah Hessel Ratner will examine what it means to be a dramaturg at the creative helm of a production. - LMDA Bly Fellowship $3,000
Mark Bly was among the founding members of LMDA, and served as the Chair of its Board of Directors from 2000-2006. Over the past 40 years, he has served as a Dramaturg, Director of New Play Development and Associate Artistic Director at such theatres as the Arena Stage, The Acting Company, Alley Theatre, Guthrie Theatre, Seattle Rep, Tectonic Theatre Project, Yale Rep, and on Broadway. He is the Editor of Production Notebooks: Theatre in Process: Volumes I & II (TCG, 1996, 2001). In 2010 Bly received the Literary Managers and Dramaturgs of the Americas G.E. Lessing Career Achievement Award, only the fourth time the award had been bestowed in the organization's history. For Bly's full bio, visit: http://www.lmda.org/user/175.
The Bly Grant adjudication committee: Mark Bly; LMDA President Ken Cerniglia; LMDA Board Member Liz Engelman; playwright/dramaturg Jacqueline Lawton; playwright/director/dramaturg Yvette Nolan; LMDA Board Chair, Brian Quirt.