Goodman Theatre Announces Jamal Howard as the 2023 Michael Maggio Directing Fellow
Jamal Howard, he/him is a Chicago-based director and choreographer.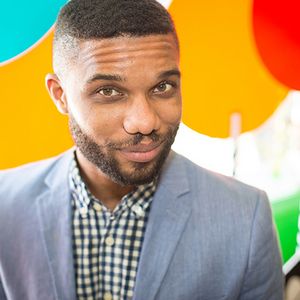 Goodman Theatre has announced Jamal Howard (he/him) as the 2023 Michael Maggio Directing Fellow. A Chicago-based director and choreographer, Howard is the co-artistic director of New American Folk Theatre and an associate company member with TUTA Theatre.
His work can be seen in two productions on stage now: the world premiere of The Great Khan by Michael Gene Sullivan, which he directed (through February 26 at RedTwist Theatre) and Jonathan Larson's tick, tick...BOOM!, which he choreographed for BoHo Theatre (through February 5 at The Edge Theater). The season-long Maggio Fellowship is an opportunity for an early-career director to assist on a Goodman production and become involved in the theater's ongoing artistic life. Established in 2002, the fellowship honors the memory and artistry of Goodman Associate Artistic Director Michael Maggio (1951-2000), who directed 22 productions at the Goodman and more than 60 productions across the country.
"This is an honor that makes me feel even more a part of Chicago's theater community, that I've solidified myself as a Chicago theater director and that the Goodman will be a new artistic home for me," said Jamal Howard, who started performing in musicals at age eight. "I love theater as an art form and a way of telling stories. I hope my work inspires audiences to lead a more empathetic life-and I want to inspire the artistic community to think more about how we can make art responsibly by leading with empathy and collaboration. The best theater comes from good collaboration."
Howard recently choreographed Masks Off for Goodman Theatre's 2021/22 Playwrights Unit. Additional select directing and choreography credits include The Apple Tree (Porchlight Music Theatre); 8-Track: The Sounds of the 70s, Songs for A New World (Theo Ubique Cabaret Theatre); R.E.S.P.E.C.T. (Right Angle Entertainment/National Tour); Corduroy, The Wiz, Magic Tree House (Emerald City Theatre); Dirty Girl, Scraps, Dark of the Moon (New American Folk Theatre) and The Mole Hill Stories (Madison Children's Theatre). Howard served as the associate artistic director of Emerald City Theatre and has worked with Filament Theatre, First Floor Theater, After School Matters, Mudlark Theater, Artemisia Theatre and CircEsteem.
"Jamal's work is so deliciously wide ranging-from making work for the very young, to choreographing and directing great contemporary texts," said Artistic Director Susan V. Booth. "It's this expansive curiosity and practice that renders him such a compelling artist and one we feel so fortunate to have join us this year at the Goodman."
Previous Michael Maggio Fellows include: Georgette Verdin (2021-2022), Spenser Davis (2020-2021), Sydney Chatman (2019), Jo Cattell (2017), Jess McLeod (2016), Vanessa Stalling (2015), Marti Lyons (2014), Erica Weiss (2013), Jimmy McDermott (2012), Anna Bahow (2011), Joanie Schultz (2009), Anthony Moseley (2007), Dado (2006), Ann Filmer (2005), Mignon McPherson-Nance (2003) and Lynn Ann Bernatowicz (2002).