BWW Review: TEMAN Takes A Giant Step with INTO THE WOODS
TEMAN (Teater Musikal Nusantara), an Indonesian professional musical theatre company founded by alumni of LASALLE College of the Arts, Singapore, held their first musical production: Sondheim's INTO THE WOODS. The two-day run consisted of three sold out shows at the Salihara blackbox theater in Jakarta. The production was licensed through Musical Theatre International and supported by Indonesian Ministry of Education and Culture as well as the Indonesian Agency for Creative Economy
The 1986 musical is one of the most well-known and oft produced musicals, including a 2014 film adaptation which made its way to Indonesian shores. It tells a dark fairytale story involvingboth original characters and elements from classic tales such as Cinderella and Jack and the Beanstalk.
Into the Woods'multilayered, complex themes provide substantial opportunity for any production to showcase their unique interpretation of the material - a suitable choice for TEMAN's debutante production. The show is directed by the double team of Venytha Yoshiantini, TEMAN's artistic director, and Singaporean Benjamin Chow. Alongside producer Chriskevin Adefrid, they bring together a team of both local and international talents, some of whom have collaborated with Yoshiantini and Adefrid before.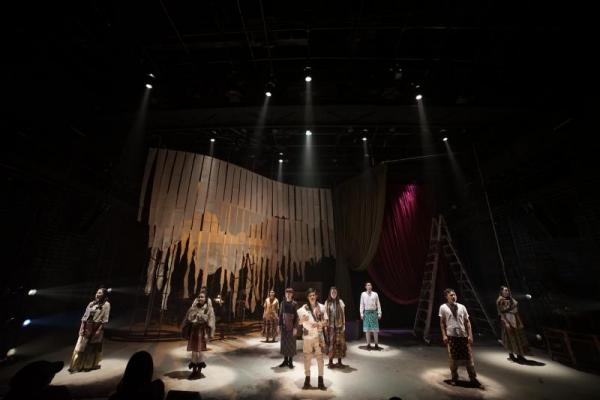 Upon entering the 300-seater theater, the set immediately catches audience's eyes with its striking use of verticality - strips of paper hang overhead on upper stage right, evoking hanging branches and foliage as well as partially obscuring the orchestra; across the stage on its left side are towering curtains that extend to the ceiling with a similarly tall freestanding stair standing behind it (which will later appropriate Rapunzel's tower). And on the middle are a set of wooden furniture, Indonesian in design.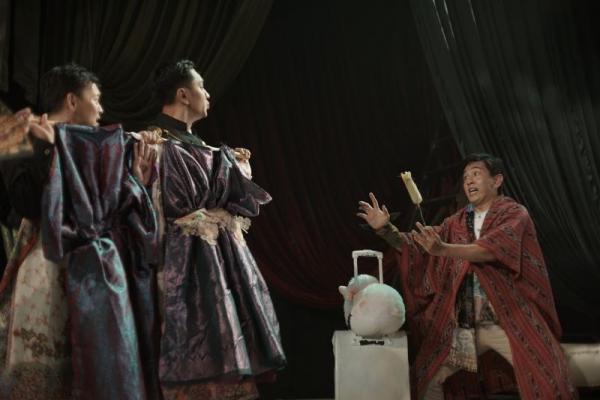 The costumes are even more heavily imbued with local motifs - including batik, kebaya, and beskap. It should be noted that the costume designer, Ursula Sekar Gayatri, did not simply use existing traditional clothes wholesale but designed refined costumes that are unmistakably Indonesian while also staying true to Into the Woods' identity.
The costume, set (by Ratna Odata), and lighting (by Alberta Wileo) design complement each other in creating an inimitable production design that's both artistically impressive and impressively practical. They are inseparable from the production's most memorable moments, particularly those involving a giantess. The artistic team has set a high bar for themselves with INTO THE WOODS and it would be a delight to see more of their ingenuity in future productions. Still, it should be noted that some of the cast are playing multiple roles, and some characters played by the same actor could afford to be differentiated more distinctly through costume as to avoid confusion particularly for the more casual theatergoers.
As for the performances, it should come as no surprise that the cast was superb all around. Each cast was mandated to have the ability to read music sheets, a must considering Sondheim's elaborate melodies. The cast were confident and natural in their interactions with each other, which was pivotal in selling the story.
Frances Lee, Singapore-based actress and a Life Theatre Awards nominee, particularly impressed in her rendition of the Baker's Wife character. Her mannerisms, in the way she moved and sat and sang, were impeccably earnest. She showed the vulnerability, conviction, and internal dilemma that elevated the show as a whole.
Opposite her, Indonesian Sugie Phua's Baker was frantic and thoroughly endearing. The contrast between the Phua's and Lee's characters made them the most enjoyable on-stage couple to watch.
Lea Simanjuntak might be the most recognizable name in the production for Indonesian audience, a celebrated singer with extensive body of work. Here she played the Witch (from next door) and she showcased that her reputation was well-earned and more. She was the most vocally impressive out of the already talented cast, with her Last Midnight being the showstopper solo number of the show, with her vocal power and technique in full display.
Not to be outdone, Andrea Miranda as Cinderella also gave a very strong performance. She's a veteran in Indonesian musical theatre, having been a part of the community from the rise of modern Indonesian musical theater with roles in ONROP, GITA CINTA, and more. Miranda's Cinderella was refreshingly unique, a figure who's perky and hopeful and much funnier than expected, while staying heartfelt when needed.
Claris Tan played Little Red Riding Hood's youthful and energetic demeanor really well. Putri Indam Kamila was cast as both Jack's and Cinderella's mother. Marc Valentine and Aldafi Adnan played both the princes and step-sisters and never failed to get laughter out of the audience each time they came on stage. Rounding up the cast are Claudya Christina as Rapunzel and Jeremiah Purwoto as Jack. While everyone's diction was at least decent, some cast would do well to have crisper delivery as INTO THE WOODS's book can get very wordy.
The music is directed by Ivan Tangkulung, TEMAN's music director. The show uses the original Sondheim arrangement and enlists local musicians. The accompaniment was notably tidy, the elaborate and layered songs all were played harmoniously to great effect.
Another thing to note of the direction is how the directors play with movement in inventive ways; the Witch's magic is oft displayed not through showy stage effects but by the other characters' body language, locked in place or thrown about. The scene where Milky White tried to run back to Jack after being sold was done using a very simple movement of the prop 'running away' (i.e. pushed by the actor), yet immensely funny and convincing.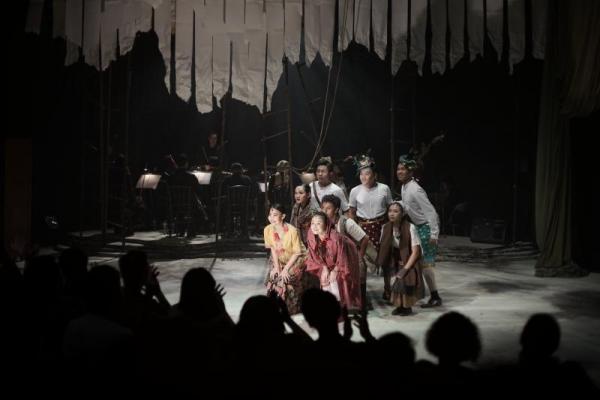 Such little clever moments are aplenty and possibly the best aspect of the production: the sophisticated approach it takes to the stage. TEMAN brings with them the expertise and creativity expected of a professional musical theatre company. INTO THE WOODS was only the first step for TEMAN, but it has the potential to be a giant step for Indonesia's budding musical theatre industry.
Photos: Teater Musikal Nusantara.
Related Articles View More Indonesia

Stories

Shows