BWW Review: GEMINTANG at TEATER KOMA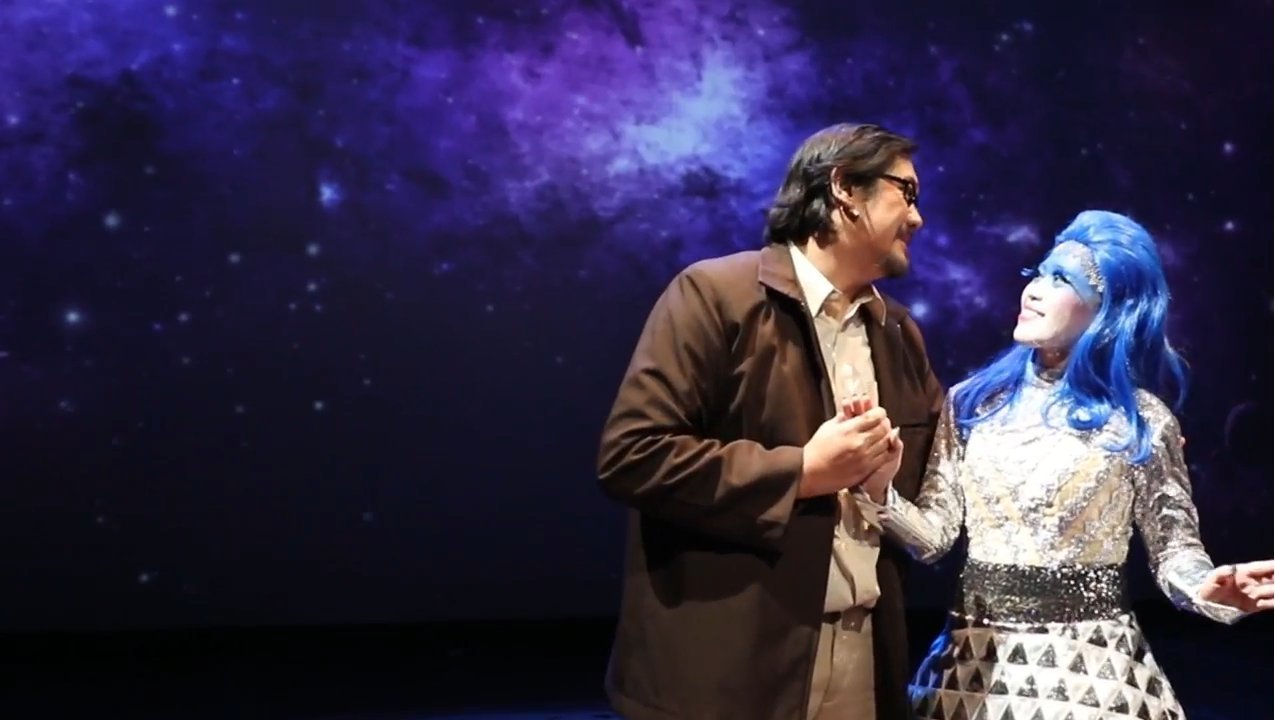 The lavish dining room of the Wibowo family, packed with members of the clan headed by the corrupt politician of the same name, has a very otherworldly guest of honor that night: an alien girl by the name of Ssumphphwttsspasbazaliapahssttphph -- or Sumbadra for short.
She attends the dinner by the means of visual projection from her home planet 12 billion years of space travel away. Everyone looks in polite interest and asks questions about society of her planet, usually relating to their own problems in life. Arjuna, Wibowo's second son and Sumbadra's infatuated boyfriend, acts as the interpreter for the interstellar projection had no auditory output.
But as the dinner comes to a close with Sumbadra inviting Wibowo to her home for dinner and Arjuna sings a love duet with his bride-to-be, a twist is revealed: Sumbadra never existed outside Arjuna's mind.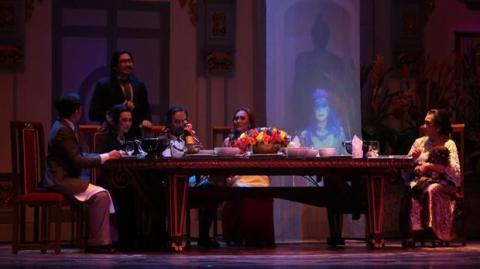 GEMINTANG is Teater Koma's 153rd production, the latest in a long line of theatrical entertainment combined with contemporary social commentary. The script, penned by Nano Riantiarno, is also one of the few original Indonesian plays incorporating science fiction elements. This works on multiple levels: first, it allows Teater Koma to lampshade the absurdity and injustice of modern Indonesian society by comparing them to the idealistic planet of Ssumvitphphpah; second, it works in tandem with the troupe's attempt at incorporating new visual technologies and effects on stage (all of which worked impressively).
The story itself, while competent, is still rough around the edges. The play has a lot of characters sharing the spotlight, introduced in a prosaic list by Arjuna in the first scene. The first arc is spent on disparate sequences of the Wibowo family: Arjuna (Rangga Riantiarno) and Sumbadra's (Tuti Sutarti) blossoming fantastical love story; Wibowo (Budi Ros) preparing for police investigation of his corruption case as well as maintaining the precarious family act with his first son Samudra (Bayu Dharmawan Saleh), first wife Astini (Daisy Lantang), and second wife Niken (Ina Kaka); meanwhile, Wibowo's elderly mother Kejora (Ratna Riantiarno) is taking care of her mentally disturbed son Sahranasyat (Idris Pulungan) while lamenting having to tolerate Wibowo's corrupt earnings due to her poverty; Arjuna's teenage sister Pratiwi (Bunga Karuni) disapproves of his father's corruption though unable to do much but try to be financially independent; and finally relatives-cum-advisor Sakiro (Salim Bungsu) and Subrat (Joind Bayuwinanda) comment on the pitiful state of things.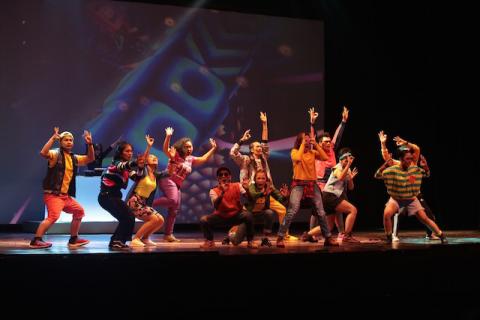 If that sounds like a lot to balance even in a 2,5 hours play, it truly is. The show's first act is very disjointed, especially with audience still working out each family member's relation and dynamics with each other. Some parts felt extraneous, such as Sahranasyat's lengthy Shakespearean monologue (though it had artistic merit), one-too-many love songs between Arjuna and Sumbhadra, and the club dance numbers performed by Pratiwi and her fellow partygoers.
There was also the political aside with Sakiro and Subrat discussing corruption cases in the all-too-familiar country of Hindanasasa; a customary aspect of Teater Koma's offerings, yes, yet the disjointed presentation made for a problematic break from the main story. In an already content-packed script, Riantiarno should have taken trimmed the fat and integrated the parts more. A more focused story could have developed the characters more instead of letting their arc mostly unfulfilled.
Thankfully the actors a great deal of charisma and charm to the stage. Many of the actors were experienced members with dozens of shows under their belt. Of particular note is Ratna Riantirno's heart-wrenching laments as a woman powerless to stop her own son from descending into immorality. Idris Pulungan's childlike portrayal of a character with a guileless mind was very effective in underlining how the rat race for wealth and status might result in weary, anxious souls instead of the happy life it promised.
The show also had several musical numbers in it. Though competently sung and the choreography by (Ratna Ully) for the dance numbers was fun, their placement and role in the story could have been reexamined to make each number more memorable and effective. One example that stood out as an egregious missed opportunity was an electronic-inspired song in which Pertiwi and her millenial friends sing and dance to lyrics composed of and about teenage slangs, which might have worked to emphasis the generation gap between her and her family, if the dialogue hadn't made the same point earlier.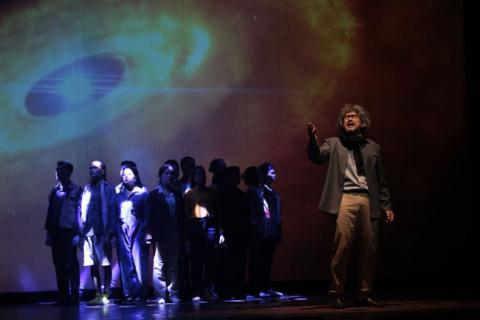 Visually, the show was a delight. The costumes (by Rima Amanda) are stylish and worked really well with the tone of the story. Sumbadra's silver-and-blue look is instantly iconic.
The set and lighting design (by Idries Pulungan and Fero A. Stefanus) are top-notch, a constant strength of Teater Koma's productions. But this time it's taken even further by using multimedia (by Deden Bulqini) to transport both the characters and the audience into a world of spiraling galaxy in the night sky or a modern futuristic dance club, among others. The practical effect used for Sumbadra teleporting back to her planet was especially impressive. It would be delightful to see this level of skill and care continue in their future productions.
Overall, GEMINTANG is an enjoyable and thought-provoking night out despite the narrative flaws of its first act. Yet, the mishmash of social and political commentary, pure theatrical exploration, and crowd-pleasing spectacle might just be what makes Teater Koma timeless. After all, it is a reflection of Indonesia as one country made of such colorful elements and contradictions.
Related Articles View More Indonesia

Stories

Shows