BWW Interview: FAEZEH JALALI On SHIKHANDI in the Times of Gay Rights Movements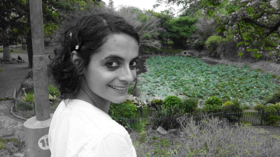 Faezeh Jalali has been getting an overwhelming response for Shikhandi. The play written and directed by Jalali is an interesting adaptation from Mahabharata. The fact that the ancient epic had a mention of a transgender thousands of years ago is both intriguing and thought provoking. And perhaps, that led to the director exploring the character more.
In the past too Jalali has been giving to Indian theatre in interesting pieces. Her 2012, play Jaal was able to strike a chord with the thinking audiences. The theatre artist is also an avid actor who was seen in Slumdog Millionaire too.
But perhaps out of all these roles, it is the role of an activist that befits Jalali the most as she displays a fiery spark of activism through her all art forms.
Here she talks to BWW about the need to deliver an important message through her craft
1.You have said that you try to be a theatre activist. What are some of the urgent issues that you would like to cover through your theatre?
Equality ( I think this covers a lot, gender, classes etc), the environment ( a play may not necessarily directly concern the environment but i try to keep the production environmentally friendly ).
2. Is it co-incidental that you thought of telling the story of Shikhandi especially at a time when gay rights or pride moments are gaining momentum world over and in India?
I was working on Shikhandi in 2010 when I created a 1 woman show of it in Berlin. It was in my mind since then. From it's first creation, incubation and final realization it took a few years. It's not coincidental. It happens when it has to. It may seem like it just happened but the process and the thought were long ...Faezeh Jalali
3. Are you planning to work on a play centered around the Syrian refugee crisis? Tell us more.
Well, we opened "A Farming Story" (by Vineet Bhalla) on the 10th of November 2018. The play is set in a dystopian fairytale world which talks about refugees, farmer and corporations. The writer wrote it around the time of the Syrian refugee crisis, however the play is relevant universally.
4. You have been an actor, writer, director and you went to dental school! When and why did you discover the artist in you.
I've always been an artist. I never went to dental school, I thought of becoming a dentist but I didn't want to give up being on stage. I went to a liberal arts college so I could continue doing theatre while preparing for dental school. I realized that theatre was what I wanted fully and absolutely. I've been performing since I was a child, with my sisters, at home, school, random family occasions etc .
5. You have in the past talked about doing a sort of Indian Cirque du Soleil. Tell us more
I can't reveal much. But I do want to do a very local circus piece that Mumbai-ites would relate to. It's very much about the circus of this city. Definitely with talent from here. I think our actors dancers and circus artists are amazing. Again, this has been in the creation since 2008/9 I've been writing out things, taking breaks, so it won't be coincidental that it comes about when cirque is now in India.
6. Why despite a rich tradition of stage, theatre in India is not a masses choice of entertainment?
I would like to understand this myself. Films, TV, internet are far-reaching and people are constantly being bombarded with information about new stuff. In a sense it's accessible and affordable.Theatre has to be accessible and affordable and has to speak to us. Eventually I don't know. My own pursuit is to make more people enjoy coming to the theatre, while still questioning socio- political systems.


Related Articles View More India

Stories

Shows