BWW Interview: Director of popular TV show CID Out With His Gujarati Film Satti Par Satto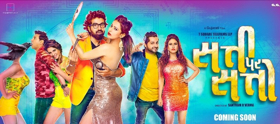 IiIn the words of director Santram Verma, the Gujarati film industry in the country is undergoing through an exciting phase. Verma spoke passionately about regional cinema recently at the music and trailer launch of his Gujarati film titled Satti Par Satto.
The upcoming film stars popular TV actor Manas Shah and Neha joshi in the lead roles. Coming from directror Santram Verma's stable, the film is keenly awaited. After all, it won't be a wrong to say that the director has the pulse of Indian audiences. In the past, he has directed some of the cult TV shows in India such as Kyunki Saas bhi Kabhi Bahu Thi and CID. These shows will also go down in the history of Indian entertainment as some of the longest running shows ever. According to the talented director, his main motive behind directing this Gujarati movie was that he wanted to give audiences a movie that they would love to watch.
As the film awaits its release, we catch up with director Santram Verma who talks to us about everything from challenges in regional cinema to the excitement of a new launch.
BWW: let's talk about your upcoming movie Satti Par Satto. How have you revolved the story around money and love -- the two biggest things that make the world go round?
SV: Satti Par Satto is a hilarious comedy presenting a strong storyline, which is a love story of Satish & Savitri. It revolves around the thought as to how some people give more importance to money over love. While one character believes that money can buy love, the other asserts that love cannot be bought. The story revolves around the significance of money & love and how the two are interconnected.
BWW: What is the reach of regional Indian cinema abroad? Do you intend to take your film to festival circuits
SV:The reach of regional cinema has definitely grown abroad in the course of last few years. Satti Par Satto will also release in cinema theaters overseas, however, we do not plan to take the film to festivals as yet, owing to the fact that this is a hardcore commercial cinema, where we have focused more on entertainment and storytelling. Our film is a hardcore comedy and has definitely been made taking our overseas audience into consideration too.
BWW: In an industry dominated by Bollywood do you feel regional cinema is not getting its due?
SV: Regional cinema does get its due credit and has been increasingly getting recognition, as is proved by many fine films being adapted into mainstream Bollywood. I believe that as long as one makes a good, quality, and content wise rich film, it will certainly get recognized irrespective of geographical parameters. In the last few years, many regional films have grown into becoming mainstream Bollywood films.
As a director of Gujarati film what challenges if any do you face?
Fortunately, I did not face any challenges. On the contrary, I got a lot of love, support and a very warm welcome. I truly admire Gujarat as a state and all that it has to offer, and I encourage more and more filmmakers to promote Gujarat & Gujarati cinema.

Related Articles View More India

Stories

Shows