AN EVENING WITH CHEKHOV Comes to Delhi This Weekend
The show will be held at the India habitat centre on the 14th of January.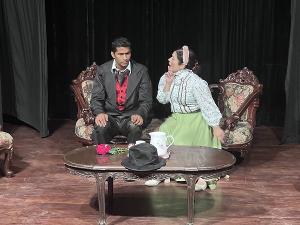 In the biting cold winter of Delhi, the warmth of Chekov is calling you. Towering theatre personalities like SUNIT TANDON, SOHAILA KAPUR, VISHAAL SETHIA, ARTI NAYAR, SONALI SHARMA AND TARIQUE HASSAN, will be part of an 'Evening With Chekov' consisting of two short comedies by the 19th-century Russian playwright, Anton Chekov.
The Proposal and The Bear are costume dramas on the art (or otherwise!) of courtship. TARIQUE HASSAN will be a special delight to watch. He is a well-trained theatre actor in method acting from The Lee Strasberg Theatre & Film Institute New York. He is from Delhi, currently working under Katyayani Theatre with Sohaila Kapur. The Lee Strasberg Theatre & Film Institute New York has trained many popular Hollywood actors like Marilyn Monroe, Lady Gaga, Angelina Jolie, Scarlett Johansson, Alec Baldwin, Matt Dillon, Christoph Waltz and Chris Evans etc. Bollywood actors like Ranbir Kapoor, Riteish Deshmukh and Rahul Khanna are also trained in this prestigious institute.
TARIQUE HASSAN is not only a well-trained actor but a theatre producer as well. He is coming up with a play called AN EVENING WITH CHEKOV, The play is written by famous Russian playwriter Anton Chekov and directed by SOHAILA KAPUR.
The show will be held at the India habitat centre on the 14th of January.
The Proposal is a one-act farce by Anton Chekhov, written in 1888-1889 and first performed in 1890. It is a fast-paced play of dialogue-based action and situational humour. A young man Lomov comes to propose to his neighbour Natalya but they both keep on fighting about anything under the sky. The show is a delight to watch as through this play, Chekhov exposes the fakeness of the world and tries to show how superficial people are these days. Rather than bonding on emotions in relationships, people simply connect due to wealth and money.
'The Bear' is a one-act comedic play written by Russian author Anton Chekhov. The play was originally dedicated to Nikolai Nikolaevich Solovtsov, Chekhov's boyhood friend and director/actor who first played the character Smirnov. The Bear's comedy derives from the characters' lack of self-knowledge. The widow Popova fancies herself inconsolably bereaved, while Smirnov considers himself a misogynist. They are both stock examples of alazons: figures made ludicrous by pretending to be more than they actually are.
Ticket available at https://cloud.broadwayworld.com/rec/ticketclick.cfm?fromlink=2217800®id=153&articlelink=https%3A%2F%2Fin.bookmyshow.com%2Fplays%2Fan-evening-of-chekov-the-proposal-the-bear%2FET00347941?utm_source=BWW2022&utm_medium=referral&utm_campaign=article&utm_content=bottombuybutton1