The Catastrophic Theatre to Present Regional Premiere of CLEANSED By Sarah Kane
CLEANSED runs March 31-April 22, 2023.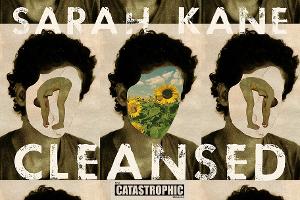 In a former university, society's "undesirables" are subjected to a series of tortures designed to test the limits of human love on the battlefield of the human body. Explosively aching, hauntingly poetic, and disarmingly tender, CLEANSED is a fever-dream fable of unimaginable brutality and miraculous beauty. CLEANSED is about how love survives the most extreme circumstances. Violence is merely the obstacle. The story is one of righteous need and unrelenting hope.
We live in a country and in a time of weaponized intolerance that poses immediate danger toward the bodies and lives of those that look, live, or love in ways that deviate from the most conservative societal constructs. Every character of Kane's CLEANSED would be at risk in today's America. Put differently, CLEANSED can be interpreted as a queer play about locating, healing, and learning to love one's authentic self. 25 years after it was written, producing this nightmarishly prescient play feels like an urgent and necessary cause.
"It never seemed to me that [CLEANSED was] about violence and cruelty. Both things were incidental when it's about how you continue to love and hope when those things still exist. It was never about the violence, it was about how much these people love." - Sarah Kane
After her death, Kane's agent revealed that in one of her last letters Kane wrote that she had no desire for her plays to become "museum pieces," that she wanted them to be performed. But while she has become required reading in many American universities, and as many American students exhibit an almost evangelistic fervor for her work, her plays are rarely performed in our country. In writing CLEANSED Kane stated that she hoped to "stretch the theatrical language." The poetry of this play comes roaring and ripping and blossoming through the bounds of what is perceived to be possible onstage. It is a challenge to those who dare create it as much as it is to those who dare to witness it.
The regional premiere of CLEANSED marks only the fourth time Kane's work has been seen in Houston. Nodler directed the other three: Phaedra's Love (with Infernal Bridegroom in 2002) and, with Catastrophic, Crave and 4.48 Psychosis, starring CLEANSED co-director T Lavois Thiebaud.
Catastrophic's production of CLEANSED reunites the team that created last year's production of Kane's 4.48 Psychosis, which The Houston Press called "an imaginative bulldozer of a production" and "a testament to the collaborative work that happens when two theater artists [Thiebaud and Nodler] are performing at the top of their game.
About the Playwright
Sarah Kane was a boundary-busting playwright whose too-brief career turned theatre on its head in the late 1990s. Kane was a private person who wanted to be known simply as a writer. She enjoyed football, dancing, cigarettes, and live music. Her favorite band was Joy Division. She struggled with depression. She wrote five plays before her death at 28 (Blasted, Phaedra's Love, Cleansed, Crave, and 4.48 Psychosis), each more experimental in form than the last.
Kane's first play premiered in 1995 at Britain's Royal Court Theatre. By morning, the 24-year-old was crowned with the unwelcome and unwanted designation as England's most notorious theatre artist. Mistaken for a writer that sought to shock rather than enlighten, critics were aghast at the subject matter, imagining it had come from the troubled mind of an angst-ridden girl. They were wrong.
"I really don't invent very much. When it comes to the acts of violence in my plays, my imagination isn't that f-ing sick, I just read the newspapers. All you have to do is look at the world around you and there it is." - Sarah Kane
Over the course of her career those same critics would come to reevaluate her work, with the newspaper that had most fervently eviscerated her plays likening her to such masters as Euripides, Racine, and Seneca.
Kane was unusually sensitive, uniquely attuned to and disturbed by the atrocities that existed around her. During the controversy over Blasted, Harold Pinter defended and applauded her first play for "facing something actual and true and ugly and painful." Appalled by public disengagement with the present, Kane wrote toward a future of healing through facing the unimaginable and the harrowing.
"To create something beautiful about despair is for me the most life-affirming thing a person can do." - Sarah Kane
About The Catastrophic Theatre
Formed in 2007 by Jason Nodler and Tamarie Cooper, TCT is Houston's premier creator and producer of new and underproduced work for the theatre. Catastrophic's original work and innovative partnerships have drawn acclaim in local, national, and international theatre, music, literary, visual art, and even sports publications, including American Theatre, The New York Times, USA Today, The New Yorker, Theatre Journal, and Art in America, helping to bring global attention to Houston's vibrant art scene.
All Tickets Pay-What-You-Can
Every Seat. Every Show. Since 2009
The Catastrophic Theatre is committed to making its productions accessible to all who wish to attend. It is the only theatre in Houston that offers self-selecting Pay-What-You-Can ticketing for every single performance, ensuring that anyone can attend for a price they can afford, including for free.
CLEANSED runs March 31-April 22, 2023, at the Midtown Arts and Theater Center Houston (MATCH). Tickets are on sale now and can be purchased at matchouston.org or by calling the MATCH box office at 713-521-4533. No minors under 16 admitted.