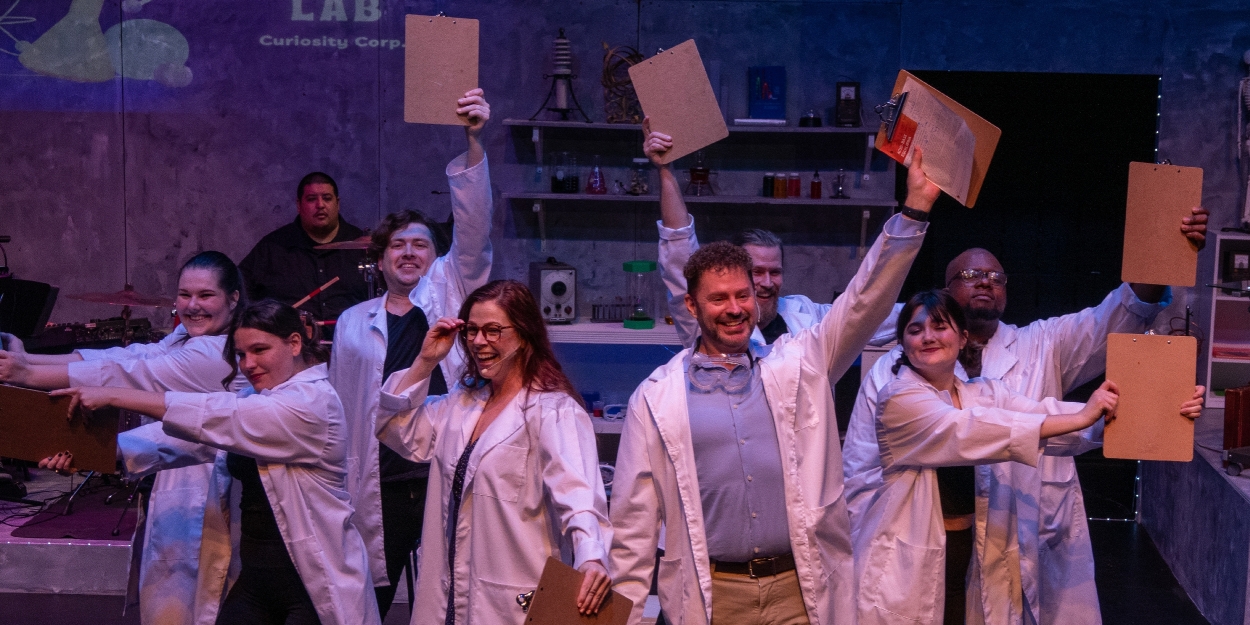 Review: New Sketch Musical NOW THAT YOU'VE SEEN ME NAKED Charms And Delights Its Audiences at MATCH
Although the show's one-weekend run is over, you can still support and follow the show's journey as it plans to tour!
I walked into one of the small, black box theater spaces at Midtown Arts and Theater Center Houston (MATCH) to find a complete scientific lab setup. On my left, I noticed a whiteboard with a number of bizarrely-named experiments listed to complete, such as "The Whoosh", "Keepin' Kevin", and "My Own Bathroom". Looking further to my right, I came across multiple counter spaces and tables cluttered with gear, such as beakers with various amounts of multicolored liquid, goggles, and a blender. Then, on a raised platform in the corner, I noted a standard desk with glasses, a computer, and...hot Cheetos? I wondered to myself, what is this scene and what will it all be used for?
All I knew going to MATCH that evening was that this lab was owned by lead scientists and doctors Percy Hinks and Adelaide Hibble, and they were attempting to discover a formula that revealed "the mysterious love code". I was certainly not ready for the chaos and comedy that was about to ensue...
---
NOW THAT YOU'VE SEEN ME NAKED is a brand new sketch musical that premiered at MATCH this past weekend. Its story begins by introducing the (seemingly mad) lead scientists, Drs. Percy Hinks and Adelaide Hibble and their six interns. Drs. Hinks and Hibble tell the team that the lab really needs a grant to keep the Hibble Hinks Lab up and running, and then they share the game plan for the night: to collect data on various romantic scenarios to prove that they are legitimate researchers. In short sketches that the interns primarily act out, the questions the team decides to interrogate include:
What do Prince Charming and Snow White talk about after their first kiss?

How do you stay curious about your partner after you've seen them not just naked but sniveling, farting, and chewing cereal too loud?

Can couples exist in the same bathroom?

Is love just performance art?
In about 15 short scenes and numerous silly songs, the 90-minute one-act musical comes to a close to booming applause. On my way out of MATCH, I overheard many other audience members mentioning how fun the show was, giggling about the various props, and wondering aloud about the future of the show.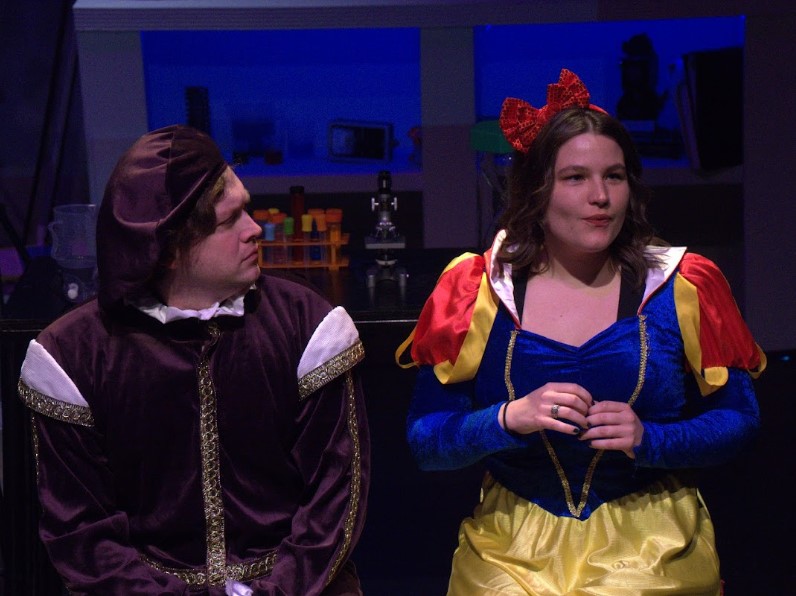 For me, the show reminded me of the hilarity of Saturday Night Live (SNL), but- just like SNL- some bits resonated with me while other scenes did not strike me due to the common tropes that they played on. Also, I was not sure how all of the scenes related to the science lab theme, and some of the transitions seemed quite sudden. Nonetheless, there were a lot of cute moments within the show, such as a skit about the comedic reality of how we would feel if Snow White shared her truths with us within a relationship (devised by Tate Ellington), a song written by Pat Buchta about a guy who shares his plan of "keeping Kevin" from a relationship (leading to a reveal of his adorable dog), and a parody of avant-garde theatre to showcase how romance can seem like a performative art at times. Additionally, the opening song "Let's Experiment" (written by Travis Kirk Coombs) is still stuck in my head as I write this!
Moreover, the talent in the cast was astounding and undeniable! The group of interns included Emily Buesing as Becky Cooper (whose smile was so sweet and infectious), Scott Clark as Alvin Nerny (who has such a beautiful baritone voice), Lauren Orsak as Gina Green (whose sarcastic side-eye and strong acting choices led to some truly hilarious moments), and Rodrick Randall as Leo Bucatinsky (whose singing voice was so sultry and rich). My favorite vocalist within the intern bunch was Olivia Clayton (who played the role of Laura Livingston). She had a stunning range that she riffed with multiple times, and I enjoyed her performance of Davon Ragsdale's monologue "How To Manifest Love" (where she was pretending to be a Yogi talking about the mysteries of love for a web series). To me, the strongest actor in the show was Brock Hatton, who played Derek Chapman. His first performance as Prince Charming in "Fairytale" by Tate Ellington was so outrageous yet truthful for the character- which really amped up the comedy of the scene- and then his commitment to character continued on throughout the entire show as he talked about "keepin' Kevin", wanting his own bathroom in a relationship, and more!
Brad Goertz was very fun as Dr. Francis Hinks, and he and Crystyl Swanson (who portrayed Dr. Adelaide Hibble) made a good duo. They clearly had a friendly relationship with each other which lead to great energy onstage! Swanson really stole the show for me, though; she is clearly a veteran actor with a lot of vocal training under her belt. Her voice just soared, she had fantastic stage presence, and I wanted to see more from her! It would have been cool if the lead scientists engaged in some of the experiments/skits themselves, but they only observed the trials and tried to make sense of them.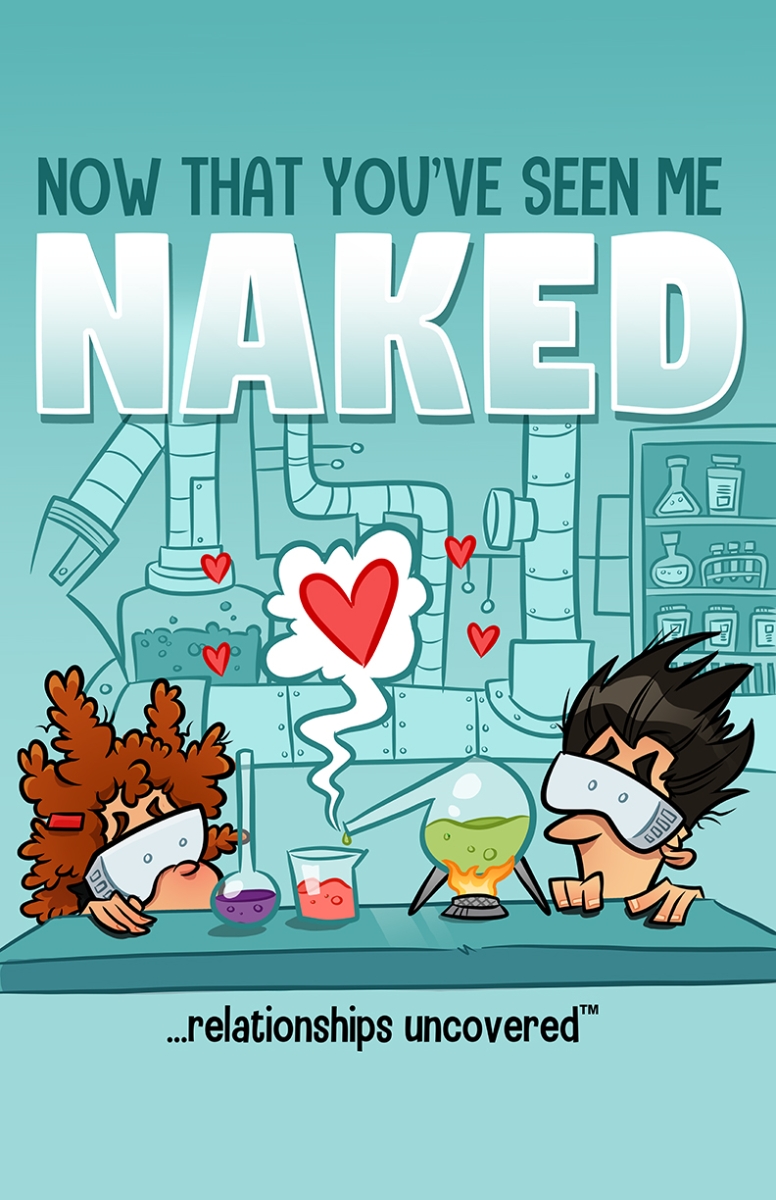 I would like to give my compliments to the creativity of director Brian Chambers, show creator and producer Delilah Blake, lighting designer Kevin Romero, and the numerous other writers, artists, and supporters for bringing this show to MATCH. It was a lot of fun! Additionally, I have to give a shout-out to the inventive, energizing choreography of Sarah Sneesby (which somehow included tap dancing with large DNA models and rolling toilets!) and the wonderfully-detailed set of Tatyanna Rodriguez (I can only imagine how much time went into bringing this silly world to life!). Lastly, but certainly not least, I thoroughly enjoyed how the pianist (music director Mitch Pengra) and drummer (Roland Medina) were onstage the whole time. At certain points within the show, they even engaged with the actors, which brought me a lot of joy!
---
Although NOW THAT YOU'VE SEEN ME NAKED only had performances from March 9th-12th (for now), you can still keep up-to-date with this musical and its journey on its website! The company is also running a fundraising campaign in order to record the official NOW THAT YOU'VE SEEN ME NAKED EP, film a promotional video, and eventually take the show on tour. You can donate or sponsor their efforts here!