BWW Review: Stages' GREAT AMERICAN TRAILER PARK MUSICAL Is the Most Fun You've Had in a Long Time
According to reliable news sources, affirmed by online memes, and supported by my Gator-chomping husband (don't ask), Florida is commonly accepted as the American epicenter of all things crazy and unusual. So it shouldn't come as a surprise that THE GREAT AMERICAN TRAILER PARK MUSICAL, Stages Repertory Theatre's most popular play in their epic 40-season long history, takes place in the Sunshine State.
---
"Stripper on the run" Pippi is new to Armadillo Acres Trailer Park. She arrives in search of a quiet place to stay that will provide some respite from her troubled past (aka her ex-boyfriend Duke), and the opportunity to start anew. Unfortunately, "North Florida's most exclusive trailer park" isn't an ideal spot to find any kind of calm or quiet. Pippi's trailer is parked next to the home of Jeannie, an agoraphobic Sally Jessy Raphael-obsessive, who hasn't left her trailer in 20 years, and her tollbooth-collector high-school sweetheart husband, Norbert.
As Jeannie and Norbert's 20th wedding anniversary rapidly approaches, Jeannie make it her mission to conquer her affliction, and leave her trailer to celebrate with Norbert at the Ice Capades. Meanwhile, Norbert, frustrated with his wife's inability to overcome their past, forms a relationship with Pippi.
Similar to Chiffon, Crystal and Ronette in THE LITTLE SHOP OF HORRORS, their neighbors Betty, Lin and Pickles ("The Girls") appear in nearly every scene, acting as narrators, audacious observers and the voice of the audience, speaking exactly what we are thinking.
It has been over 10 years since THE GREAT AMERICAN TRAILER PARK MUSICAL was performed in Houston, and the show was entirely new to me. Before seeing the production, I was surprised to learn that before it even opened, Stages has extended the run due to high demand for tickets. After seeing the show, I completely understand why.
THE GREAT AMERICAN TRAILER PARK MUSICAL is fantastic, and now one of my all-time favorite musicals. It's just that good. I haven't laughed that hard since the first time I saw THE BOOK OF MORMON. The show is one-of-a-kind, full of heart, catchy songs, and quotable dialogue. I couldn't look away, I didn't want it to end and, at home, I immediately downloaded the soundtrack.
Written by David Nehls and Betsy Kelso, THE GREAT AMERICAN TRAILER PARK MUSICAL reminds me of one of those weird news stories that takes place in Florida, right down to shaking my head and asking,"How on earth did that happen?!?" Because, I ask seriously, how on earth did a musical like this happen? How did Nehls and Kelso create something packed with extreme stereotypes, that somehow comes across as genuine and totally authentic? How is it possible that a farcical production that first premiered in 2005 could speak so saliently to America today regarding judgement of others? And, pointedly toward myself, how on earth had I never heard of this great show before?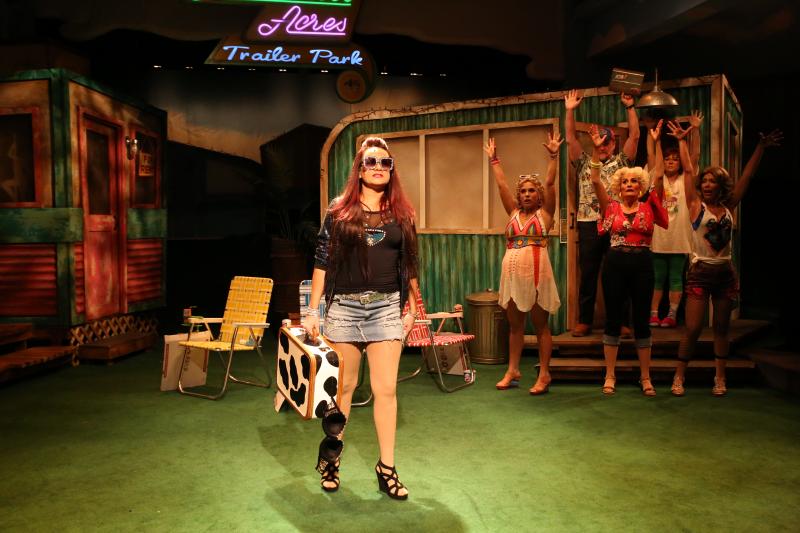 In the able hands of director and choreographer Mitchell Greco, the show is elegant (in that trailer park kinda way), meaningful and memorable. There's no question that Greco created an environment for his team to shine; every actor is at home in their role, every move specific and intentional, every set piece, lighting choice, costume and the like, by specific design. You can tell that everyone on stage, and the countless others working tirelessly behind the scenes, love this piece, and delight in their work.
Made up of bold-faced Houston favorites, no one steals a scene quite like Susan Koozin. As Betty, the manager of Armadillo Acres, she is quite literally a lightning bolt on stage. As a voice of reason and one of "The Girls," she delivers the hardest punches and some of the biggest laughs. I would follow Koozin to the ends of the earth; there is nothing this woman can't do.
As Lin, named after the linoleum kitchen floor on which she was born, Carolyn Johnson is a true comic. It's no surprise that she has been named the "Ultimate Funny Girl" by the Houston Chronicle. It's not just her chops that I greatly admire -- Johnson can seriously belt; it's like a master class in working a diaphragm, but instead of the seriousness that usually comes with such vocal prowess, you're just left laughing your head off.
Rounding out "The Girls" is Teresa Zimmerman as the dimwitted, perpetually (albeit hysterically) pregnant Pickles. Her quick transitions from Pickles to ancillary characters are seamless, with each role clearly defined. Zimmerman plays her role to the tilt, with commitment, zeal and staunch refusal to let any joke drop.
Individually, "The Girls" are great. Together, they are the riotous star of the show. They are bold, brassy, and bawdy, as if Bette Midler's mermaid shtick was set inside a trailer park.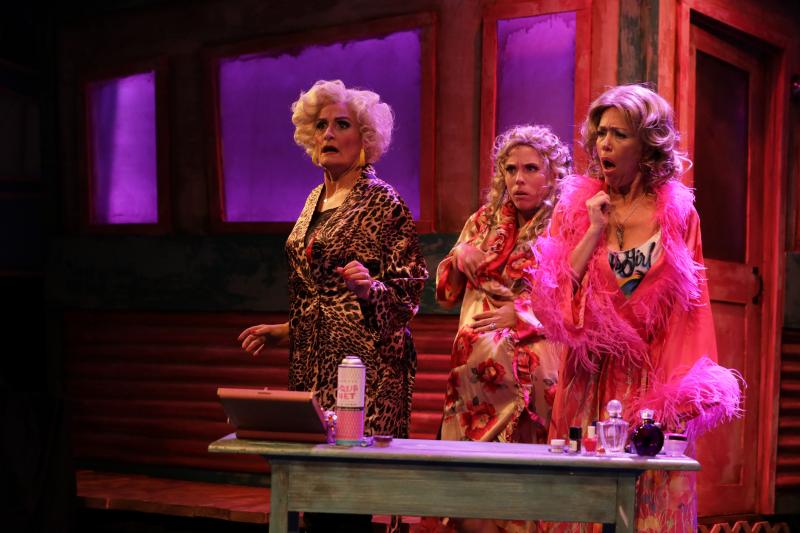 As Pippi, Brooke Wilson delivers a powerfully feminist performance of an everywoman, seeking love and acceptance in a life controlled by unfortunate circumstances and a series of poor choices. She is human in her many contradictions, sweet and feminine, crass and defensive, and damn, she can dance. As an uncensored truth speaker, Wilson successfully sets up some of the funniest and most honest lines, including: "Dancing half naked in front of my neighbors doesn't happen every day," to which she is immediately corrected that "It does in Florida." It's hard to love a character that is openly antagonistic toward the central love story, but you just can't help wanting to see Pippi find contentment.
Thomas Griffin Williams plays Duke, Pippi's ex-boyfriend from the good old OKC. His character has the least amount of time on stage, resulting in some harried character development in the final moments of the show, but is still hysterical to behold and great fun to watch.
THE GREAT AMERICAN TRAILER PARK MUSICAL is anchored in the tumultuous love story of Jeannie, played by Holland Vavra, and Norbert, portrayed by John Morrison. Far and away, Vavra is the most self-aware character on stage, and is the actor with whom the audience most identifies. She is lost in a world of her own making, and desperate for change, without a clear path forward. Vavra's voice is beautiful and pure, and as the heart of the show, she is stupendous in her ability to be equally pitiful and comical, without the audience laughing at her, but at her situation. Her counterpart Morrison, as the deeply frustrated and exhausted husband of an agoraphobic, is both relatable and detestable. You understand his (poor) choices, but despise them, just the same. He delivers a sincere and touching portrayal, no easy feat given the zany backdrop.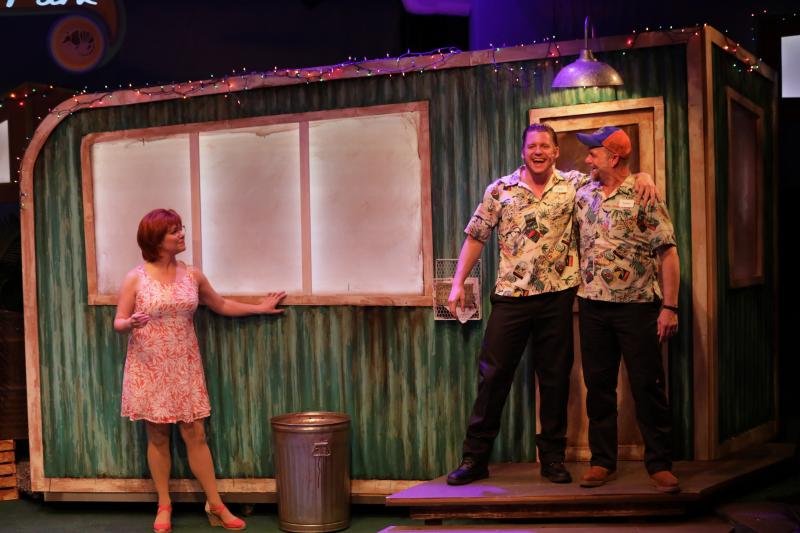 THE GREAT AMERICAN TRAILER PARK MUSICAL is more than just its players, fantastic book, and really, really catchy music. It's something special that I can't imagine being mounted anywhere but the intimate Stages theatre. The same place that just housed Holland Taylor's ANN has been completely transformed into the most delicious and ridiculous Floridian setting. The costuming and choreo are award worthy, and the lighting and sets are next level. No detail was ignored, complete with Jarred, Stages' fantastic bartender's flamingo-adorned themed drink menu, and the front-of-house staff dressed in trailer park chic.
I often wonder if audiences understand the purpose of a standing ovation; it's not meant for every "good" performance, but intended for the rare occasion in which the highest level of excellence is achieved. At this show, I was among the first on my feet. TRAILER PARK deserves an ovation, along with your attention. It's zany, rollicking and so funny that my face hurt by the end. It may be hard to get tickets, but don't stop trying. Instead, you "gotta make like a nail, and press on."
Stages Repertory Theatre presents THE GREAT AMERICAN TRAILER PARK MUSICAL now through July 22, 2018. Tickets start at $25. For more information and to purchase tickets, visit stagestheatre.com or call 713-527-0123.