Review: RAPTURE, BLISTER, BURN raises a feminist eyebrow at 4TH Wall Theatre Company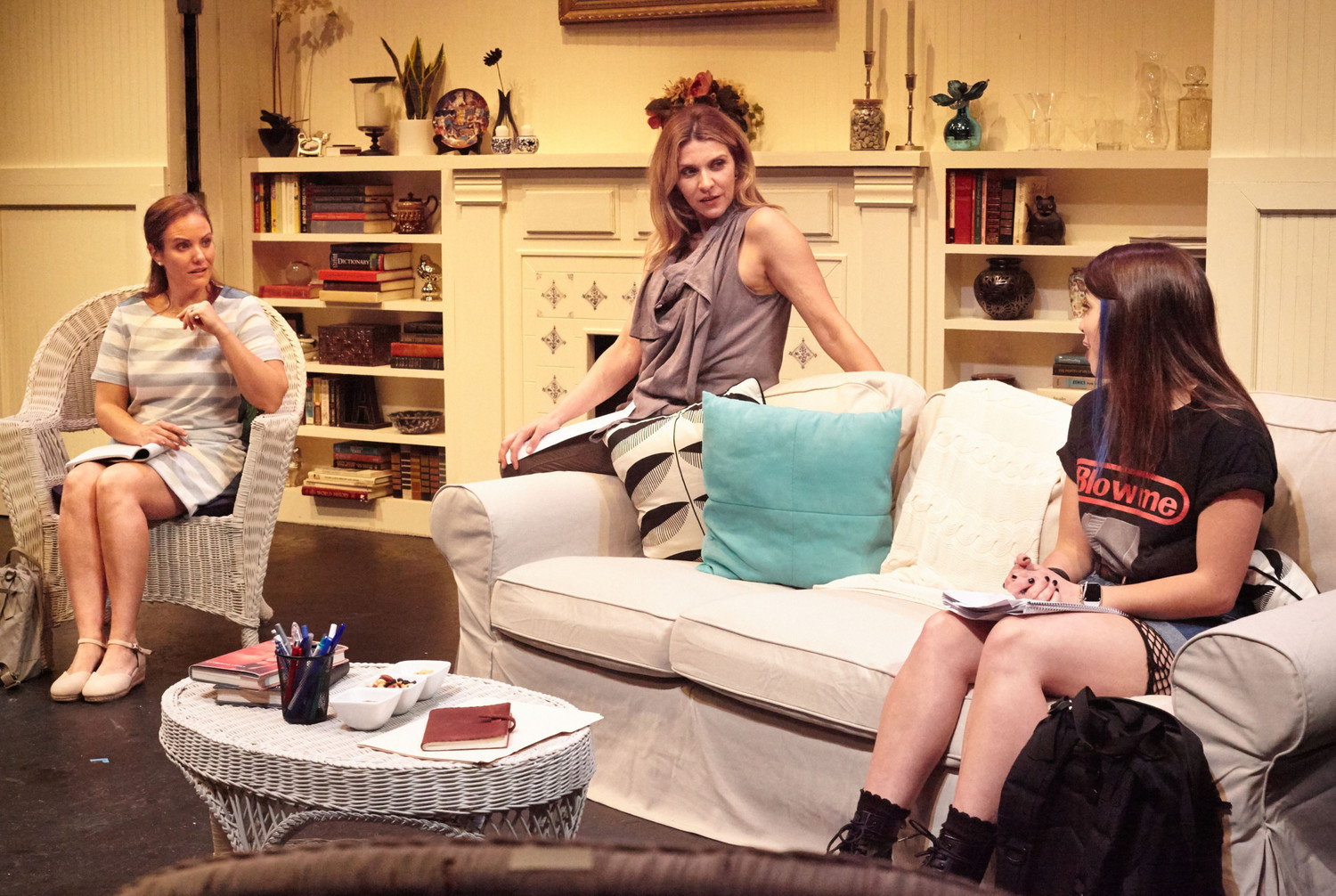 Broadway World listed RAPTURE, BLISTER, BURN from 4TH Wall Theatre Company as one of of our "must see" shows of 2019, and it certainly lives up to the hype. The play is an interesting meditation on modern day feminism as well as a wonderfully sharp relationship comedy. It has a lot to offer audiences, and women will appreciate the portrayal of their struggle to choose which path they should take. There is the traditional one including a family, as well as the ambitious career-centered one that risks not having that. What do women really want? And are they game enough to go for it once they realize what it is.
---
The play presents an interesting conversation in the first act as four women of three distinct generations discuss gender roles as they see them over martinis. What starts off as a college course on feminist theories about porn and horror movies becomes the impetus for the ladies to share their truths about what they think of where they are. Catherine (Courtney Lomelo) is an acclaimed academic who has come home to take care of her mother (Susan Shofner) after a health scare. She's confronted by her old college roommate Gwen (Elaine Robinson) who has married the boyfriend she left behind when Catherine took a job in London to further her career. Gwen is seemingly content to be a housewife and mother. Also in the mix is Avery (Christina Austin Lopez) who is the young college student that sometimes babysits for Gwen. Avery is horrified to learn of the sacrifices the senior citizen and two old college buddies made for the men in their lives. What's worse is they all realize perhaps there are reasons to be outraged at what they have done. The result is chaos as each woman finds an inventive way to try on the other's life for the summer.
Gina Gionfriddo's 2012 script is whipsmart and funny as all get-out. By the end of the piece she presents several sides of feminism, and manages to avoid condemning even the noxious Phyllis Schlafly's conservative agenda. In fact in many ways the playwright makes a case to celebrate the traditional role of the female housewife. No woman is left behind, although the men often take it on the chin throughout the play. It's a timely work in the wake of "metoo" and much debate over women in politics and gender roles. It will be interesting to see how "woke" women of today respond to the play's conclusion which has some complicated nuances that imply certain struggles may be unnecessary. The only flaw I see in the play itself is it does seem to linger about one scene too long only to give everyone a "happy" ending. Perhaps leaving some questions in the ether would have been more provocative.
4th Wall Theatre Company does an excellent and masterful staging of this one. Direction from Kim Tobin-Lehl is assured and well thought-out. Kevin Rigdon's lights and set are a marvel of invention in the small space. He somehow manages to produce fully realized backyards and interiors with only a short time to shift at each scene. Special kudos go out to sound designer Yezminne Zepeda who offers a mix of assuring classic rock with amusing horror movie themes throughout. Technically the production values are well done.
The actors are a dream team of familiar faces to Houston theatergoers. Courtney Lomelo has to carry the show as the lead, and her Catherine reminded me of Kim Cattrall at her very best from SEX AND THE CITY. She manages to make funny bits even better than they should be, and dramatic turns have the appropriate weight with her skillfully tuned performance. Elaine Robinson is her dramatic match as best friend Gwen, and she manages to make a role that could come off as a hapless harpy into a fully realized woman who the audience adores. Christina Austin Lopez turns in one of the most natural performances I have seen in a long time as the college-aged Avery. She's gorgeous as Neve Campbell in her prime, and her entire body language commits to every scene. Susan Shofner as the martini-wielding mom is simply pure delight anytime she shuffles onto stage wagging a finger and spouting feminist quotes from Dr. Phil. Poor Nick Farco shows up as the only man in this estrogen-focused work, but he manages to inject just the right amount of machismo and vulnerability to make his bits work. He is the henpecked hubby of Gwen and the "one that got away" for Catherine. Macy Lyne's costume design cuts him down to size in several parts by contrasting his puffy chest and beard with his pale skinny legs. That seems as much character choice as commentary on false male bravado.
We have a smart script, five very capable actors, a strong directorial vision, and inventive technical aspects that make RAPTURE, BLISTER, BURN a show that should continue the tradition of audiences flocking to Spring Street Studios. 4TH Wall Theatre Company was a small troop that seemed on the verge of extinction not long ago, until very generous donations allowed them to rise Phoenix-like from their own flames. I'm thankful they persist, because the company is doing strong work with timely messages for Houston. This should only continue their winning streak and excellent reputation.

RAPTURE BLISTER BURN runs through March 23rd at Spring Studios which is at 1824 Spring Street in the 77007 zip code. Tickets can be acquired by visiting their website at http://4thwalltheatreco.com/ .