Interview: Conductor Manolo Cagnin On Traveling and Training With the Vienna Boys Choir
There are known knowns, known unknowns, unknown unknowns, and then there is the Vienna Boys Choir. Search for information on the children's concert choir (in English) and you'll come up mostly empty-handed. But Vienna Boys Choir conductor Manolo Cagnin is here to save the day. In advance of their performance tomorrow, which is sponsored by the Brilliant Lecture Series, Cagnin sat down to clear up a thing or two about the centuries-old choir. Who'd a thunk that angel wings and soccer don't mix? You can read my full Q&A with the choirmaster and conductor below.
BroadwayWorld: The Vienna Boys Choir is often described as angelic. How do you get 25 boys, all between ten and 14, to be and sound angelic and to remain so for the duration of an 11-week, 48-show U.S. tour?
I don't know about angelic. We aim to give each child his voice, as it were. They are trained Bel Canto style, with diaphragmatic breathing. This means every boy can contribute all his energy; his personality goes straight into the music. That kind of singing is quite physical, like an exercise - the boys really enjoy it. At the same time, we make sure they have a lot of time to run around and play. We always have several balls with us, and we have wonderful tour managers who always know where the best sports halls are, the best parks, the best sights, and - very important for musicians - the best food. Most of the boys are excellent at soccer. And they would be hard pressed to say whether they prefer singing or soccer. A combination would probably be best ... And wings only get in the way of soccer.
Manolo Cagnin: What is everyone looking forward to most about the trip to Houston? Or have you all travelled so much that a new city is old news?
Houston has lots to offer - we are reading up in our guidebooks. The Space Center would be interesting, possibly the Aquarium or the Arboretum. We have one child who loves Rothko. And of course, there is Wet'n'Wild. We usually put a few suggestions to the boys, and then come to a democratic decision. It depends on how much time we have and on logistics.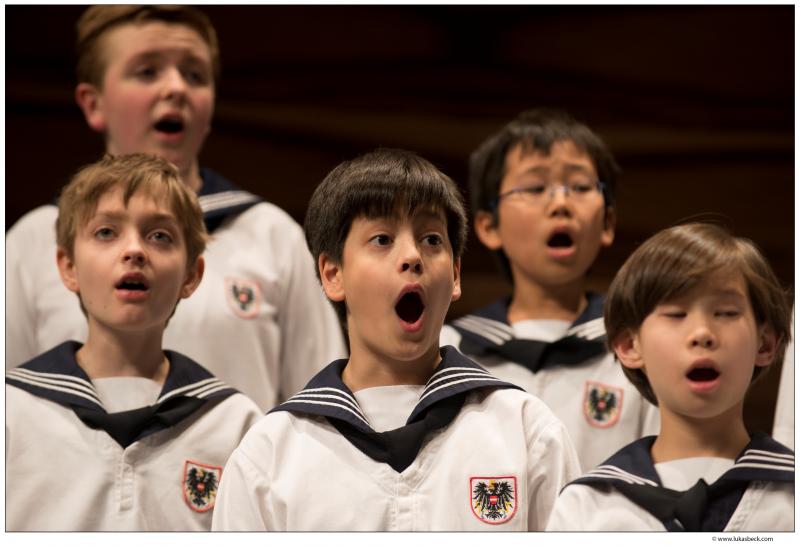 The are four concert choirs: Bruckner, Haydn, Mozart and Schubert. (Bruckner will be performing in Houston.) Can you explain the difference between the four choirs? What does that mean for performances and concerts?
All four perform as Vienna Boys Choir, all four are of equal standing. I suppose you could compare it with the Cirque du Soleil? Or the four houses at Hogwarts. You always get Hogwarts, the house merely adds its personal touch. Bruckner choir has 25 boys, so the program will always reflect their individual personalities.
How did it ("Bella Italia") come together or, rather, how was it born and how did it develop?
When we first thought of this, we were actually preparing an Italian tour - and I am Italian, so I loved the idea. "Bella Italia" kind of presented itself, it evolved naturally. We selected pieces by Italian composers, like Vivaldi, Rossini, Verdi, Mascagni, and then compositions about Italy, like the waltz "Where the lemons blossom" by Strauss.
Can you give us some of your favorite songs on the program? What about the boys? Do they have any favorites to sing or hear?
There is a piece by Adriano Banchieri which I find quite special; it is basically a carnival piece written in the 16th century, with some very modern jokes - the boys get to make animal noises in perfect counterpoint. And I think the boys rather enjoy "Mambo Italiano" - which is very good fun.
About Manolo Cagnin
Like the children under his tutelage, Cagnin developed an interest in music early in life. As a child, he studied violin and violin at the Conservatory of Venice, then later pursued choral music, conducting and composition in Venice and Milan. In 2008, Mr. Cagnin was named conductor of one of the four touring choirs of the Vienna Boys Choir. He prepares the boys for masses with the Vienna Hofmusikkapelle and for appearances with the Vienna State Opera; for sound and video recordings, and for concerts both in Vienna and abroad. In addition to his work with the choir, Mr. Cagnin served as assistant to the Thomanerchor's artistic director, Georg Christoph Biller and was music director of the Gewandhaus Orchestra's 2007 production of "La Tragédie de Carmen."
About Vienna Boys'Choir
The group of six boys invited to sing at the Viennese court many centuries ago has grown into a internationally known choir with 100 boys from dozens of nations, divided into four touring groups. Between them, the four choirs give 300 concerts and performances across Europe, Asia, Australia, and the Americas each year. Today, the choir maintains the tradition of the imperial musicians, providing the music for Sunday mass in Vienna's Imperial Chapel, as they have done since 1498. Learn more about the Vienna Boys Choir and choristers at its official website: http://www.wsk.at/en (available in German and English).
About Brilliant Lecture Series
The mission of the Brilliant Lecture Series is to educate, inspire and entertain by presenting national and international leaders, role models, philanthropists, artists, humanitarians, performers, authors, and entrepreneurs to the great city of Houston. The Brilliant performing arts series has presented a variety of programs including an Evening with Betty Buckley, Shaping Sound, Potted Potter, An Evening with Linda Eder, Marilyn Forever Blond, Texas Tenors and a Michael Jackson Tribute performance. For more information about Brilliant, please visit brilliantlectures.org.
7:30 p.m. November 4, 2017 at Dunham Theater, Morris Cultural Arts Center at Houston Baptist University, 7502 Fondren Road. For information, please visit brilliantlectures.org/vienna-boys-choir-2017. $35 to $150.