Review: GUYS AND DOLLS at Théâtre Marigny
After Michel Le Grand's Donkeyskin, which gave the genius composer one more chance to see his immortal music on the stage and the intimate Sondheim review Marry Me a Little in the Studio, Théâtre Marigny and Jean-Luc Choplin are now getting into the real thing by putting on a full production of classic musical with a entirely British creative team and cast playing and singing in English with subtitles. Though Theatre Marigny is much smaller than the Chatelet, similar productions there such as Kiss Me Kate and the Sondheim cycle were scheduled for only few weekd runs, An American in Paris was a Broadway tryout, so it easily sold out its two-month run, thanks in no small part to visitors from abroad. My Fair Lady, 42nd Street, and Singing in the Rain had already played in Paris before, although in French or on tour but were already part of the general public consciousness as movie favourites. Guys and Dolls, on the other hand, which has never been seen in Paris before or not even on tour, has an intrinsically American subject matter and only a now hardly watchable movie version, only known among French cinéphiles as the only musical in which Marlon Brando appeared, teaming up with Frank Sinatra.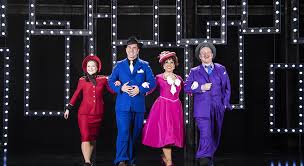 A four-month run of 120 performances seems a bit of a gamble, but after all gambling is what this show is all about! ,. Luckily, Choplin has assembled a first-rate creative team and cast. Paris musical fans can indeed forget about the Eurostar for a while, as this is a real West End if not Broadway calibre production. Having already choreographed the classic musical in Minneapolis before staging the spectacular male-dancing ensemble of the Royal Albert Hall concert production last November, Stephen Mear was a natural choice for both directing and choreographing Guysand Dolls, a job which he already accomplished with Singing in the Rain at Chatelet in 2015 and the Grand Palais in 2017 and the final production of42nd Street at Chatelet in 2016. Even the ENO's On the Town, one of the very first classical musical to visit the Chatelet in 2008, was already choreographed by him.
As usual, Stephen succeeds in infusing dance into the slower moments to keep this immense but sometimes slightly dated piece always moving. He's helped by the gorgeous costumes and minimalist but highly efficient sets by Peter McKintosh, and by impeccable lighting by London andChichester veteran Tim Mitchell. The richness of Frank Loesser's immortal score is little known to the French public, since the movie version omitted some of its crown jewels, such as "More I Cannot Wish You", "à bushel and a peck", "Marry the Man Today", "My Time of Day", and of course "I've Never Been in Love Before", which Chet Baker turned into a jazz standard. The book by Jo Swerling and Abe Burrows is not as witty as that of Kiss Me Kate, written two years prior (1948), but this version succeeds in enhancing through irony and second degree humour its funnier aspects.
There's nothing else to say about the cast than that it is absolutely superb, from the principal down to the supporting characters, on down to the ensemble. Ria Jones, fresh from her triumph in Sunset Boulevard, standing in brilliantly for Glenn Close, subsequently headlining a full-fledged tour of the show , seems so happy to back in Paris, where she played Dorothy Brock in 42nd Street at Chatelet in 2016. Ria delivers a show stopping performance and could easily be the funniest Miss Adelaide I've ever seen. Also a Chatelet veteran, Clare Halse, original star of Singing in the Rainbefore tapping her way into the part of Peggy Sawyer in the glittering revival of 42nd Street at the Drury Lane Theatre, is equally excellent vocally andin the acting department. Too bad she doesn't get to tap here!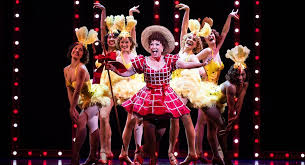 Mathew Goodgame-who regularly played Billy Flynn in Chicago at the Adelphi Theatre in London as well as in Singapore and Las Vegas, and who recently played both Pat Denning and Julian Marsh in 42nd Street and Nick Arstein in Funny Girl in London-is the ideal Sky Masterson. Christopher Howell, also fresh from 42nd Street playing Bert Barry, for which he won the What's On Stage Award, as Nathan Detroit and Gilford-trained Joel Montague, who stopped the show as Eddie Ryan in Funny Girl, both at the Chocolate Factory and at the Savoy in the West End, as Nicely-Nicely Johnson might be the two most perfect casting choices of this production.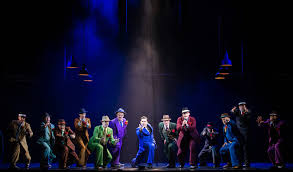 Standing out in the supporting parts are Barry James as a moving Arvide Abernathy, and the irresistible Rachel Izen as General Cartwright. As in all Stephen Mear shows, the dancing ensemble is perfectly drilled and the spectacular "Crapshooter" ballet fits just as well in the comparatively smaller proscenium of the Marigny, as it did last fall in the huge Albert Hall. Let's pray that this high level production of a lesser known classic musical in France will keep on finding its audience until July 27th, hopefully paving the way for other even bolder choices.