A CHORUS LINE To Dance Into The Wick Theatre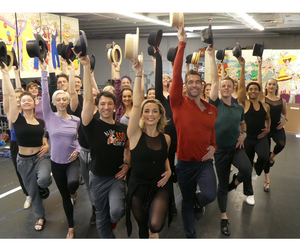 The Wick Theatre will present A Chorus Line, the iconic celebration of the Broadway's unsung heroes. The groundbreaking, Pulitzer Prize-winning show made its debut 45 years ago setting a new standard on Broadway. Filled with universal stories, hit songs and dazzling dancing, it remains as relevant, poignant and explosively entertaining as ever. Mitzi Hamilton, who was the inspiration for the character of Val in Michael Bennett's original production, takes the helm as both director and choreographer of The Wick Theatre's production which runs March 12 through April 12, with 2pm matinee and 7:30pm evening performances. Tickets, $65(group)-$95, are available at www.thewick.org or by calling 561-995-2333.
"Since launching The Wick Theatre, A Chorus Line has become an even more emotional show for me to watch, said Marilynn A. Wick, Managing Executive Producer. "Seeing the passion, dedication and immense talent of our chorus dancers as they fulfill their dreams is one of the most touching experiences of running this theater. Producing this show is a truly profound experience, and I am tremendously honored that Mitzi Hamilton is joining our family for this run!"
A Chorus Line takes the audience through the final grueling audition run by the director, Zach, for a new Broadway musical. At the beginning of the show, Zach, a driven, compulsive worker, has assembled a group of semi-finalists and is putting them through a vigorous series of dance combinations, including ballet and jazz. Soon he thins this group down to the final eight boys and eight girls. They and the audience know that eventually this number will be cut in half and Zach will choose only four boys and four girls to be in his new musical.
Instead of having them read a short audition scene, Zach wants to elicit a personal history from each one: how they got into "show business," why they became dancers, what their hopes, fantasies and aspirations are. As he calls upon them individually, they react in every possible way, from bravado to reticence. From childhood on, their memories emerge, blending into a seamless series of musical numbers and monologues.
Conceived & Originally Directed & Choreographed by Michael Bennett, with a Book by James Kirkwood & Nicholas Dante; Music by Marvin Hamlisch, Lyrics by Edward Kleban, and Co-choreographed by Bob Avian. The original Broadway production was produced by the New York Shakespeare Festival; Joseph Papp, Producer, in association with Plum Productions, Inc.
The Wick Theatre is located at 7901 North Federal Highway in Boca Raton, Florida. Tickets are on sale through the box office (open 7 days a week) at 561-995-2333 or on the web at www.TheWick.org.

Related Articles View More Fort Lauderdale

Stories

Shows
More Hot Stories For You