MOMENTUM 1900 Comes to Tampereen Työväen Teatter in September
Performances begin on 6 September.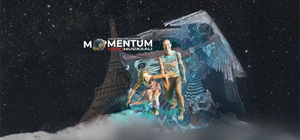 Sirkku Peltola 's new musical Momentum 1900 tells about love, independence and stubbornness. The Paris World's Fair in 1900 will be built on the stage in the large-scale production of the Tampere Workers' Theater. Momentum 1900 again brings together - this time in honor of the 120th anniversary of the Tampere Workers' Theater - Finland's most skilled musical experts. At the heart of the working group are the power trio Sirkku Peltola, Heikki Salo and Eeva Kontu , familiar from the musicals Viita 1949 and Girls 1918 .
The small autonomous Finland, which is under Russian rule, will have the opportunity to build its own pavilion for the Paris World's Fair. Finnish artists see this as a unique opportunity to present their own art and culture to the whole world and show that Finland is more than just a border region with Russia. The project seems impossible, but when the opportunity arises, it is bound to take action. The whole world is coming to Paris. In the story of the musical, the building crew comes from Helsinki and Ostrobothnia, and the young protagonists Verna and Elias also end up in Paris, and in their hearts a love that defies class boundaries ignites.
Performances begin on 6 September. Learn more at
.