Review: ANASTASIA at West Fargo Sheyenne
The musical adaptation of the hit animated film runs through February 26th.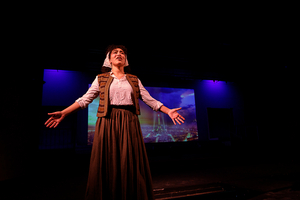 Anastasia in a musical based on the 1997 animated film. The musical adapts the legend of Grand Duchess Anastasia Nikolaevna of Russia.
Directors Anthony Peterson & Bailey Krusen do an amazing job bringing this story to the stage. They assembled a wonderful, cast and crew for this family friendly show that all will enjoy.
Many familiar faces on stage and backstage, and many newcomers and future stars also.
First up we have Alexis Sauvageau as Anastasia/Anya. Now I have seen Alexis on stage before in some smaller roles, but never quite like this. This is one of those roles that she was born to play. She turned in an absolutely breathtaking performance. Her voice gave me chills more than once and at one point the audience applauded just because she walked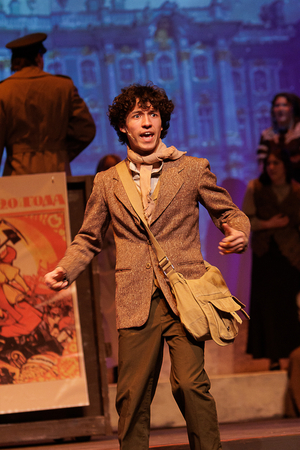 onto the stage. Her vocals on "In My Dreams" and "Journey To The Past" were beyond memorable. A few more I really enjoyed her performance on were "Learn To Do It", "In A Crowd Of Thousands" and ""Once Upon A December". Such stage presence, amazing acting and beautiful vocals.
Next up we have Reece Breudenbach as Dimitry. Wow! What a great performance. This young man has so much talent and was perfect for this role. He has such stage presence and his interactions with Alexis and also Ethan (Vlad) were so good. His vocals really shined on "A Rumor in St. Petersburg", "Learn To Do It", "We'll Go From There" and "In A Crowd of Thousands" just to name a few. Reece I can't wait to see you on stage again.
Ethan Birnbaum as Vlad was so good. He has so many hilarious moments that literally had me laughing out loud. Add to that the acting skills and singing and you have another great performer. His scenes with Annika (Lily) were wonderful. Some of his vocal standouts were on "Learn To Do It", "Paris, Holds The Key (To Your Heart)", "We'll Go From There" and "The Countess And The Common Man".
Annika Carlson as Lily is another one that gave us an amazing performance. As mentioned above her scenes with Ethan were so good. Her vocals on "Land of Yesterday" and "The Countess And The Common Man" were amazing.
G Zachary Schwab as Gleb was wonderful. He had some great scenes with Alexis and some great comedic moments also. He got to show off his vocal abilities on "The Rumor Never Ends" and "The Neva Flows".
The last one (or two) I will mention is Paige Holbrook as Dowager Empress and her wonderful performance on "Close The Door" and of course at the beginning of the show on "Once Upon A December" with Zoey Condley (4th grader) as Little Anastasia. Zoey, you were great up there and I hope you stick with Theatre.
So many talented performers on the stage for this production. The whole cast and crew were amazing.
The Pit Orchestra directed by Rich Gonzales did a wonderful job with the music.
A should out to Choreographer David Triptow, Fargo-Moorhead is so lucky to have you back!
Congrats to Josh Holten who did an amazing job with the stage design, Brenna Lahren on Costume design. Of course I have to mention Sound and Lighting design by Tim Kraft and Kerry Horst!
You still have a full weekend of performances so do yourself a favor and go watch these super talented kids!
***Photo Credit - Renegade Photography