BWW Review: THE CURIOUS INCIDENT OF THE DOG IN THE NIGHT-TIME at FMCT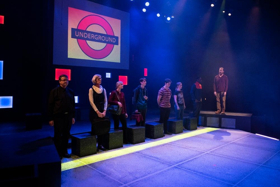 The Curious Incident Of The Dog In The Night at FMCT
This play is based on an award winning novel by Mark Haddon and tells the story of 15 year old Christopher who decides to solve a crime. The play doesn't come out and say it but Christopher seems to be on the autism spectrum.
Director Adam Pankow has been working hard to bring in some amazing shows since taking over as Artistic Director at FMCT last year, and we are always in for a treat when he decides to also direct one of those shows. The curious Incident is one of those amazing and powerful shows that will bring laughter and tears throughout the show. This is a very small cast with only 4 credited characters and 6 "voices". Adam definitely cast the perfect 4 for the leads.
First off is Jason Diers as Christopher... WOW, there really is no other way to start off talking about his performance. Simply WOW. Jason gets better every time I see him from Big Fish last summer for Gooseberry Park Players to Mamma Mia at Fargo Davies just last fall. This young man is amazingly talented and I actually think he could play any role. He was hands down the star and got a huge standing ovation after the show, and speaking of that be sure to stay after the ovation for some fun math.
Dawn Gunderson as Siobhan plays Christopher's teacher and kind of narrates the show by reading the book that Christopher is writing. Dawn is always a joy to see on stage and she had some very good scenes with Jason.
Dave Herigstad as Ed, Christoper's father, was another great role. I believe this is the first role I have seen him in. Dave is a wonderful actor and had some very intense scenes. Looking forward to seeing more from him
Alixandra Johnson as Judy, Christoper's mom, is also a great actress who I don't believe I have seen before. She wasn't in act 1 as much as the others but had a huge impact in act 2.
The 6 voices of Rachel Rebischke, Jonathan Doss, Cody Rowe, Michael Spiese, Megan Hovinen and Rosemary Jones all added to some great scenes and brought the whole show together.
Overall this was an amazing show that I hope many people get to see.
***Photo Credits Robby Njos