BWW Review: August's Wilson's, 'Jitney' At Duke Energy Theater
Jitney is the eightth of August Wilson's ten Pittsburgh Cycle plays. All, except Ma Rainey's Black Bottom, (which is set in Chicago) are set in Pittsburgh's Hill district. Written in each decade of the twentieth century, August's plays highlight African American culture, experiences, and struggles. Jitney was the only one that had not appeared on Broadway, but that all changed earlier this year when it made its Broadway debut at the Samuel J. Friedman Theater, on January 19. Not only did it make its Broadway debut, Jitney also received the Tony Award for Best Play.
Wilson, is one of my favorite playwrights, along with Lorraine Hansberry and Tyler Perry. So when Rory D. Sheriff, founder and CEO of Brand New Sheriff Productions, announced that he was bringing Jitney to Charlotte's Duke Energy Theater, I jumped on the opportunity to review it. I confess, I attended this production with my critical red-pen in tow, I have a personal bias and raised bar of expectation when it comes to revivals, especially ones of my mentors or favorite playwrights.
Jitney, set in the 1970s, follows a group of men with distinctive personalities who are making a living driving unlicensed taxi cabs defined as "jitneys". I love Jitney because it highlights and showcases relatable and identifiable African American men (people that I grew up with in my neighborhood) and how they interacted with one another. It has that barbershop affect - an exclusive "for men only" haven where men can flex their muscles and let their testosterone flow without interruption or correction from their "women folk". Each character represent a struggle that most men can relate and the filters or sedatives each use to cope or overcome those adversities - whether economically impose by an eternal source or a self-imposed struggle.
Some notable African American stereotypes are showcased in a very colorful and matter-of-fact way. The hustler, depicted by the "numbers runner", Shealy (James Lee Walker II), who uses the station's payphone as a means of conducting his business, represents our "street" entrepreneurship. Tim Bradley portrays the local loud-mouth/gossiper, Turnbo, who is handling everyone's business except his own. Every "hood" has a good guy. Becker (John W. Price), is the respected manager of the Jitney station, who also works at the local mill. He is a hard-working, prideful man with good morals and values. Becker is happily married to his second wife, Lucille who he married after his first wife died, suddenly and tragically. Of course we know every family has that one skeleton in their closet that pierces a "hole" in that righteous armor. Becker's "hole" is his son, Booster (Jermaine Gamble), who his father stated "threw his life away over a lie". Booster, was found in a "compromising position" with a white girl. The girl lied and denied their relationship, which landed him in jail. Feeling betrayed and hurt, when his Dad bails him out of jail, Booster kills the girl. Initially, he was sentenced to death; however, the sentence was later amended to twenty years. After Booster's release from prison, he tries to mend his relationship with his father (who never visited him in prison); yet, to no avail. August Wilson brashly deals with father and son conflict in Jitney as he did in Fences. Maybe the reason he is able to effectively write about it is because of his own personal inner-struggle of not having a solid relationship with his own father, who was white.
Every successful man has that "sidekick" who keeps things running when he is not around. Doub (Keith Logan), Becker's sidekick, a laid-back Korean War veteran, acts as the arbitrator when the men get a bit boisterous. And what scenario would be complete without the "town drunk"? Fielding (Gerard Hazelton), has a dependency problem in more ways than one. Even when he is fired, his need to be wanted surfaces as he pleads for his job.
In the midst of all of this "ball of confusion" is a beautiful love story between the youngest driver in the Jitney station, Youngblood (Jonathan Caldwell) and Rena (Juanita Green). Youngblood, who served in the Vietnam War, is a typical young African American male who has a desire to achieve more, but lack the economic resources to make ends meet. With a girlfriend and young son as dependents, Youngblood is working extremely hard to buy a new house for his family so he can proudly fulfill his duties as the "man of the house". Turnbo tries to mess up his happy home by insinuating that Youngblood is fooling around with Rena's sister, Peaches. This little outburst gets him a fist in the face from Youngblood. Eventually, he succeeds in keeping his family and buying the house. I wish we could have more happy endings like this for our brothers.
Back to my rating, Rory Sheriff, along with Corlis Hayes as artistic director, did an outstanding job of bringing August's masterpiece to life in Charlotte. Besides perfect casting, there are some external factors that gives this rendition of Jitney a 4-Star (out of 5) rating with me. First, the set accurately conveys a visualization that reflects the economic conditions of the Hill district. Yes, it looks like a "run-down" jitney station. The walls are tethered, yet rich in history. There is a vinyl Motown album on the wall, a Pittsburg Steelers' banner, and a poster advertising the historic Muhammad Ali versus Frazier fight. The classic memorabilia is the payphone in the corner that the drivers take their calls. The glass windows added a nice touch so that you could see the drivers and customers going and coming in and out of the station. Another factor, was the music selection that occurred prior and at the end of the scenes. The sweet sound of Motown permeated the walls making the mood right
Yes, this is another successful Brand New Sheriff production. The African American culture is "rich" here in Charlotte, showcased through the eyes of the performing arts. I am glad to be here to witness the evolution of African American theater right in the heart of the metropolis. Thumbs up, Rory...keep it coming. In my opinion, August Wilson would be proud.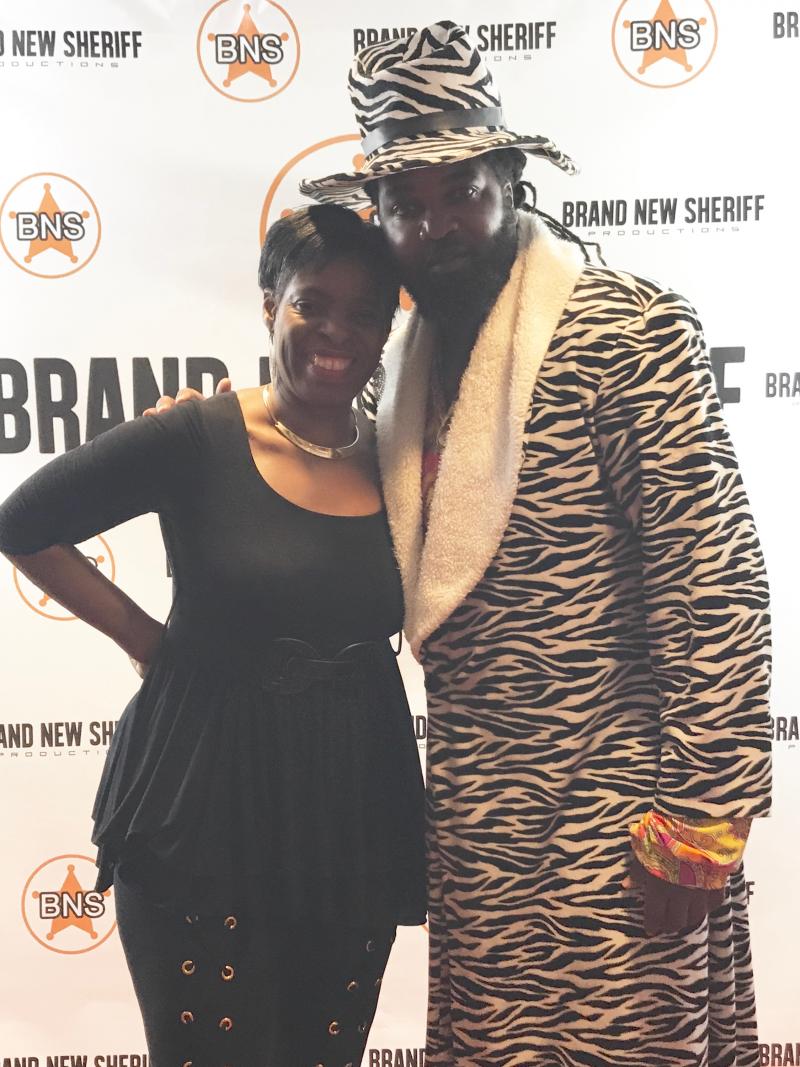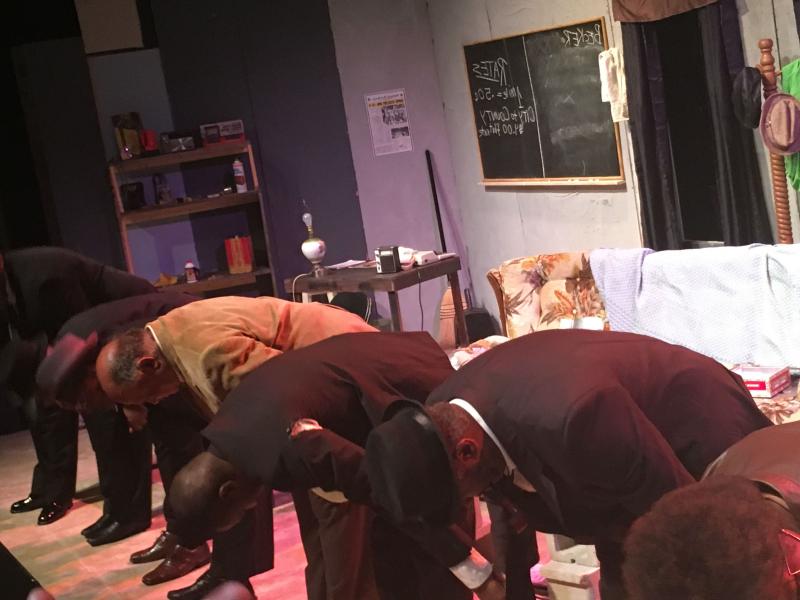 Jitney runs through September 9th at the Duke Energy Theater at Spirit Square, 345 North College Street. Tickets can be purchase at http://www.carolinatix.org