Click Here for More Articles on Women in Theatre
BWW Review: IN THE NEXT ROOM Satisfies at Imprint Theatreworks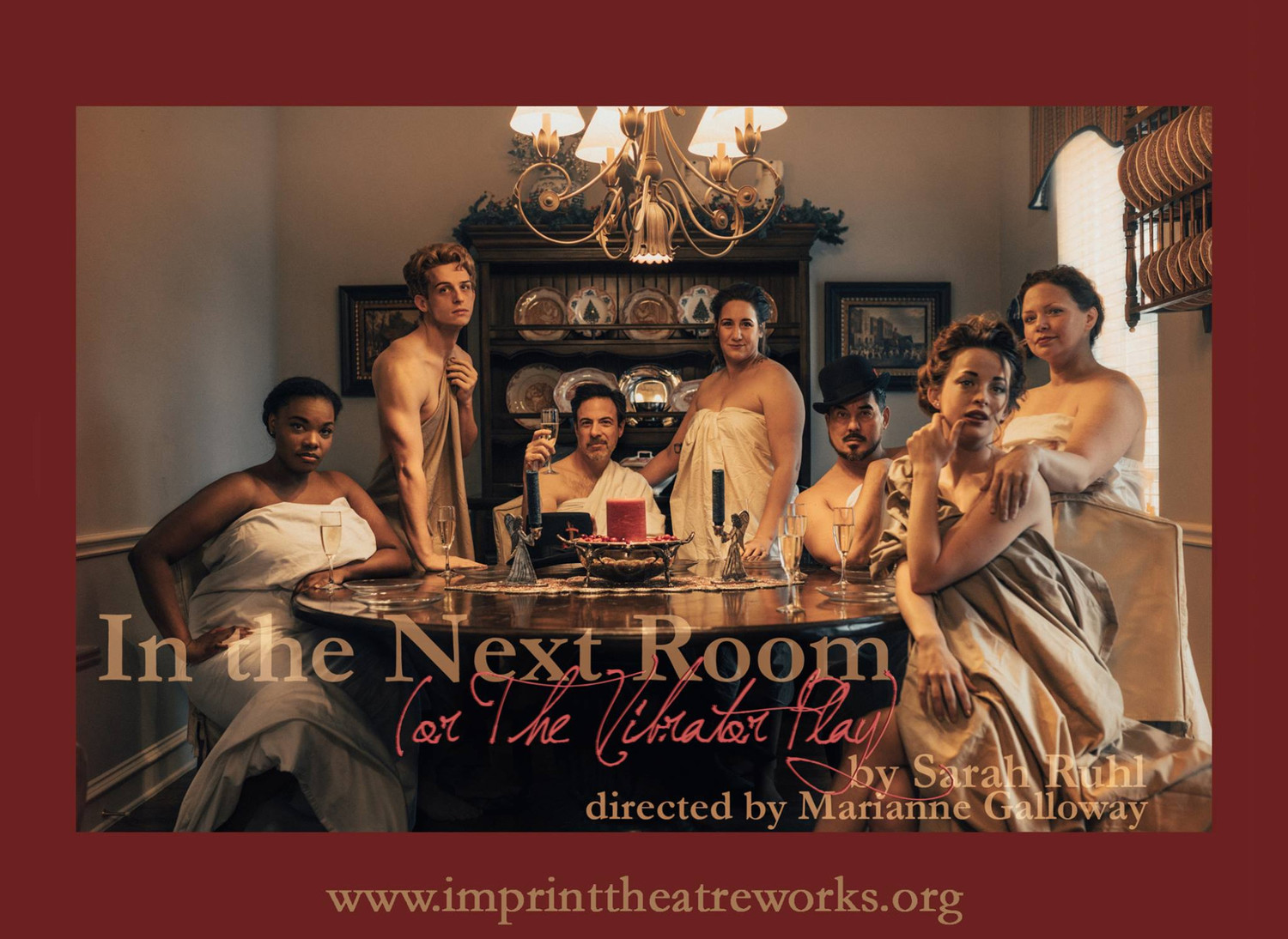 On Friday, I went to see Imprint Theatreworks' production of "In the Next Room (or the Vibrator Play)" by Sarah Ruhl. In the interest of fairness, I must warn you I was already biased towards the piece before I even set foot in the Bath House Cultural Center (the venue at which the production take place). I have read this play and absolutely adored the script, and I have worked with director Marianne Galloway in the past and absolutely adored that too. One of my favorite plays directed by one of my favorite directors? Suffice it to say I had high hopes. The production, at times uproarious, at times bittersweet, and ultimately incredibly heartwarming, fulfilled all those hopes and more.
"In the Next Room" centers around Doctor and Mrs. Givings, an upper-middle-class late 19th century family. Doctor Givings specializes in treating hysteria, a malady which we now know to be a bunch of baloney, but which apparently plagued a large percentage of women in that era. Symptoms of hysteria included sensitivity to light and cold, decreased appetite, loss of interest in activities once enjoyed, weakness, faintness, and basically any and all feelings of anxiety or depression. Essentially, hysteria was an umbrella term for female illness that could not otherwise be easily diagnosed. Hysteria was said to be caused by excess fluid in the womb, and in order to release fluid, one had to induce a "paroxysm," aka an orgasm. The manual method, explains Dr. Givings to one of his patients, used to take hours, but now, at the dawning of the age of electricity, a brand-new invention makes treatment so much easier. Enter the vibrator, a hefty, intimidating machine which very little resembles the small battery-operated variety of the 21st century.
Scenic designer Ellen Doyle Mizener has utilized the small black box space very intelligently. The limited amount of space, rather than detracting from the atmosphere, seems like an intentional choice to illustrate the Victorian mindset that "more is more" when it comes to decorating; Victorian households always had a large collection of ornamental kitsch and clutter. The wall between Dr. Givings' in-home operating theater and the living room seems to have been cut away. On either side of the remaining ledge, an electrical instrument is the focal point of each room - in the operating theater, the scary metal death-trap of a vibrator sitting next to the efficient metal reclining chair, and in the living room, a large branching lamp with three bulbs. Like moths, characters will gather around this lamp, inexplicably drawn by the fascination with electric light.
Dr. Givings approaches his electrical stimulation treatment impartially and indifferently, as a man of science - in fact, Dr. Givings approaches everything, even matters of love and family, as if they were mere science, which infuriates Mrs. Givings, a romantic through and through. Whenever Dr. Givings retreats to his operating theater, Mrs. Givings sits in the living room, sometimes interacting with waiting patients, sometimes with Elizabeth, her wet nurse, and sometimes only sitting quietly, feeling lonely. As her estrangement from her family persists and her curiosity becomes more acute, she begins to investigate secretly what goes on in the next room, piecing together just what exactly her husband does in there. It is a story that makes you question the relationship between love and sex, extols the benefits of delayed gratification in an age of immediacy, and implores you to take the time to fully see the one that you're with.
Jennifer Kuenzer is well suited to the role of Mrs. Givings. The warmth and charm she exudes fit the ideal of a Victorian housewife. As the story progresses, however, the façade begins to crack, and we see moments of sharp desperation flash out of her like turning on an electric bulb. She may be capricious and at times even passive-aggressive, but thankfully Kuenzer avoids the pitfall of a whiney wife. She is desperate but not pathetic, a strong woman in a sad plight, someone you genuinely want to root for. David Meglino's Dr. Givings is the perfect foil to Kuenzer's volatility. Meglino's deadpan delivery can simultaneously make you laugh and cringe. When Dr. Givings finally owns up to his awkwardness in matters of love, Meglino paints a perfectly poignant picture of a man who loves to help people yet is incapable of the impracticality necessary for a grand gesture of love. It is a small but incredibly satisfying moment. Meglino, like Kuenzer, may act insecure or crestfallen, but never becomes pitiful.
I congratulate director Marianne Galloway and Intimacy Director Ashley H. White on striking a balance between humor and poignancy. Much of the show is laugh-out-loud funny, like the extreme verbal acrobatics of a Victorian trying to delicately speak about the clitoris. It can be an easy release to laugh off any unpleasantries, but for the sake of telling the story and imparting a message it is vital to let the audience sit in moments of discomfort, oddity, and silence. The tension that builds in certain moments, like when Dr. Givings gives a terrified Elizabeth a medical exam, is exquisitely uncomfortable. Another of my favorite moments is when four women gather around the living room without saying a word. Mrs. Daldry, one of Dr. Givings' patients, plays a melancholy little tune on the piano for Mrs. Givings, Elizabeth, and Dr. Givings' assistant Annie. You can watch each woman go on her own silent journey as she listens to the song. Quiet moments like these allow the comic gems to stand out in greater relief and sparkle with greater clarity without turning this bittersweet and layered story into a farce. After all, as Dr. Givings' patients know, a quick and easy release can be less satisfying in the long run.
"In the Next Room (or the Vibrator Play)" runs through January 26th at the Bath House Cultural Center. For more information and to buy tickets, go to https://www.brownpapertickets.com/event/3602923?fbclid=IwAR1cVrA3HD8WobIgVPKMNJSzuDioErkaSqT4v0Xmz2Zj3gX7XhV2rfleua8
Photo credit: Kris Ikejiri