BWW Review: GUYS AND DOLLS at Lyric Stage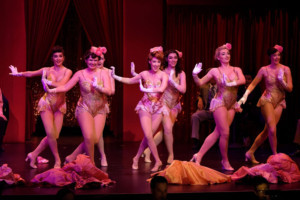 Oh, Guys and Dolls. We've all heard of or know Loesser's retelling 1930's gangster stories, and let's admit it, we've all either performed or know someone who has performed Adelaide's Lament or Luck be a Lady. Lyric Stage closes their 25th Season with the classic directed and choreographed by Penny Ann Maas, and if the sold-out opening night is any indication, Lyric's audience is going to welcome the throwback - rough spots and all.
Now, don't get me wrong, I love a good revival. In a theatrical landscape of bright pop musicals and experimental art pieces, there is something paradoxically refreshing about revisiting and re-exploring more classic shows. That said, reviving classic shows like Guys and Dolls or Seven Brides or The King and I (to name a few) demands a hard look at the source material to question dated textual approaches to gender, race, and class. When this is done well, a revival can be profound and stunning, celebrating the source material while empowering audiences and understanding that historical references are indeed bound in the past. Guys in Dolls in particular has so many opportunities that beg for a second look, especially with the relationships of Adelaide and Sarah who are respectively trapped in an abusive relationship (yes, Nathan's manipulation of Adelaide is a form of abuse) and the victim of more than predatory alcohol abuse (yes, lying to a woman about what's in her drink is a problem). A show that examined this, questioned it, and staged the show in a way that tells a more rounded story would be a revelation. Lyric's Guys and Dolls is, unfortunately, not that show.
That is not to say that this production is without its merits. In fact, the cast seems ready and rearing to take the show to a place it hasn't been before. Christopher J. Deaton's Sky reminds us why Deaton's name and voice deserve to be all over the city - and optioning up the final note of "Luck Be a Lady" was more than the right choice. Janelle Lutz (rhymes with "boots") as Sarah is interesting: if only because in the Havana scenes when she lets go and belts - yes belts - all of "If I Were a Bell," she is a revelation, with her earlier and later scenes paling in comparison to the joy she exudes when allowed to goof around a bit. Seriously, I cannot write enough good things about the voices on these two.
Continuing on with the trend of exceptional voices, Mike Gallagher's Nicely-Nicely throws out every note with perfect clarity in a role that is written in the stratosphere. Andy Baldwin and Catherine Carpenter Cox's respective Nathan and Adelaide give each role a ton of energy and exude charisma, but again, fight a bit of an uphill battle with characters that are not innately likable. I can't say that I was drawn into the world of Nathan and Sky, but whether that was the almost-concert-like presentation of the solos or the pings in my head every time dialogue appeared to be paraphrased (or the text was just plain misogynist) is anyone's guess. The cast is indeed, however, beyond talented and musically stellar; I can only imagine what they might have been able to do to lift the show into 2018.

And before you protest: no, "Marry the Man Today" does not invert the power structure nor does it make up for the red flags in Act 1.
Lyric's Guys and Dolls is rounded out with a polished female ensemble of Hot Box girls and an ambitiously energetic swarm of young Gangsters. Lighting Design by Julie N. Simmons and Set Design by Randel Travis complete the backdrop of our Runyonland, with costuming by Brenda Lewis finishing the period piece. I'm sure by now the few audio kinks there were in Act 1 have worked themselves out, but the gorgeous space that is the majestic more than makes up for a few static bursts.
Guys and Dolls at Lyric will provide a wonderful aural experience, and honestly hearing Deaton's modified "Luck Be a Lady" is worth the ticket price alone. Sinatra wishes he had that upper range. Yet, with the haze lifted on eras gone by, Guys and Dolls falls a bit flat.
Lyric Stage's Guys and Dolls runs through June 10th at the Majestic Theatre. Check out http://lyricstage.org for more details.
Photos: Michael C. Foster