Pacific Chorale Presents Monteverdi's Rarely-Performed VESPERS OF 1610, March 4
This marks Pacific Chorale's first complete performance of the stunning masterpiece, which takes place on Saturday, March 4.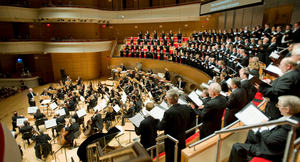 Pacific Chorale, conducted by Artistic Director Robert Istad, displays its considerable vocal dexterity when special guests Bach Collegium San Diego (BCSD), one of the country's premier early music ensembles, and its founder, organist Ruben Valenzuela, join the choir for a highly anticipated, historically-informed performance of Monteverdi's "Vespers of 1610," a pillar of the Baroque music canon whose splendor and virtuosity has captivated audiences for centuries
This marks Pacific Chorale's first complete performance of the stunning masterpiece, which takes place on Saturday, March 4, 2023, 8 pm, at Our Lady Queen of Angels Catholic Church, Newport Beach.
"Monteverdi's 'Vespers of 1610' is an extraordinary work that continues to enthrall audiences with its layers of breathtakingly beautiful sonic textures, lush choruses, virtuosic solos and poignant duets," says Istad. "The acoustics and intimacy of Our Lady Queen of Angels make it an ideal setting for this live performance, which pairs Pacific Chorale with the period instruments and instrumentation of the remarkable Bach Collegium San Diego as well as Ruben Valenzuela's masterful artistry on the organ. This will be a rare opportunity to hear the complete work, since it is seldom performed in its entirety."
Bach Collegium San Diego, noted for its "gripping, empathetic" and virtuosic performances (San Diego Union Tribune) engages audiences with accessible, historically informed performances of iconic and lesser known repertoire from the Renaissance, Baroque, and early Classical eras. Founded in 2003 by Valenzuela to diversify the musical offerings of the Southern California community, BCSD has garnered national and international acclaim.
Valenzuela, a "dramatic and vibrant" artist hailed for his ability "to unlock the true power of Baroque music" (San Diego Story) is a conductor, keyboardist, and musicologist. In addition to his work with BCSD, he regularly appears as a guest director and keyboardist with such notable organizations and venues as Holy Trinity, New York City; Marsh Chapel Choir and Collegium at Boston University; Bach at Emmanuel Church, Boston; Juilliard415 at Lincoln Center, New York City; and the Washington Bach Consort. Upcoming appearances include Westminster Choir College with the Orchestra of St. Luke's; Seraphic Fire; Handel+Haydn Society; and BachFest, Leipzig. Valenzuela also serves as the Director of Music & Organist of All Souls' Episcopal Church, San Diego.
Pacific Chorale's 2022-23 Season is made possible by generous support from Platinum Season Sponsor Phillip N. and Mary A. Lyons, and Silver Season Sponsor Charles and Ling Zhang.
Single tickets for "Monteverdi Vespers" range from $25 to $75. Our Lady Queen of Angels Catholic Church, 2100 Mar Vista Drive, Newport Beach, CA 92660. For tickets and information, visit www.pacificchorale.org or call 714-662-2345.
ABOUT THE ARTISTS
ROBERT ISTAD, a Grammy Award-winning conductor who "fashions fluent and sumptuous readings" (Voice of OC) with his "phenomenal" artistry (Los Angeles Times), was appointed Pacific Chorale's Artistic Director in 2017. Under his leadership, the chorus continues to expand its reputation for excellence for delivering fresh, thought-provoking interpretations of beloved masterworks, rarely performed gems and newly commissioned pieces. His artistic impact can be heard on two recent recordings featuring Pacific Chorale, including the 2020 Grammy Award-winning "Mahler's Eighth Symphony" with the Los Angeles Philharmonic Orchestra conducted by Gustavo Dudamel on Deutsche Grammophon (2021), for which he prepared the chorus. It won Best Choral Performance and also garnered a Grammy nomination for Best Engineered Album, Classical. Additionally, Istad conducted the Pacific Chorale's recording "All Things Common: The Music of Tarik O'Regan" released on Yarlung Records (2020). Istad has prepared choruses for such renowned conductors as Esa-Pekka Salonen, John Williams, John Mauceri, Keith Lockhart, Nicholas McGegan, Vasilly Sinaisky, Sir Andrew Davis, Bramwell Tovey, Carl St.Clair, Eugene Kohn, Giancarlo Guerrero, Marin Alsop, George Fenton, and Robert Moody. He regularly conducts and collaborates with Pacific Symphony, Musica Angelica Baroque Orchestra, Sony Classical Records, Yarlung Records, Berkshire Choral International, and Long Beach Symphony Orchestra. An esteemed educator, Istad is Professor of Music and Director of Choral Studies at California State University, Fullerton, where he was recognized as CSUF's 2016 Outstanding Professor of the Year. He conducts the University Singers and manages a large graduate conducting program, in addition to teaching courses on conducting and performance practice. Istad, who is on the Executive Board of Directors of Chorus America and serves as Dean of Chorus America's Conducting Academy, is in demand as guest conductor, lecturer, and clinician.


PACIFIC CHORALE, a Grammy Award-winning Orange County "treasure" with a "fresh viewpoint" that "can sing anything you put in front of it, with polish, poise and tonal splendor" (Orange County Register), has "risen to national prominence" (Los Angeles Times) since its inception in 1968. Hailed for delivering "thrilling entertainment" (Voice of OC), the resident choir at Segerstrom Center for the Arts is noted for its artistic innovation and commitment to expanding the choral repertoire. It has given the world, U.S., and West Coast premieres of more than 35 works, including numerous commissions, by such lauded composers as John Adams, Jake Heggie, James Hopkins, David Lang, Morten Lauridsen, Ravel, Tarik O'Regan, Karen Thomas, Frank Ticheli, András Gábor Virágh, and Eric Whitacre. In addition to presenting its own concert series each season, Pacific Chorale enjoys a long-standing partnership with Pacific Symphony, with whom the choir made its highly anticipated Carnegie Hall debut in 2018. The chorus also regularly appears with the Los Angeles Philharmonic, with which it won the 2022 Grammy Award for Best Choral Performance as well as a Grammy nomination for Best Engineered Album, Classical, for its contribution to the live classical recording of "Mahler: Symphony No. 8, 'Symphony of A Thousand,'" conducted by Gustavo Dudamel, featuring Leah Crocetto, Mihoko Fujimura, Ryan McKinny, Erin Morley, Tamara Mumford, Simon O'Neill, Morris Robinson and Tamara Wilson; Los Angeles Philharmonic; Los Angeles Children's Chorus, Los Angeles Master Chorale, National Children's Chorus and Pacific Chorale. The choir has performed with such leading orchestras as the Boston Symphony, National symphony, Los Angeles Chamber Orchestra, Philharmonia Baroque Orchestra, San Diego Symphony, and Musica Angelica, among others. Pacific Chorale has garnered international acclaim as well, having toured extensively to more than 19 countries in Europe, South America, and Asia, and through collaborations with the London Symphony, Munich Symphony, L'Orchestre Lamoureux and L'Orchestre de St-Louis-en-l'Île of Paris, National Orchestra of Belgium, China National Symphony, Hong Kong Sinfonietta, Estonian National Symphony, and Orquesta Sinfonica Nacional of Argentina, among others. Deeply committed to making choral music accessible to people of all ages, the organization, which has a discography of 14 self-produced recordings and an extensive collection of exceptional free digital offerings, places a significant emphasis on choral music education, providing after-school vocal programs for elementary school students, a choral summer camp for high school students, and an annual community-wide singing event at Segerstrom Center for the Arts. www.pacificchorale.org