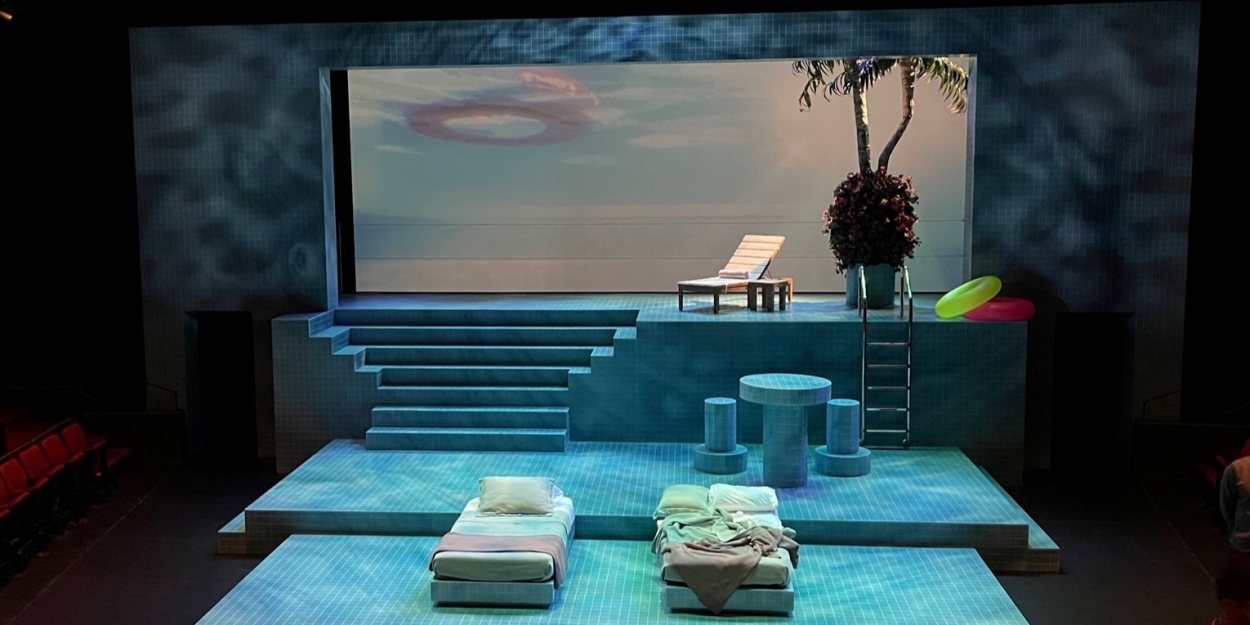 Review: ESPEJOS/CLEAN at Hartford Stage
A courageous and remarkable bilingual production
Hartford Stage is presenting a remarkable and courageous New England premiere: Christine Quintana's bilingual play, Espejos/Clean. The play gives us two very different women: Adriana, from Chetumal, Mexico, who speaks Spanish and a bit of English, and Sarah, from Vancouver, who speaks only English. They meet briefly at a resort in Cancún-Adriana is the head of housekeeping there and Sarah is the Maid of Honor for her sister's destination wedding. Though Adriana and Sarah meet and attempt to communicate only briefly, they exchange just enough about each other's difficult lives to spark the hope, at least, of understanding and significant change.
The play, under the fluid direction of Melissa Crespo, uses supertitles to translate each woman's language: when Adriana (a moving and charismatic Emma Ramos) speaks to us in Spanish, we read the English above the stage, and when Sarah (a skillful Kate Abbruzzese) speaks to us in English, we read her words in Spanish. Paula Zelaya Cervantes provides the Spanish translation and adaptation, and I found the supertitles easy to follow, even though I don't speak the language. Ramos is so committed and strong that her monologues are clear from the beginning, and I hope that Spanish-speaking audience members feel the same about the English supertitles that translate Sarah's speech.
Much of the first act is comprised of monologues, as each woman uses direct address to tell us about herself, her past, and her present circumstances and emotions. Adriana has used the force of her personality to find pride in her job, despite the occasional admission of shame. Sarah is more fragile: painfully thin in her two-piece bathing suit, shame is pretty much a constant for her, a shame she attempts to escape through drinking to the point of blacking out whenever she sees the opportunity.
The play has one flaw that disrupts our fascination with these women's stories and with what is slowly revealed about each one. After a haunting and suspenseful curtain scene that ends the first act, playwright Quintana has chosen to add three dream sequences in the second act that confuse the action rather than moving the plot forward.
However, once these sequences are over, and the women meet in a climactic dramatization of misunderstanding and miscommunication, Espejos/Clean becomes, once again, a fascinating investigation of class, trauma, wealth, poverty, and the agonizing need to confront one's past.
This production is especially effective due to the astonishing set, projections, lighting, and sound. While the action moves from Chetumal to Cancun, and from a swimming pool to guest rooms in the resort, the set design, by Mariana Sanchez, is both spare and gorgeously realized, with water being a strong element. Colleen Doherty's lighting design beautifully evokes this sense of shimmering water, as well as precisely clarifying each woman's very different world.
Lisa Renkel's projection design has us traveling, along with Adriana, on a bus to and from the resort, and also provides powerfully believable weather changes over the course of the week in Cancún. These projections are aided by the sound design by Daniela Hart and Uptown Works, as we hear the bus noises and the cracks of thunder, as well as the wind and rain whipping the palm trees. When one of the women remembers a particularly intense voice from her past, her own voice is amplified as in an echo chamber, so that we can feel her emotions even more acutely.
Espejos/Clean is a play that I'd like to see at least one more time, as the dominant note on first viewing is suspense, while on second viewing, one could even more fully appreciate the structure of this suspense. Bravo, Hartford Stage.
Photos: T. Charles Erickson