Paul Winter and Friends Present UKRAINE SPRING Benefit For World Kitchen Ukraine
The performance is on Sunday, March 26th at 3:00 p.m.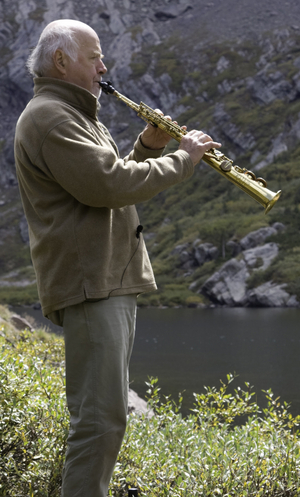 Seven-time Grammy-winning saxophonist and composer Paul Winter, with a host of musical friends, will present Ukraine Spring, a feast of music to honor and benefit the people of Ukraine on Sunday, March 26th at 3:00 p.m. at the extraordinary Church of the Assumption, 61 N. Cliff Street, Ansonia, Connecticut.
The beneficiary of this concert will be World Kitchen Ukraine. Founded by Spanish chef José Andrés, World Kitchen Ukraine began serving hot, nourishing meals within hours of the initial invasion and quickly grew their response by mobilizing teams of cooks in Ukraine, Romania, Moldova, Hungary, Slovakia, Spain, and Germany. With more people returning to Ukraine, World Kitchen Ukraine is focusing its efforts on providing hundreds of thousands of fresh meals and tens of thousands of food kits each day. World Kitchen Ukraine is reaching hundreds of cities, including areas under fire, recently liberated towns, and communities hosting refugees. All proceeds from this event will go to support World Kitchen Ukraine.
The vision for Ukraine Spring has come from a long-going dialogue between Paul Winter and renowned Ukrainian choral director Marika Kuzma.
From the early days of his college jazz sextet, which toured 23 countries of Latin America for the State Department and performed the first-ever jazz concert at the White House for the Kennedys in 1962, to his later ensemble, the Paul Winter Consort, Paul Winter's concert tours and recording expeditions have taken him to 52 countries and to wilderness areas on six continents, where he has traveled on rafts, dog sleds, mules, kayaks, tugboats and Land Rovers. He has recorded over 50 albums, of which seven have been honored with Grammy Awards.
Vocalist Theresa Thomason has been featured with the Paul Winter Consort for over 25 years. She continues to deliver jaw-dropping performances that embrace her gospel roots while speaking directly to a universal audience.
Julian Kytasty is the reigning master of the national instrument of Ukraine, the bandura, in all its historical variants.
Brazilian pianist Henrique Eisenmann and multi-instrumentalist singer-songwriter Jeff Boratko have been part of the Paul Winter Consort for the past few years. They are both featured in the Consort's latest album, Concert in the Barn.
On March 11th of this year, actors from the Legacy Theater in Stony Creek, CT performed an evening of Ukrainian poetry and music to raise money for Doctors United for Ukraine. Several will join this concert, punctuating the music with verses about spring by Ukrainian poets (in translation) including Kostenko, Shevchenko, and Ukrainka.
"The Church of the Assumption is one of the undiscovered architectural and acoustic treasures of New England," says Paul Winter, who has previously had the opportunity to play in the church. "It is absolutely in a class with many of the beautiful historic churches in Europe. The church is a magnificent, cathedralesque building constructed in the 19th century. It has gorgeous acoustics and an historic organ, which will be played in some of the concert pieces by the church's organist and Music Director, Anthony Burke. We are grateful to our friend, Anthony Burke, for inviting us to present Ukraine Spring in this exquisite space."