HAPPY 100TH BIRTHDAY JUDY!, A Musical Celebration Starring Debbie Wileman Comes to The Ridgefield Playhouse
The performance is  on Thursday, April 27, 2023 at 7:30pm.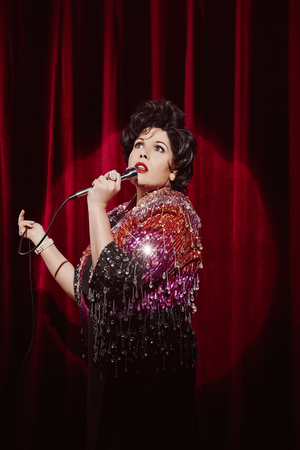 "Happy 100th Birthday Judy!" It's the worldwide celebration of the 100th Birthday of the legendary Judy Garland, starring internet sensation, Debbie Wileman, whose uncanny vocal likeness to Judy has wowed audiences worldwide. Wileman has gained more than 1 million online views for her spot-on recreation of Judy Garland and she is now, direct from London, onstage to dazzle Judy's fans as well as her new followers.
Come see "Happy 100th Birthday Judy!" A Musical Celebration Starring Debbie Wileman at The Ridgefield Playhouse on Thursday, April 27, 2023 at 7:30pm.
The evening is part of the Teed & Brown Broadway & Cabaret Series. Fresh off her newest album release, I'm Still Here orchestrated, conducted, & produced by Steve Orich, orchestrator of the Grammy Award Winning album, Jersey Boys, Debbie commands the stage - all with a live orchestra, conducted by Ron Abel. She features the famous hit songs from Judy's illustrious career, and, as an added treat, she sings songs of today (from Lady Gaga & Adele to Amy Winehouse & The Beatles, and more) that Judy would sing if she were with us today. Carol Burnett has raved- "All I can say is Judy would have loved Debbie. She has captured Judy's musical essence along with her love of lyrics. This is a beautiful tribute to the late, great Judy Garland." It's a once-in-a-lifetime evening you won't want to miss! Make it a great night out with dinner and a show by visiting Tequila Escape Kitchen + Bar (439 Main Street, Ridgefield) for dinner before the show and enjoy 10% off your check when you present your ticket!
Debbie Wileman is an extraordinary vocalist who also impersonates classic female singers of the Golden Age, particularly Judy Garland, whose performance of the legendary icon has been called 'uncanny' and 'astonishing.' She also impersonates Shirley Bassey, Marilyn Monroe, Julie Andrews and Billie Holliday. Wileman seems to be following in the footsteps of Judy, Barbra and Gaga with her very own A Star is Born story. Over the pandemic, Wileman began singing "A Song A Day" and posting videos of timeless songs on Facebook. With over one million views later, she became an internet sensation with global fans. Following two sold-out performances November 2021 in London starring in Little Massive Voice, Wileman won the audience award for "Best Vocalist" with the Broadway World Cabaret Awards.
In May 2022, Wileman was filmed signing "Over the Rainbow" at the fabled MGM Studios (renamed The Barbra Streisand Scoring Stage). This is the same stage Judy Garland sung the song on 84 years ago, the signature song that made one of Hollywood's most enduring icons a global star at age 17. Debbie Wileman said of her experience, "It was honestly a dream come true and so inspiring to be in that room where so much history has been made. Not only all the recordings for The Wizard of Oz, but all my favorite MGM musicals, too." She continued, "You could feel the electricity in the air and a lot of the original features of the room are still there - including cigarette burns on the 1930's music stands. It was an honor to be there." The recording was included in Wileman's latest album, I'm Still Here, which was released in June 2022, as a tribute to Judy Garland's 100th birthday. The album was orchestrated, conducted, & produced by Steve Orich, orchestrator of the Grammy Award Winning album, Jersey Boys. The album also included songs "Beauty and the Beast", "Yesterday/Got To Get You Into My Life", "Back to Black", "Defying Gravity" and more.
For more information or to purchase touchless print at home ticket ($45-65) go online at www.ridgefieldplayhouse.org or, you can visit or call the box office (203) 438-5795. The Ridgefield Playhouse is a non-profit performing arts center located at 80 East Ridge, parallel to Main Street, Ridgefield, CT and is committed to keeping the arts alive and available to all.