CLASSIC SEGER Brings Bob Seger's Greatest Hits Live In the Warner Theatre's Oneglia Auditorium
A show that delivers the spirit of a Bob Seger concert, and makes audiences feel they have gone back in time to the 1970's and 80's, during this powerful rock'n'roll show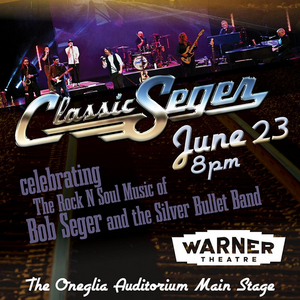 The Warner Theatre will welcome CLASSIC SEGER to the Oneglia Auditorium, Friday, June 23 at 8 pm! Tickets are on sale to Warner supporters on Tuesday, February 7 and to the public on Friday, February 10 at 10 am. Visit warnertheatre.org for more information.
"Classic Seger"- Bob Seger's Greatest Hits Live is the top North American touring act, that has been thrilling audiences throughout the U.S.A. and Canada, with their critically acclaimed production. A 9-piece band with incredible stage chemistry and energy, that captivates audiences with their impressive mix of Seger's classic hits and deep cut gems.
A show that delivers the spirit of a Bob Seger concert, and makes audiences feel they have gone back in time to the 1970's and 80's, during this powerful rock'n'roll show.
Experience the raw power of "Classic Seger" as they perform classic hits like Night Moves, Turn The Page, Katmandu, Mainstreet, Hollywood Nights, Against The Wind, Like A Rock, Old Time Rock'n' Roll and many more favorite songs. You will be singing, dancing and screaming for more. "Classic Seger" is a concert that rock'n'roll music fans will never forget! For tickets, visit warnertheatre.org or call the Box Office at (860) 489-7180.
The Warner Theatre is a performing arts center located in the heart of Downtown Torrington, CT's Cultural District. The theatre was incepted in 1931 as an original Warner Brothers Studios movie palace. Today, the Warner is in operation year-round and features a variety of productions including live national touring acts, stage company plays and musicals, dance, standup comedy, movie screenings, opera simulcast, high school graduations, community theatre, competitions, and other special events that enrich the cultural community.
The Warner Theatre is supported by the Department of Economic and Community Development, Connecticut Office of the Arts. Northwest Connecticut Association for the Arts' mission is to preserve the Warner Theatre as an historic landmark, enhance its reputation as a center of artistic excellence and a focal point of community involvement, and satisfy the diverse cultural needs of the region. To learn more about the Warner Theatre, visit our website: www.warnertheatre.org.