Review: TRUE WEST at Ridgefield Theater Barn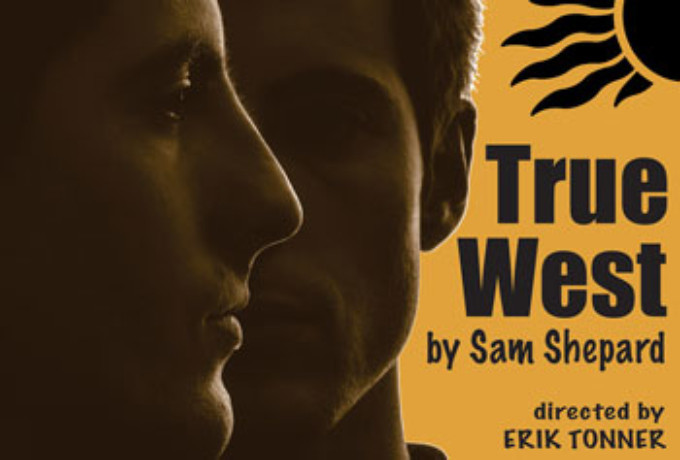 On Friday, June 1, I had the pleasure of seeing the emotionally intense drama, TRUE WEST at the Ridgefield Theater Barn, in Ridgefield, CT. This deeply moving show is written by Sam Shepard, and directed by Erik Tonner. The story includes well-timed and strongly delivered comic relief interspersed throughout this drama.
The set depicts a kitchen, using a real refrigerator, range, microwave, and cabinets. Set designer and builder Nick Kaye could have easily gotten thousands of dollars to customize someone's kitchen to appear like this set. It is very easy to forget that we are looking at a stage, since it appears like a real kitchen. The lighting effects behind the window enhance the authentic feeling of the set, by depicting the time of day or night. Sound effects of crickets furthermore convey the isolated country ambience of the show.
The show is set during a time period of typewriters and wall phones, before computers were even a common household item, much less the internet. Nevertheless, the storyline is timeless, still totally relevant today.
The acting talent is superb. The story revolves around two adult brothers named Lee and Austin, both of whom are magnificently performed by Anthony Barresi and Chris Luongo, respectively. While their mother is on vacation, they return to their mother's home. Austin is away from his own wife and children, while Lee had spent time alone in the desert. Clear friction between these two brothers is evident from the start. Austin, the younger brother, initially comes across as the more level-headed and solid in his life choices, while Lee comes across as a roving wanderer who lives a wild and irresponsible life plagued by poor choices and unfortunate consequences. As the story progresses, however, and more of Austin's personality is revealed, some audience members may change our minds and start viewing Lee as the more emotionally stable of the two brothers.
Austin is excited that a movie producer named Saul Kimmer (Dan Forman) is interested in meeting with him, regarding the outline that Austin has written for a movie script. Lee is supportive of his brother, but also has interest in writing his own outline for a story to be turned into a movie. The sibling rivalry between Lee and Austin becomes even more intense as it becomes obvious that Lee is looking to upstage Austin's connection with Saul. Lee uses the shared interest in golf that he has with Saul, in order to help convince Saul to see an outline for Lee's movie idea.
Dan Forman enhances the already tight stage chemistry between Anthony Barresi and Chris Luongo. The three of them play off each other incredibly well, selling their lines, actions, and dynamics with each other. Stephanie Schwartz appears as Lee and Austin's mother, furthermore adding to the quality of the show.
There are numerous on-stage physical altercations between Lee and Austin, all performed in convincing manners, some that are extremely intense. A very strong message is sent about the dangers that alcohol and jealousy can pose in tearing families apart.
For mature audiences, I highly recommend TRUE WEST which is scheduled to continue to run at the Ridgefield Theater Barn, every Friday and Saturday evening, at 8:00 PM, through June 23, 2018, and with Sunday matinees at June 10 and June 17, at 5:00 PM. For tickets, please go to http://ridgefieldtheaterbarn.org/.