BWW Review: Captivating, topical must see "Freak Storm" at none too fragile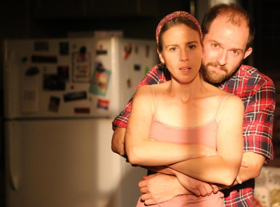 Little did none too fragile's Artistic Director, Sean Derry know that the day Matt Pelfrey's play "Freak Storm" opened at his theatre, would be the date of the Senate's hearings for possible confirmation of a Supreme Court judge.
The parallel of the stories is almost as eerie as the storm that rages outside the home of soon-to-be-married Adam and Lynn. The results are as befuddling and filled with future consequences.
The script's author, Matt Pelfrey is noted for writing horror and thriller scripts for stage and screen. His plays have been produced around the country and overseas to critical acclaim and include "Cockroach Nation," "Terminus Americana," "An Impending Rupture of the Belly," and the stage adaptation of "In the Heat of the Night."
At the start of "Freak Storm" we are exposed to Gil (Benjamin Gregorio) and Ian (Brian Kenneth Armour) driving to Los Angeles. Their harried conversation reveals that something terrifying has happened with the potential to affect the upcoming wedding of Adam (James Rankin) and Lynn (Kelly Strand). Gil and Ian are Adam's life-long friends. Why is the duo so angst-filled?
The next scene reveals Adam and Lynn in the troughs of pre-marital love making. Their phone keeps ringing. When they answer, they can hear breathing, but no spoken message. As the lights flicker and go out, Adam looks out the window and sees a figure of a woman, dressed in rags. Who is this mystery woman? Why is she outside their home?
As the dramatic morality play plays out, Gil and Adam have a tale to tell about the past. Someone or something from that past is coming for them all! Their relationship will never be the same.
Like the present Supreme Court judge candidate testimony, "Freak Storm" examines the scary, scruffy stuff of the macho world of some men and how their actions affect others.
To reveal more would ruin the emotional experience for anyone planning on seeing this play.
Director Sean Derry knows how to build tension. Marcus Dana adds angst with the lighting.
Sitting up close, as is the situation in none too fragile's theatre in which no one is more than 15 feet from the stage, forces the audience to experience all the tension. It makes the dramatic experience totally encapsulating.
The cast is excellent. Each character helps build the tale. James Rankin is at his dramatic best. His self-revealing long monologue is riveting.
Brian Kenneth Armour is chauvinistic on target, using phases like "bitch hole" and other sexist comments, and swearing as if it is a natural part of speech, with upsetting ease.
Benjamin Gregorio stammers and displays realistic fear while developing a character with little obvious backbone.
The concepts of "everyone has something to hide," "good people do bad things" and "we are a generation sliding toward adulthood" so parallel the present Supreme Court confirmation hearings that it is spooky.
Capsule judgment: "Freak Storm" is a well-written, topical play that gets an outstanding absolute must-see production. Wow! If all theater productions could be of this level, the world of theater-goers and reviewers would be one of wonder.
For tickets for "Freak Storm" which runs through October 13, 2018, call 330-671-4563 or go to nonetoofragile.com
None too fragile's season closes with "Boogieban," DC Fidler's tale about Lawrence Caplan, a Vietnam War veteran who became a military psychiatrist. Caplan is asked to assess one last soldier. His patient insists that he is "good to go" back to his unit in Afghanistan. Caplan soon discovers, however, the soldier is tortured by nightmares and flashbacks. Unexpectedly, the soldier's story unveils Lieutenant Colonel Caplan's amnesia for Vietnam. Together, the two men launch on parallel journeys that will change them forever. (November 16-December 1, 2018)
Roy Berko, a life-long Clevelander, holds degrees, through the doctorate from Kent State, University of Michigan and The Pennsylvania State University. Roy was an actor (read more about this author...)