Nick Cearley, Lauren Molina Lead Cast of YOU'RE A GOOD MAN, CHARLIE BROWN in Cincinnati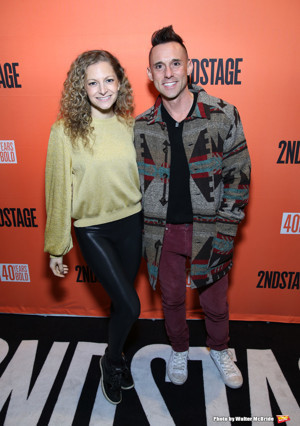 The beloved Peanuts gang comes to life onstage in the Marx Theatre beginning April 20 in YOU'RE A GOOD MAN, CHARLIE BROWN, a whimsical and witty musical reimagined for the stage with the actors playing their own instruments. The production runs through May 18. Opening night is April 25.

Through a series of heartwarming vignettes, Charlie Brown and his classmates deal with the joys and frustrations of childhood in charming sketches and musical numbers like "My Blanket and Me," "The Book Report," and "Happiness" and more.

"Whether you are coming to reconnect to the beloved world of the Peanuts or to introduce it to a new generation, this delightful musical will leave you with a smile on your face," says Blake Robison, artistic director.

This creative and innovative staging was conceived by actor-musicians Nick Cearley, who starred as Seymour in the Playhouse's 2017 production of Little Shop of Horrors, and Lauren Molina, a New York-based theatre artist and singer-songwriter. Together they perform as The Skivvies - an "undie"-rock duo that covers popular songs and plays originals with classical instruments.

"We are always looking for the perfect project to do together that would marry our strengths as actor-musicians," says Cearley, a native of Fairfield, Ohio, who is based in New York City. "We immediately started brainstorming other ideas that would cater to our strengths while providing new insight on a classic... The Playhouse has such a wonderful track record with actor-musician pieces that it organically felt like the perfect marriage of artistic love."

The production is directed by Bill Fennelly, who directed Little Shop of Horrors. Along with Michael Holland, music director/new instrumental and vocal arranger, Fennelly and the company worked together in a collaborative and communal way, designing orchestrations with offbeat instruments like kazoos, slide whistles and washboards, along with the traditional guitar, piano and accordion.

"When Nick Cearley, Lauren Molina and I began discussing the idea of bringing this actor-musician production to life, the first thing we had to consider was: Which version of the musical did we want to explore?" explains Fennelly. "We chose the original 1967 version. We loved its warm and open-hearted spirit. We also really responded positively to the acoustic feel of the original 1967 score, and we hoped that we would find a contemporary analog with our production."

The theatre artists held a workshop in the fall of 2017 and presented their performance to Robison, who was inspired to "green light" their vision for the Marx stage.

"I hope audiences will laugh, be inspired, be filled with joy and warmth, and get excited about the creative way we are going to be sharing this story," says Molina.

Performances will begin at 7:30 p.m. Tuesdays through Thursdays, at 8 p.m. Fridays, 4 and 8 p.m. Saturdays and 2 and 7 p.m. Sundays. An additional matinee takes place at 1 p.m. on March 27. Please note there are no public evening performances on March 13 or 24.

Individual tickets start at just $35. Tickets to all 7 p.m. Sunday performances are priced at just $10 for college students with a valid school ID. Student tickets are $15 on the day of the show for all other performances. Discounted ticket prices for children and teens are available for all performances and are $30 or $45, depending on seat location and performance day.

YOU'RE A GOOD MAN, CHARLIE BROWN is suitable for general audiences ages 5 and older. Due to the full-length nature of the show, children younger than 5 cannot be admitted.

Tickets can be purchased by visiting the Playhouse website at www.cincyplay.com or by calling the Box Office at 513-421-3888 or 800-582-3208 toll-free in Ohio, Kentucky and Indiana. For TDD (Telecommunications Device for the Deaf) access, call 513-345-2248. The Playhouse is fully accessible.
Photo Credit: Walter McBride / WM Photos
Related Articles View More Cincinnati

Stories

Shows
More Hot Stories For You