BWW Review: MILLION DOLLAR QUARTET at Cincinnati Playhouse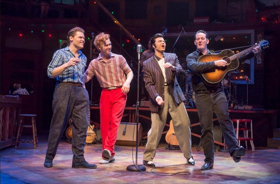 Cincinnati Playhouse in the Park excels at bringing musicals and plays to the boards. Its rendering of MILLION DOLLAR QUARTET by Colin Escott and Floyd Mutrux is no exception.
A re-creation of a jam session at Sun Records, the show runs from January 20 through February 18 with actors portraying Johnny Cash, Elvis Presley, Jerry Lee Lewis and Carl Perkins resonates with the audience. Those who are old enough to remember rock-n-roll in the 1950's will enjoy the production with tunes from the past. Both Acts I and II contain a strong set list of twenty-three songs including a rousing, opening number Blue Suede Shoes, Fever, Walk the Line, Great Balls of Fire, Folsom Prison Blues and Hound Dog. There are three guitars, bass, drums and a piano. Added to the cast is Bligh Voth as the singer Dyanne, who belts Fever in a sensual style.
Relive one of the liveliest jam sessions in history. In the words of Sam Phillips, Sun Record's owner, "It is a hillbilly homecoming."
The show opens in Sun Studio in Memphis, Tennessee in December 4, 1956. Music producer and Sun Records owner Sam Phillips is vocal with his singers. The actors who perform the roles of the singers are the spitting image of them and speak in a country twang. John Michael Presney as Carl Perkins has the hair, moves, and dress that reflect Perkins to a "T." Presney also serves as music director.
Sky Seals as Johnny Cash depicts the singer in intonation, choreographed moves, dress, and tone. That said, director Hunter Foster encouraged his actors to avoid obvious imitation and instead create an essence of the singers. Set designer is Adam Koch; costume designer is Lauren Bark; and sound designer is Bart Fasbender.
James Ludwig is a tough Phillips. He minces no words with his singers. Sean McGibbon plays Jerry Lee Lewis, a young, ambitious singer who pounds the piano with every song he sings.
Hunter Foster, a Broadway veteran and director, helms the production in the Robert S. Marx Theatre stage. The book is by Colin Escott and Floyd Mutrux with the original concept and direction by Floyd Mutrux with inspiration by four iconic singers. There have been eight previous productions of the musical at regional theaters across the country.
MILLION DOLLAR QUARTET received three Tony award nominations in 2010, including best book and musical. It first appeared on the national tour at the Aronoff Center for the Arts.
Running from January 20 to February 18, 2018, the revue opens on the stage in one hour and 45 minutes running time. In addition to the singers, there are back-up performers playing the bass and drums. The set is Sun Records with a control room at the top, blinking signs, a recording studio complete with a riser for the backup band. Costumes are of the era, i.e., black and white shoes, baggy pants, plaid shirts, all reminiscent of the 1950's.
Currently an Artistic Associate at Bucks County Playhouse, Pennsylvania, Foster earned his professional start as a performer, graduating with a BFA in musical theatre from the University of Michigan. He has directed plays at regional theaters across the country.
Sun Records and Sam Phillips had a unique vision that brought many groundbreaking artists to popular attention. "When he discovered these artists and then when he was doing all these recordings, it's sort of like the beginning of rock 'n' roll," said Foster. "Carl Perkins influenced the Beatles, and Jerry Lee Lewis influenced Elton John. And Elvis influenced a host of artists all the way to Michael Jackson," he added.
"You really see the original almost like ground zero of the music that we know today," said Foster. "There wasn't that much of that kind of stuff before it, and Sam really created something. They call him the father of rock'n'roll, and it's really true."
"People will come, and they'll believe. If we do it in a truthful way, people will believe that this is who these people were," said Foster.
Stan Hertzman, retired artist's manager, reflected on the impact of the singers. He said, "Of course, Elvis started it all in rock n' roll."
John Lennon said, "There'd be no Beatles if not for Elvis." 'Likewise, he was Buddy Holly's real time idol and competition. Sun sold his contract to RCA,' according to Hertzman.
"Johnny Cash's story and success are historical. After I Walk The Line and others, Johnny went to Columbia from Sun.
"Carl Perkins was the original Sun Artist to write and record Blue Suede Shoes only to have Elvis gain the fame covering Carl's record while Carl was recovering from a car accident in the hospital.
"Jerry Lee Lewis broke onto the scene with his renegade boogie-woogie piano and maniacal vocal, performance style. He went on to Smash Records from Sun after Whole Lotta Shakin' Going On, Great Balls of Fire and Breathless.
"All these were discovered by and began their careers with Sam Philipps on his Sun Records label," added Hertzman.
"To get this amount and level of historically influential musicians in the same studio and on tape was unusual," according to Hertzman. "Since they all came from Sun Records initially," they brought country, rhythm'n'blues and gospel, referred to as 'rockabilly," seminal in the emerging rock'n'roll launch worldwide."
This is a musical one could see several times.
The show runs from January 20 through February 18. For more information, contact the Box Office at (513) 421-3888 or visit the website at www.cincyplay.com