BWW Interview: Broadway Star Laura Osnes Brings the Magical BROADWAY PRINCESS PARTY to Cincinnati!
You are invited to "come join the party" as The Broadway Princess Party performs at the Liberty Funny Bone on September 16! The Broadway Princess Party is a concert of your favorite "royal tunes" co-hosted by two time Tony nominee Laura Osnes (Rodger's and Hammerstein's Cinderella, Bonnie & Clyde) and her "Fairy Godfairy" music director Benjamin Rauhala. In the cross-country tour, the "princess posse" is completed by Tony nominee Susan Egan (Broadway's Beauty and The Beast, Hercules), Courtney Reed (Broadway's Aladdin), and Adam J. Levy!
Amidst going from to city to city by "carriage" and sprinkling magic across the country, Osnes took time to talk about the beginnings of BPP, what she's most excited for about the Cincinnati concert, favorite Disney princesses, and more in the interview below.
Anne: The Broadway Princess Party just celebrated its third birthday! So in honor of that, let's take it back to the beginning. How did the Broadway Princess Party get created?
Laura: It all began in 2015, at the birthday party of our fabulous music director, Ben Rauhala. He and I were friends, but little did I know the bonding collaboration we would share in the years to come. Ben pitched an idea of a Princess concert to me, where I would sing and act as co-host with him. I got so excited about the idea and instantly created a document of all our girlfriends' headshots next to a picture of which princess I wanted them to play. Six months later, we had our first concert and were astonished at how magical it was -- Audience reaction was off the charts, and our talented 15-woman cast created this uniquely unified and inspiring environment of support for each other that was so vastly different from what we all experience at Broadway casting offices day after day. We knew we had something special on our hands and 54 Below came back to us immediately with dates to book more shows.
Anne: What inspired you to take the concert on tour?
Laura: BPP started gaining massive recognition from its performance postings on Ben's YouTube channel, and we quickly realized this had enormous potential and (inter)national appeal to thrive beyond the walls of a New York City cabaret club. This concert reaches such a wide demographic: Broadway fans, animation fans, families, and even costumed cosplayers! We started getting requests via social media to take the concert on tour, and the stars began to align to make it possible!
Anne: How has the show evolved from the NY series to the cross-country tour?
Laura: As I mentioned, we had a full cast of 15 ladies, each portraying one princess for one song, in our first 54 Below shows. We've narrowed the cast to include just three ACTUAL, ORIGINAL Broadway Princesses: Susan Egan, Courtney Reed, and myself, plus Ben for the touring version. We get to share real experiences and stories with the audience about our various seasons playing iconic royalty onstage. And I love getting to now sing songs beyond the Cinderella cannon, which I was more confined to in our earlier NYC shows. We have developed a full-fledged line of BPP merchandise, being sold at the Princess Pop-Up Shop at our concerts and online for the first time later this month! And we also created our #unleashyourinnerprincess contest on social media, where one lucky lady is selected to be our local guest Princess and sing with us in each touring city. I feel like we've already discovered so many inspiringly gifted young women!
Anne: You have some incredible costars! Susan Egan, the voice of Meg in Hercules and the original Belle in the Broadway production of Beauty and the Beast, and Courtney Reed, the original Jasmine in the Broadway Production of Aladdin are your fellow princesses! However, you also have your incredible Fairy God Fairy, Benjamin Rauhala, and special guest prince Adam J. Levy! How did you assemble this all-star "royal team"?
Laura: Royal team is right!!! Fairy Godfairy Ben is truly responsible for bringing this dreamy squad together. But first, let me just rave about Benji for a minute because he's a whimsical genius who knows how to create magical onstage moments through music and song. That gift cannot be taught. He's full of kindness, light-hearted humor, skilled wit, and a diligent work ethic that make him a true Fairy Godfairy and our ideal leader. He always puts others before himself and looks out for us so well when we're on the road.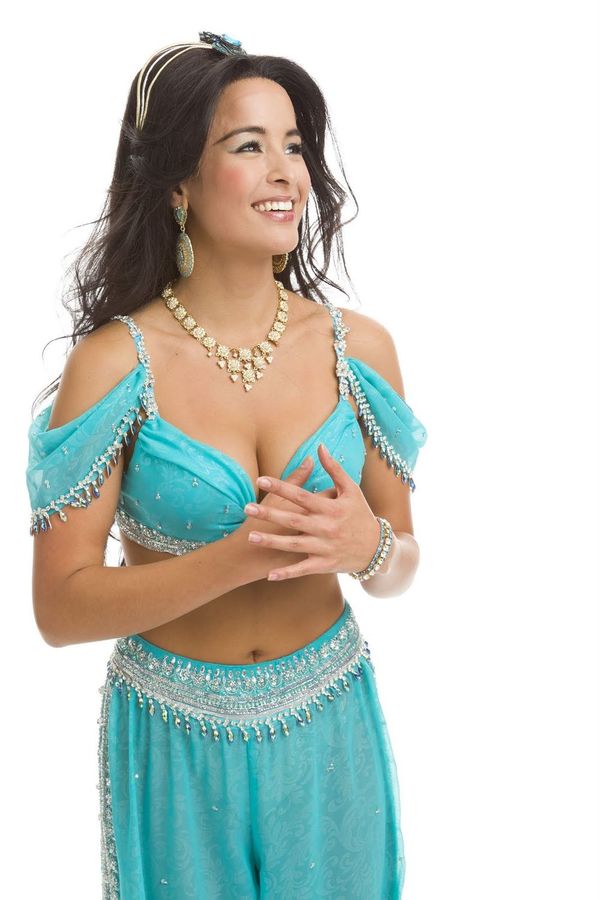 Courtney has been with us since day one, appearing in nearly every BPP concert over the past three years. She's our mainstay, tried and true, OG Princess Jasmine, who can impressively belt anything, keep us all laughing, and beautifully represent the wide range of ethnically diverse princesses. She even has her own fashion line of handmade chokers, and stylish swag called Gagged, bringing her savvy, contemporary flair to this princess trio.
Susan came to us in an extraordinary twist of fate... Ben had done a concert with Susan a few years ago, so we reached out on a hope and a prayer when we had booked BPP at a venue in California last Dec (2017), knowing she lived on the West Coast. To our overjoyed surprise, she agreed to perform those dates with us, and we couldn't believe we had THE Belle and THE Megara onboard. We all completely fell in love with each other and so welcomed her invaluable experience and visionary ideas for the brand, that she came on board as an equal partner in developing Broadway Princess Party into what it is today. She's meticulously organized, perpetually positive, and dreams bigger than all of us combined (yes, we have even more tricks up our sleeves for the future, just you wait!)
And dear Adam Levy... Ben knew Adam from NYC, and Adam knows Susan from growing up in California. So Ben made the call last December and Adam also agreed. Having never met or known Adam myself, I had to trust Ben's word that he was "Prince material", and I have to say, my very high expectations have been monumentally exceeded. We call him Prince Adam for a reason -- not to quote Sondheim (but to quote Sondheim), Adam is "sensitive, clever, well-mannered, considerate, passionate, charming, as kind as he's handsome...". I could go on and on.
And there you have it. A dream team of royal companions who compliment each other so perfectly and love getting to work, play, make music, and now travel across the country together!
Anne: Is there something that you are looking most forward to for the Cincinnati Concert?
Laura: I don't think I've ever been to Cincinnati! So seeing a new city and meeting any BPP fans we have there will be super exciting.
Anne: Did you have a favorite Disney princess growing up?
Laura: My staples were Ariel, Belle, and Jasmine. Loved them all equally, but probably watched Aladdin the most... I had the barbie of Jasmine.
Anne: Do you have a favorite song to sing in the show?
Laura: Literally five or six songs come to my head, but we just added a trio version of "A Million Dreams" from The Greatest Showman. Ben has arranged the most gorgeous three-part harmonies, and I think it's my new favorite!
Anne: A favorite song/moment to watch?
Laura: Susan singing her Beauty & The Beast medley, hands down.
Anne: You have also done a local princess contest! I think it is so generous of you to feature a young local talent in each city! What inspired you and your team to add that aspect to your concert?
Laura: For our first touring show in December last year, Ben and I knew we wanted to include the show-stopping song "Almost There" from The Princess And The Frog. We thought it could be the perfect opportunity to feature a local artist, which would also be little cost to us and bump ticket sales at the same time. Ben emailed his contact at Orange County School of the Arts, who sent us videos of a couple talented students worthy and ready for the task. We chose a bright, buddying starlet named Trinity Milosek, who within weeks of joining our #PrincessPosse in concert, was accepted to Berklee School of Music and will be joining us again on the Berklee Performance Center stage in Boston on Sept 14! Because Trinity is so sensational, we were inspired to expand this model through the avenue of social media to seek out talented undiscovered princesses everywhere!
Anne: What has been the most rewarding thing in the process of the Broadway Princess Party?
Laura: The whole thing is rewarding when I think about it. Not only am I getting to do what I feel I was put on the planet to do, perform, but I'm also exercising a new professionally fulfilling muscle of co-creating/running a business. With people I love, respect, and admire. I'm getting emotional thinking back on this three-year journey. I never would have guessed that a one-night concert Ben and I put on for fun with our friends would turn into an official LLC, booking dates across the country to adoring, sold-out crowds (that's really fulfilling, too, actually... having such an unexpectedly meaningful impact on our audiences), selling merchandise with a branded logo, and headlining alongside my princess inspiration (Susan Egan) and my Broadway princess sister (Courtney Reed). It's been A LOT of work and emails and emotional investment and even stress.... but that's exactly why I think it's so rewarding.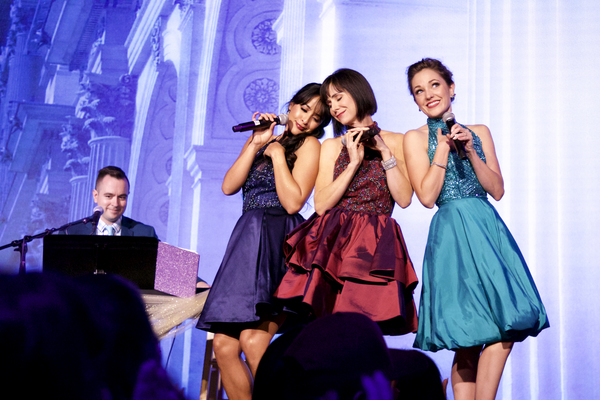 Anne: And to wrap it up, what is one thing that you want the audience to know going into the night? What is one thing you want the audience to take away from the night?
Laura: I want our audience members to come in with open, expectant hearts! Our goal is to sing the petticoats off every princess song in the book and make all your princess dreams come true! Oh, and they must know we give out princess prizes for those who dress up for the party! So don't be shy about donning your best ballgown, sparkly shoes, or glittering tiara.
I hope audiences leave inspired not only by the talent of the performers, but also by the grace, strength, kindness, joy, silliness, and support we get to share with each other and with all of you from the stage.
For more information about the concert, you can visit the Broadway Princess Party website. Afraid you might have to stay in and do chores like Cinderella instead of going to the ball... or... concert? Fear not! Students receive a $5.00 discount by using the promo code STUDENT5 when purchasing tickets. For tickets, click here !
Related Articles View More Cincinnati

Stories

Shows
Anne is a second-year Communication major at the University of Cincinnati. After 8+ years of performing, she decided to pursue a different avenue into the (read more...)