Review Roundup: What Did Critics Think of MAMMA MIA! at Drury Lane?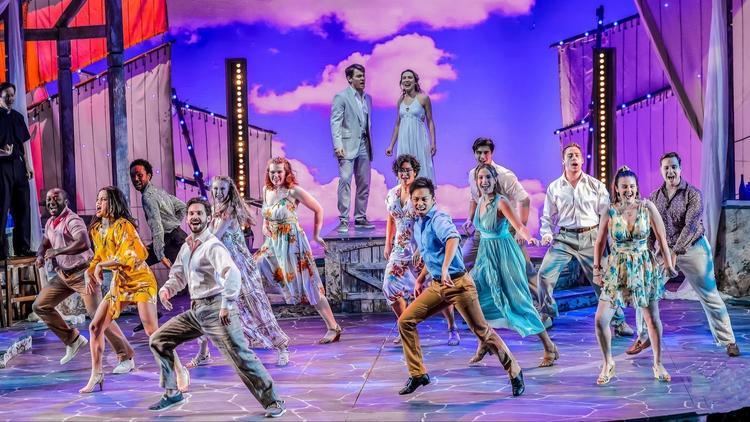 Here we go again at Drury Theatre in Chicago where MAMMA MIA! is playing through April 14, 2019.
The international megahit Mamma Mia! uses the greatest songs of ABBA to tell a hilarious story of marriage, family and finding where you belong, proving that in the end the winner takes it all. Come see why more than 54 million people worldwide have laughed and danced to this unforgettable jukebox musical.
For tickets and more information, please visit https://drurylanetheatre.com/shows/18-19-theatrical-season/mamma-mia
Let's see what the critics had to say!
Chris Jones, Chicago Tribune: Director William Osetek's production actually features an all-Chicago cast. Rebecca Hurd, a vocally terrific Sophie, comes with that crucial nerd quotient. No boring ingenue, she. Elizabeth Ledo's smile (she's an unusual Rosie) hits the back of the house all night. Jane Lanier's flipper-loving choreography actually manages to be funny, and the universe of genuinely amusing choreography is small. And the fabulous Greek Isle costumes, by Marianne Custer, come with the life-affirming pleasures of fashion week in the spring.
Scott C. Morgan, Dailyherald: The ensemble also injects a genuine amount of gravitas and humor into their roles. It's a welcome surprise, especially since "Mamma Mia!" is notorious for its flimsy plot conceived by Judy Craymer and realized by book writer Catherine Johnson. More often than not, it bends over backward to shoehorn in the prepackaged pop songs.
Alexis Bugajski, Picturethispost.com: The energy comes through in the larger cast numbers - especially in "Lay All Your Love On Me." The audience delights with the wonderfully choreographed snorkel and flipper dancing.
Chicagotheaterreview.com: This production has an exceptional new talent in young Rebecca Hurd, as Sophie Sheridan, Donna's 20-year-old daughter. Seen at Writers Theatre in "The Importance of Being Earnest" and at the Goodman in "Enemy of the People," Sophie's about to tie the knot with her handsome young boyfriend, Sky, played with charisma and chivalry by the always impressive, Liam Quealy. Ms. Hurd brings an honest sincerity and freshness to the role that makes us truly care about her. Hopefully we'll be seeing a lot more of this actress, who's making her Drury Lane debut, because Rebecca Hurd can act, sing and dance with the best of them.
Alan Bresloff, aroundthetownchicago.com: On the technical side, the set (Jeffrey D. Kmiec) is much simpler than I have seen before ( except for the in-the-round production, of course) and it worked in keeping the flow of action easy. The lighting (Lee Fiskness) and sound ( Ray Nardelli) and the costumes (Marianne Custer) were all, as usual at Drury Lane, perfect. The band led by Christopher Sargent were flawless, making for a production that will gladden the ABBA lovers and make them feel at home.
Ed Tracy, Picksinsix: Director William Osetek, music director Roberta Duchak and conductor Christopher Sargent tap an energized and enthusiastic Chicago ensemble from top to bottom. McMonagle's "Winner Takes It All" is a showstopper, and with all of ABBA's well known pop-rock ballads and driving dance numbers, choreographed by Jane Lanier on the Jeffrey D. Kmiec set, "Mamma Mia!" has everything you could hope for-a glittering night of musical magic to experience again and again.
Dan Zeff, Chicagoland Theater Reviews: The cast is led by Susie McMonagle, one of the local musical theater's leading divas, as Donna Sheridan. McMonagle adds layers of depth to the character of a tough-minded woman determined to go it alone in a time when independent females had tough sledding. McMonagle delivers a passionate heart-on-the-sleeve rendering of "The Winner Takes It All" that was a show stopper in an evening of show stoppers. Throughout the show, McMonagle asserts a sympathetic human element into a narrative that otherwise is heavy on light, two dimensional characters.
Let's Play, Chicagonow.com: This night goes to the ladies; however, Micheal Accordo, Sam Carmichael and Stef Tovar, all returning to Drury Lane held up their end as fathers to be and former lovers of Donna. These season professional are right at home grooving to the songs from ABBA and making a love boat performance as three men decide its okay to be the father and a friend.