Joshua Harmon's SIGNIFICANT OTHER Headlines About Face Theatre's 2017-18 Season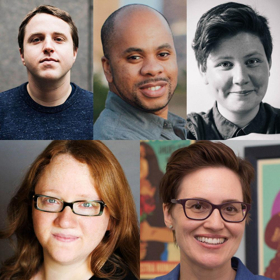 About Face Theatre has announced its 2017-18 Season, featuring three Midwest premieres!
The season kicks off this fall/winter with the romantic comedy SIGNIFICANT OTHER by Joshua Harmon, playwright of the hit comedy Bad Jews. Co-produced with Theater Wit, the Midwest premiere is directed by AFT Artistic Associate Keira Fromm and features AFT Artistic Associate Alex Weisman.
The 22nd season continues next winter with the Midwest premiere of R. Eric Thomas' gleeful mystery TIME IS ON OUR SIDE. Megan Carney directs this hilarious and heartfelt story of two podcasters and LGBTQ history buffs who may have uncovered more than they bargained for.
Next spring, About Face presents the Midwest premiere of Bryna Turner's comedy BULL IN A CHINA SHOP, based on the true story of revolutionary academics and lovers Mary Woolley and Jeanette Marks. Directed by Keira Fromm, the all-female cast includes AFT Artistic Associate Kelli Simpkins.
About Face Theatre's 2017-18 Season concludes next summer with a yet-to-be-titled production by the About Face Youth Theatre Ensemble.
About Face Theatre is in residence at Theater Wit, 1229 W. Belmont Ave. in Chicago. AFT's On Demand Memberships - a flexible, year-round membership ticket are currently available at aboutfacetheatre.com. Single tickets for additional programming will go on sale at a later date.
---
About Face Theatre's 2017-18 Season:
November 2 - December 10, 2017
SIGNIFICANT OTHER - Midwest Premiere!
Directed by AFT Artistic Associate Keira Fromm
Featuring AFT Artistic Associate Alex Weisman. Additional casting to be announced.
Jordan Berman is a single gay man in New York City. Mr. Right is nowhere on his horizons. As he's nearing his 30s, his close group of girlfriends begin getting married en masse. What happens when you feel like life is leaving you behind but you're still expected to be at the forefront cheering on your friends on their perfect wedding day? Significant Other is a bittersweet comedy about friendship, single-hood and hoping you're not the one choking on car exhaust as the "Just Married" sign disappears from view.
In 2015, Joshua Harmon's play Bad Jews hit Theater Wit and performed to capacity crowds for over five months. A breakaway playwright of his generation, Harmon's work offered a unique and searingly funny look at a new generation of American Jews. Now, with Significant Other he turns his compassion and considerable wit to marriage.
"I am very excited to join About Face Theatre in presenting the Midwest premiere of Joshua Harmon's newest work," comments Theater Wit Artistic Director Jeremy Wechsler. "I think Josh is a remarkably original writer with a gift for showing us the utterly real and utterly unexpected. His plays are always about deeply human characters with a writerly perspective we've not seen previously dramatized, and Significant Other is no exception. Bad Jews was a legitimate theatrical event of 2015 - and Signicant Other promises, in its writing and casting, to be another for 2017."
March 1 - April 8, 2018
TIME IS ON OUR SIDE - Midwest Premiere!
Directed by Megan Carney
Annie loves the past. Curtis lives for the future. Together they host a wildly unpopular podcast from Annie's living room in which they "queer" history, reinterpreting Philadelphia's lore through a modern, intersectional lens. When Annie finds a family heirloom that reveals a buried connection to the early LGBT rights movement, the political suddenly gets explosively personal. Time is on Our Side's shape-shifting plot bounds gleefully from the Underground Railroad to pop culture futurity, as Annie and Curtis search for answers to the questions "How do we let go of the past? And when will it let go of us?"
"R. Eric Thomas has written this magnificent play that absolutely fizzles with life - I fell in love with it on first read," comments director Megan Carney. "Time Is On Our Side introduces rich characters - meeting across generations and identities - and forging ahead together. The play is intimate and grand - diving deep to offer a clearer understanding of our shared past and courage for the challenges of the moment - all whipped together with big doses of queer magic. Eric has such a fresh voice and I can't wait to share this play with Chicago audiences."
May 24 - July 1, 2018
BULL IN A CHINA SHOP - Midwest Premiere!
By Bryna Turner
Directed by AFT Artistic Associate Keira Fromm
Featuring AFT Artistic Associate Kelli Simpkins. Additional casting to be announced.
Bull in a China Shop is a play about Mary Woolley and her partner, Jeanette Marks, two brilliant women who reimagined and revolutionized women's education at the turn of the twentieth century. This fast-moving feminist comedy chronicles the growth of the women's suffrage movement, as well as Mary and Jeanette's romantic relationship. It examines the strength it takes to find your voice, be brave and feel less at odds with the world.
"As a queer female director, I'm always excited by plays that represent gay narratives," comments Keira Fromm. "Plays that deal specifically with gay female stories aren't terribly common, so when I came across Bryna Turner's radical play, I was immediately taken with it. Bryna is an incredibly smart and savvy playwright. She has a way of writing words and characters who live in both the past and the present concurrently. Mary and Jeanette's struggle to reform women's education and advocate for the suffrage movement echoes of the fights that women still wage today - whether that fight be for equal pay, fair representation or women's health initiatives. Ultimately the play is a unique meditation on bravery."
---
ABOUT THE ARTISTS:
Joshua Harmon's (Significant Other) play Bad Jews received its world premiere at Roundabout Underground and was the first production to transfer to the Roundabout's Laura Pels Theatre (Outer Critics Circle and Lucille Lortel Award nominations, Best Play). It has since become the third most-produced play in the U.S. this season and transferred to London's West End after sell-out runs at Theatre Royal Bath and the St. James Theatre. His newest play, Significant Other, opened at Roundabout this summer. His work has been produced and developed by Manhattan Theatre Club, Williamstown Theatre Festival, Hangar Theatre, Ars Nova, and Actor's Express, where he was the 2010-2011 National New Play Network Playwright-in-Residence. He has received fellowships from MacDowell, Atlantic Center for the Arts, SPACE at Ryder Farm, and the Eudora Welty Foundation. Joshua is a recent graduate of Juilliard and at work on commissions for Roundabout Theatre Company and Lincoln Center Theater.
R. Eric Thomas (Time Is On Our Side) is an award-winning playwright, humorist and the long-running host of The Moth in Philadelphia. His play Time is on Our Side was the recipient of two Barrymore Awards including Best New Play and was named a finalist for the Harold and Mimi Steinberg American Theatre Critics Association New Play Award. Forthcoming productions include Mrs. Harrison at Azuka Theatre. He writes a daily humor column for Elle.com in which he "reads" the news. In addition to Elle.com and ELLE magazine, his writing has appeared in the New York Times, W Magazine, Man Repeller, Philadelphia Inquirer, Philadelphia Magazine and more. www.rericthomas.com
Bryna Turner (Bull in a China Shop) is a Brooklyn-based playwright originally from Northern California. Her play Bull in a China Shop recently premiered at LCT3 (directed by Lee Sunday Evans). Her work has been developed with Abingdon Theatre Company, Clubbed Thumb, Colt Coeur, Ensemble Studio Theatre, LCT3, Mount Holyoke College, Rutgers University and Rainbow Theatre Project. Other plays include: Carlo at the Wedding, Lights Over Philo, The Stand-In and How to Separate Your Soul from Your Body (in ten easy steps!). She is an alum of Clubbed Thumb's Early Career Writer's Group and holds an MFA in Playwriting from Rutgers University. www.brynaturner.com
Keira Fromm (Significant Other & Bull in a China Shop) is a Jeff Award nominated director, a casting director and a teacher based out of Chicago. Favorite recent directing credits include: Bright Half Life (About Face Theatre) The Columnist (American Blues Theater), How the World Began (Rivendell Theatre Ensemble), A Kid Like Jake (About Face Theatre), Luce (Next Theatre), Charles Ives Take Me Home (Strawdog), The How and the Why (TimeLine Theatre), Broadsword (Gift Theatre) and Fallow (Steep Theatre). Keira is a proud Artistic Associate with About Face Theatre. She received her MFA from DePaul University and her BFA from Boston University. She is a member of SDC, as well as the Lincoln Center Theater Directors Lab. Keira is a frequent guest director at DePaul, as well as Roosevelt University. Next up, she will be directing the Chicago premiere of A Funny Thing Happened on the Way to the Gynecologic Oncology Unit at Memorial Sloan-Kettering Cancer Hospital of New York City by Halley Feiffer with Route 66 Theatre Company this summer.
Megan Carney (Time Is On Our Side) is a director, playwright, educator and Honorary Board member of About Face Theatre. Recent Chicago directing credits include Julie Jenson's Winter, George Brandt's Grizzly Mama, Danielle Pinnock's Body/Courage and Lisa Dillman's American Wee Pie and The Walls with Rivendell Theatre Ensemble. She was lead interviewer and playwright for Women at War, a multi-year performance and civic dialogue project about women in the military that continues to tour. Megan was a founding director of About Face Youth Theatre and served as Associate Artistic Director for several years while she created original ensemble plays. Carney's work has been recognized with multiple After Dark Awards, the GLSEN Pathfinder Award, an APA Presidential Citation, induction in Chicago's Gay and Lesbian Hall of Fame, a Rockefeller Foundation MAP Grant and a GLAAD Media Award nomination. Currently the Director of the Gender and Sexuality Center at the University of Illinois at Chicago, Megan investigates and reveals diverse LGBTQIA+ identities and histories using oral history collection, participatory workshops and a variety of public programs. She has a MFA in Theatre Arts from Virginia Tech with a focus on Directing and Public Dialogue.
About Face Theatre creates exceptional, innovative, and adventurous theatre and educational programming that advances the national dialogue on sexual and gender identity, and challenges and entertains audiences in Chicago and beyond.
Pictured: About Face Theatre's 2017-18 Season playwrights (top, l to r) Joshua Harmon, R. Eric Thomas and Bryna Turner and directors (bottom, l to r) Keira Fromm and Megan Carney.
More Hot Stories For You