Chicago's Northbrook Symphony Receives $1 Million Endowment Gift
The endowment will serve as a springboard for building a sustainable future.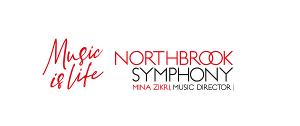 The Northbrook Symphony, a professional Chicago area-based ensemble led by internationally noted conductor Mina Zikri, has just received an anonymous endowment gift of $1 million, thereby launching the Northbrook Symphony Orchestra Endowment Fund. In addition to continuing the tradition of outstanding programming and first-rate performances, the orchestra will be able to realize one of its primary ambitions: to focus on families, particularly children, by re-envisioning the family concert experience. The endowment will serve as a springboard for building a sustainable future.
Now in its 42nd season, the Northbrook Symphony was founded in 1980 by former Chicago Symphony concertmaster Samuel Magad; at the time the new orchestra musicians were primarily Northbrook residents. The initial support from community members, civic and business groups was overwhelming. Under Mr. Magad's artistic leadership, the Symphony established its reputation as a valuable classical music resource by presenting local, national, and international guest artists, including those from the Chicago Symphony Orchestra. In 2001 Lawrence Rapchak was appointed Music Director; during his tenure he presented a wide variety of premiere Chicago-area performances and innovative programming. Mr. Rapchak transitioned the Northbrook Symphony from a community orchestra to a professional orchestra, thus ensuring its position in the Chicago classical music scene.
Affected in 2020 by the Covid-19 pandemic, the Northbrook Symphony decided to stream recorded live performances to its patrons as well as to broadcast virtually to more than 4,000 students and first responders in the Chicago metropolitan area. This season the Northbrook Symphony has resumed live in-person performances and has announced that the current Chicago Symphony concertmaster Robert Chen will serve as its Artistic Creative Partner.
Mina Zikri, appointed Music Director of the Northbrook Symphony in 2019, is also the founder and Music Director of the Oistrakh Symphony of Chicago and Resident Conductor of the Lira Ensemble. He frequently travels as Assistant Conductor to Daniel Barenboim with the West-Eastern Divan Orchestra on annual tours to major music festivals and concert halls throughout the world. He also returns to his native Egypt each year to conduct the National Symphony.
Maestro Zikri has great respect for the foundation established by his predecessors and aspires to build on the symphony's stellar reputation. Together with the Board, the musicians, soloists, friends, and patrons of the Northbrook Symphony hope to do justice to the immense opportunity created by the $1 million anonymous gift and to continue its ongoing fundraising campaign.
The next Northbrook Symphony subscription concert is slated for Sunday, February 27, 2022. Entitled "Classical Treasures," the program will feature violinist Jacqueline Audas, a North Shore Chamber Music Festival Arkady Fomin Scholarship Recipient. The full program follows:
Beethoven Overture to Creatures of Prometheus, Op. 43
Mozart Violin Concerto No. 5 in A Major, K. 219
Haydn Symphony No. 104 in D Major "London"
Please visit the Northbrook Symphony Orchestra's website and follow their Facebook page.
For further information, please contact Hemsing Associates at (212) 772-1132 or visit www.hemsingpr.com.