Click Here to Visit the College Center
BWW Blog: Buried Treasure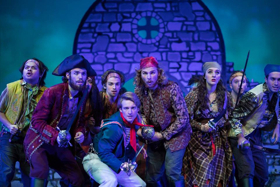 The end of a show holds the usual post-show depression. The end of The Pirates of Penzance was a little more bittersweet than usual. I was so excited to see this show up and running onstage. Each night the numbers got better, and the comedy became a little more intentional. Seeing my choreography on stage and getting positive feedback for it was incredible. I have never been so proud of something before, which seems fitting for it being my last production at Olivet Nazarene University.
Each night of the show I would stand in the back of the house - literally stand. I had a seat, but I couldn't help myself. I needed to be up where I could see everything that was happening. After the show would end, I loved listening as the people around me would talk about how much they loved the show or recap their favorite parts. I never got tired of watching the show. Being in front of an audience brought an entirely new life to the production. I already loved the show and loved watching it every night, but with it being a comedy, having an audience meant that there were more people to react, and the theatre was full of laughter. It was so fun to hear the genuine and surprised laughs from the audience. After the first couple performances I started anticipating the parts of the show that would get really big laughs, and I looked forward to them every show.
I had never been a part of a comedic show before. There are few things greater than being in a room full of people and being able to share joy with them. Through this production, and every production I've been a part of, I am always amazed at the capabilities that theatre has. I think a lot of people miss the power and impact that theatre can have. It isn't just entertainment, it's a collaboration between everyone who steps foot in the room. It's a different form of humanity, in which we take a story that means something and share those with as many people as we can. Yes, even a silly show like Pirates that doesn't seem to have any depth at all. At that point it isn't about the depth anymore, it's about the feeling that the show creates. A lightheartedness in a world where everything can be so heavy.
Participating in Pirates of Penzance was challenging and took a lot of work, but it was absolutely a breath of fresh air, and a highlight of my college career. I am thankful for what theatre has given me, onstage and off. It isn't the attention, the spotlight, the name in the program, or the title that really excite me - it's the opportunity to create something that means something, and theatre allows me to do that over and over again.
Related Articles