BWW Review: A Timely, Thoughtful ANNIE at the Belmont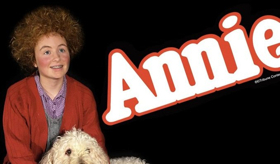 Some shows are review-proof, and ANNIE is undoubtedly one of them. It doesn't matter much: if you produce it, the audience will come. And it's come in droves to the Belmont, as well they should. The Belmont had to squeeze in extra shows (they should have realized this was easily a three-week run rather than the usual two weeks.) This reviewer has seen it to death, winces when the show is mentioned... and found a whole new reason to watch it in Rene Staub's production. He's done Thomas Meeton and Charles Strouse proud, and then some.
ANNIE. It's the story of how an adorable, plucky ginger-locked orphan lucks into the greatest possible home, right? It's heartwarming, cute, and precious, no? But it's also the story of children being hurt in an orphanage run by a woman who hates her job. It's the story of Depression-era grifters willing to do anything, even killing a child, to get hold of a buck. It's the story of homeless people freezing in the winter and being given no help, of stray animals freezing in the streets, of fears of war, and of political disunity that's gripping the country. Some portion or another of that litany should sound familiar to almost anyone.
And Staub's production makes the most of that. Those adorable little urchins aren't cute and sassy - they're dirty, in rags, and clearly abused. That Hooverville dinner isn't "Hey, soup's on!" but "hey, here's what we've got, sorry." Oliver Warbucks doesn't seem above it all; he knows his factories closing mean he's a step away from losing his own shirt if something doesn't happen, and he's willing to sacrifice his personal political principles if the other guys will too, just to get his factories going again. The plot lines are always there but they're usually buried under massive piles of cute. Here, they're as in-your-face as the cute is, and the story is all the better for it.
Frankly, if any show ever screamed, "will the government please just work together like it's supposed to, all parties included, and do something!" it's a tossup between ANNIE and FINIAN'S RAINBOW, and ANNIE doesn't need a repair job to be watchable. And that particular lamentation has never been more relevant than today. (Just as relevant, yes. But it's always more painful when you're living through it.) Kudos to Staub for making the rest of the story stand out.
Kendra deChantel is possibly one of the top Miss Hannigans this writer has seen. She's got comic timing and dramatic depth; she's funny as sin and totally hateful at the same time - not just a comic villain to the audience, but someone deeply disturbed and disturbing. She's a Cruella deVil of small children rather than puppies, likely to do harm someday. Her fresh-from jail grifter brother is none other than Jeremy Slagle, one of the area's most amusing performers, and his partner in crime, Lilly, is another local favorite, Marisa Hoover. Together they're a comic team of great chemistry and pure trouble, a laugh-worthy Bonnie and Clyde of possibly even lower morals.
Nina Cline's Grace Farrell is perfectly handled, presenting a model secretary who lives and works at her employer's estate, and who, unlike many Graces, doesn't feel like she's throwing herself at the boss (making it all the funnier when Miss Hannigan does). She's all energy and efficiency with a heart of gold under it and a soft spot for fun, but this Grace is also whip-smart, and lets us see the wheels in her head turning.
Christopher Quigley plays Oliver Warbucks, gruff, tough, feisty, and somehow in no way resembling a later New York billionaire who became equally famous later. It's not just the hair (or lack of it); this Warbucks, whose name says it all, not only wants but needs to make a deal with the other side, and he's willing to stick his neck out to do it. He also has the voice for the part, proven in "Why Should I Change a Thing?" For Annie-lovers who think they know the show or the movie by heart, this is an after-added number that's often not performed, but it's a winner of a musical soliloquy that was incorporated in the Australian run of the show.
Annie is McKenna Spangler, and young Miss Spangler needs to be on stage as often as possible. Those who wince at "Tomorrow" were able to rejoice; she doesn't squeak, squawk, go thin, go high, or go sharp on a single note, and she doesn't belt unnecessarily. All of those vices have been committed at one time or another to that song, which may have sappy lyrics but has a melody that shouldn't be attacked by flaws. Spangler delivers, from "Hard Knock Life" through to "New Deal for Christmas," and delivers hard. In some of her adventures she's accompanied by the cutest of all possible youngest orphans named Molly, here played with a combination of total cuteness and actual talent by Jayda Segal, who, like Spangler, will certainly go places if she sticks with it all.
Notable production numbers included "Hard Knock Life" (as anticipated) and "Hooverville" ("We'd like to thank you, Herbert Hoover...") which had enough grit to sand a ship, and plenty of enthusiasm to sell it, as well as "I Don't Need Anything but You,"
No discussion of such a production can be complete without mentioning Sandy, Annie's accomplice in life and mischief. Sandy, played by Melvin, gave a splendid performance as both street dog and the dog who came for Christmas. Kudos to Melvin and his trainer for a job well done. Some pet lovers, like myself, are pretty sure the show's secretly all about Sandy, so we keep an eye out for such things.
Closing, alas, but should have run another week.
Up next, in January, LOVE, SEX, and the IRS, followed by LITTLE SHOP OF HORRORS.
Related Articles View More Central Pennsylvania

Stories

Shows