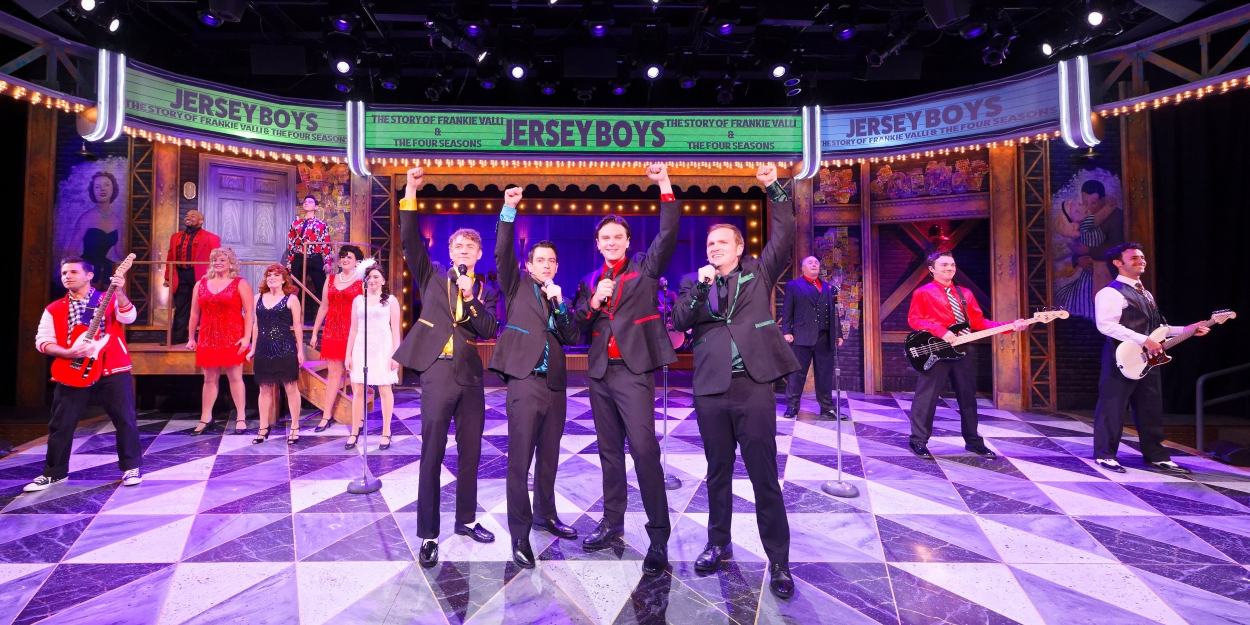 Review: JERSEY BOYS at Capital Repertory Theatre
Oh, What a Night! Capital Repertory Theatre's JERSEY BOYS Brings Albany Audiences To Their Feet
Last night's opening performance of JERSEY BOYS played to a packed house. Audience members sang along and danced in their seats, ultimately giving this cast a standing ovation. Not a bad way to wrap up the very first season for Capital Repertory Theatre (aka theREP) in their new home!
JERSEY BOYS is an autobiographical jukebox musical featuring all of the biggest hits of the singing group the Four Seasons, like "Sherry," "Big Girls Don't Cry," and "Walk Like a Man." Conceived by original band member Bob Gaudio and book writers Rick Elice and Marshall Brickman, the plot takes the audience from the formation of the group through their tough times and successes to finishing with their induction into the Rock and Roll Hall of Fame, told at different times by each member of the group. When it opened on Broadway, it garnered four Tony Awards, including Best Musical.
The production, directed by theREP's Artistic Director Maggie Cahill, choreographed by Freddy Ramirez and Music Directed by Todd Olson is solid, if a bit uneven. In this intimate half-round house, the show had some technical challenges. With actors regularly facing away from the audience, vocals and dialogue could not always be heard clearly. In addition, there were several lighting moments where people were playing in shadows, despite the vibrant colors and splashy light patterns otherwise intricately decorating the space.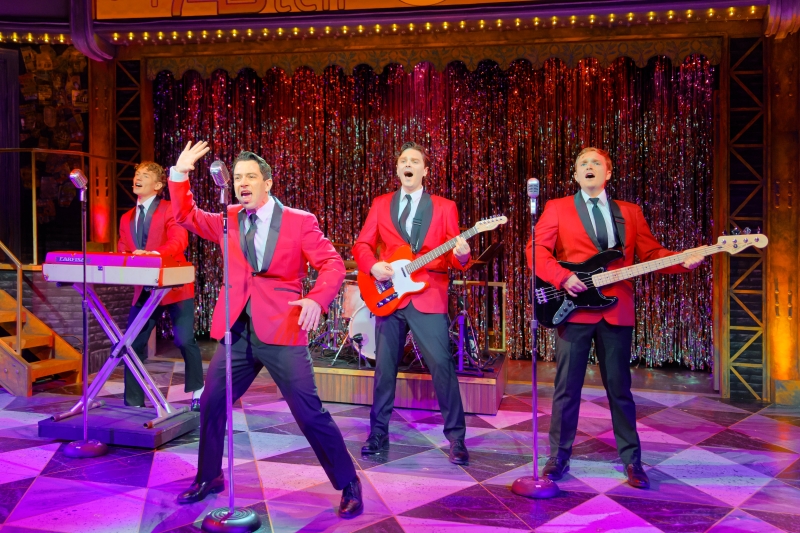 Opening the show, Justin Scott Brown, playing Tommy DeVito, has you believing he's just a Jersey kid who dabbles (and later excels) in trouble. His performance is spot on and he's got a great voice to match. Brian Michael Henry plays Nick Massi, the bass of the group who doesn't say much, but gives the vocals a nice foundation. As Frankie Valli, the kid with the "voice of an angel," Evan Jay Newman is faced with a daunting task. It is no wonder the real Frankie Valli got all the acclaim he did for his voice: it's something that few others can do effortlessly, but Newman's got the range and the notes, even if he doesn't always match Valli's suave persona. The shining star of the evening, though, was Jeffrey Kringer as Bob Gaudio. From the moment he stepped on stage, his charisma drew all eyes. He brought the youthful energy of a teen pop sensation and later the emotional depth of someone much his senior.
The ensemble contained several standout performances, including Nick Anastasia as "little Joey Pesci," who made me wish that he featured more frequently throughout the show. Buzz Roddy was the master chameleon, successfully going from mob boss Gyp DeCarlo to a judge and others in the blink of an eye. And Kyle Garvin, playing everything from French rap star to detective and other bit parts, delivers a high quality, high energy performance. But, it's his powerful vocal run moment during "December 1963" that gave chills and left the audience "Beggin'" for more.
And, lest you think that JERSEY BOYS is all about the boys, I should make note of several standout female performers. Shannon Rafferty as Mary Delgado, Frankie's wife, is a fireball! She's got the humor, the anger and the heart to draw you in and feel her pain during "My Eyes Adored You." Nicole Zelka plays Lorraine, Frankie's girlfriend and, though this character doesn't get a song, her delivery during her final scene was just so honest and open.
Whether you're a Four Seasons fan or just looking for a night of pure entertainment, head to Capital Repertory Theatre to see this production. JERSEY BOYS at theREP runs from July 19-August 21. The website warns of occasional, strong adult language and references to drug use. For tickets, visit CapitalRep.org