New York Stage and Film Announces Summer Dates With New Collaboration With Marist College
This dynamic relationship will include hosting the return of NYSAF's NYC-based Winter Season and more.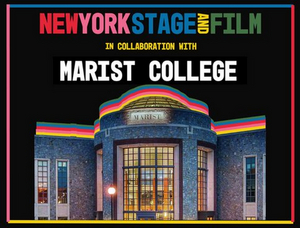 New York Stage and Film and Marist College have announced a dedicated, multi-year collaboration that will enable NYSAF to expand its year-round services for artists developing new work in theater, film and television in the Hudson Valley and New York City while also opening up significant new educational programs and experiential learning opportunities for Marist students.
Building upon NYSAF's successful work with Marist during the past two years, this dynamic relationship will include hosting the return of NYSAF's NYC-based Winter Season (February 27-March 5) at Marist's Midtown Manhattan location and continue with NYSAF's 2023 Summer Season to be held on the Marist Campus in Poughkeepsie (July 14-August 6), in which hundreds of artists will incubate new stories for the stage and screen through NYSAF's celebrated residency and workshop programs. This collaboration also will expand the reach of popular public programs to benefit local communities served by both NYSAF and Marist College.
"On behalf of the hundreds of artists we serve each year, I am so glad to be extending and deepening our relationship with Marist," said NYSAF Interim Artistic Director Liz Carlson. "We share a focus on community-building, on continuous learning, and on discovering unique and surprising ways to experience the world around us. To be able to invest in this work and serve our respective communities in a long-term sustained way, both in the Hudson Valley and New York City, is an exceptional opportunity for all of us."
New York Stage and Film was founded in 1985 to create a nurturing environment for artistic process away from critical and commercial pressures, and it proudly collaborated with Vassar College to produce the summer Powerhouse Season in Poughkeepsie. Since 2021, NYSAF has been presenting programming at both Marist and Vassar to meet the evolving needs of its artistic community and to respond to logistical limitations during the COVID pandemic. The dedicated collaboration announced today between NYSAF and Marist builds upon the two organizations' existing work together and will give a wider community of artists in both the Hudson Valley and NYC the space and resources to pursue their work throughout the calendar year.
"We are grateful for this expanded relationship with New York Stage and Film, which will provide a unique benefit to Marist College and our surrounding community," said Marist Executive Vice President Geoffrey L. Brackett. "Our campus will play host to world class theater workshops and productions, Marist students in both Poughkeepsie and Manhattan will have the opportunity to apprentice and work with top leaders in theater and film, and young, aspiring artists will have access to amazing experiences through our summer pre-college programs for high school students."
Marist will provide housing, rehearsal, and performances space for NYSAF's year-round programming as well as specialized resources to support NYSAF's Filmmakers' Workshop and other programming. NYSAF will focus all of its Summer Season on Marist's Poughkeepsie campus and will work with the College to lend professional expertise to its curricular programs. Students will benefit from year-round experiential learning opportunities and apprentice positions and the Schools of Communication and the Arts and School of Liberal Arts will engage various student-centered clubs, organizations and other programs in practical work opportunities that support the collaboration, such as assisting with NYSAF marketing, PR and social media activities.
"NYSAF extends our heartfelt gratitude to our colleagues at Vassar for their support through many years of the Powerhouse Season," said Board Chair Barbara Manocherian. "We are eager to build on our track record of curating exceptional stories and serving artists and audiences through our expanded relationship with Marist. They have been welcoming collaborators, excited to help envision unique ways to serve new work and provide a vital launch pad for new generations of artists."
ABOUT NEW YORK STAGE AND FILM:
New York Stage and Film is a not-for-profit company dedicated to artists developing new stories for theater, film and beyond by supporting responsive processes and by providing a home for artists free from critical and commercial pressures. Since 1985, New York Stage and Film has been a vital incubator for emerging and established artists and their work, a catalyst for stories that start with us and continue across the country and around the world. Through this work, NYSAF has established itself as a vital cultural institution for residents of the Hudson Valley and the New York metropolitan region. The New York Times calls the company a "formidable breeding ground for new work," and dozens of notable works trace their developmental roots to NYSAF, including the Tony Award winners Hamilton, Hadestown, Side Man and The Humans; Broadway productions such as American Idiot, Head Over Heels, Junk, and Bright Star; and Pulitzer winners and finalists such as Doubt, The Wolves and Taylor Mac's A 24-Decade History of Popular Music. www.newyorkstageandfilm.org
ABOUT MARIST COLLEGE:
Located on the banks of the historic Hudson River and at its Florence, Italy campus, Marist College is a comprehensive, independent institution grounded in the liberal arts. Its mission is to "help students develop the intellect, character, and skills required for enlightened, ethical, and productive lives in the global community of the 21st century." Marist is consistently ranked among the best colleges and universities in America by The Princeton Review (Colleges That Create Futures and The Best 386 Colleges), U.S. News & World Report (3rd Most Innovative School/North), Kiplinger's Personal Finance ("Best College Values"), and others. The College is top-ranked for long-term study abroad (#3 in the U.S.) by the U.S. State Department's Open Doors report. Along with the College's prestigious reputation as a whole, it also boasts a robust Arts and Music scene for its students and the community. Marist offers more than 15 academic programs in music and arts including Art History, Digital Media, Studio Art, Music, Theatre, and its world-renowned Fashion Design and Fashion Merchandising programs, ranked by Forbes as one of the "Best Colleges That Are Shaping The Future of Fashion." Marist also provides a wide range of non-academic opportunities in the arts, such as over 15 College-and student-run music ensemble groups and the Marist Theatre program and performances. The College also operates the Institute for Data Center Professionals, which provides individuals and corporate teams with skills-based education and credentialing to support the data center and enterprise computing environments of the future. Marist educates more than 5,000 traditional-age undergraduate students and 1,400 adult and graduate students in 47 undergraduate majors and numerous graduate programs, including fully online MBA, MPA, MS, and MA degrees, and also Doctor of Physical Therapy and Physician Assistant programs.