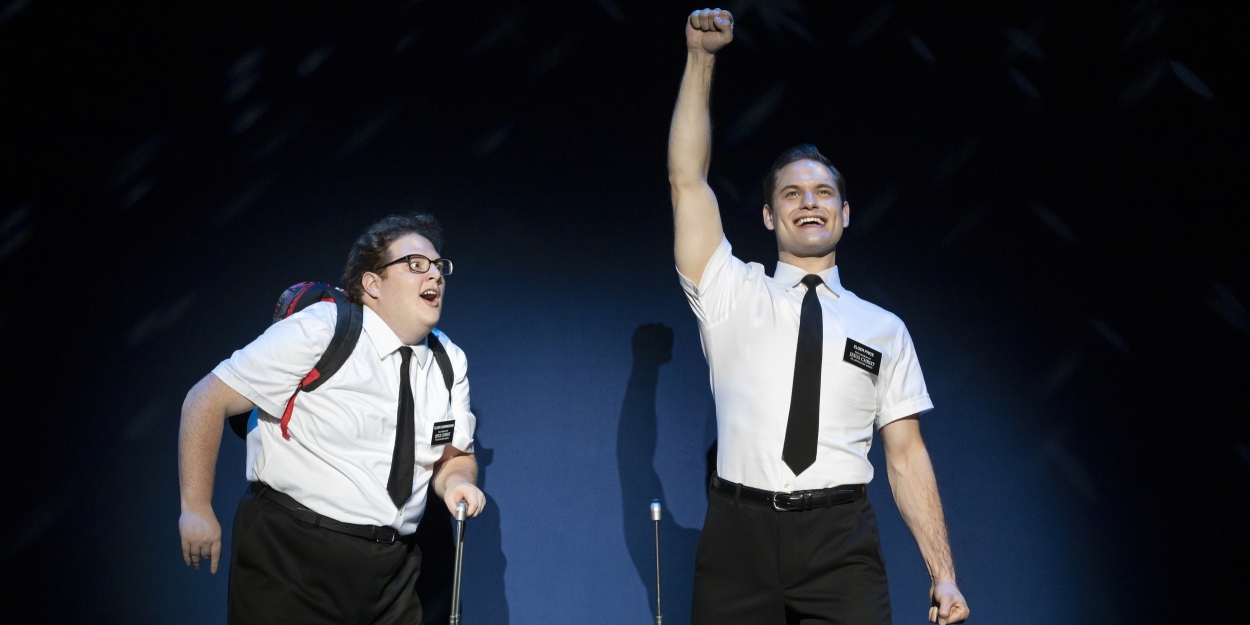 Interview: Sam McLellan Of THE BOOK OF MORMON at Proctors Theater
THE BOOK OF MORMON arrives in Schenectady in Proctors on Friday, February 3rd, 2023 and runs through Sunday, February 5th, 2023.
Prior to this week's arrival of THE BOOK OF MORMON to Proctors, I spoke with Sam McLellan, who is currently playing the role of Elder Price on tour. His career includes some memorable moments, previously appearing as Dmitry in the national tour of ANASTASIA, as well as in the touring production of FIDDLER ON THE ROOF. Sam is currently on his third tour.

BWW: Hi Sam! Thank you for taking the time to speak with me today. We're so excited to have you at Proctors! Can you tell me where you are now on the tour?

Sam: At this current time we are in Kalamazoo, Michigan, doing a short little stint here.
BWW: Have you ever been there before?
Sam: This is my third tour, so I've been all over the place. When we're at some of the venues for such a short amount of time, sometimes I forget that I've been there! For instance, we were just in Midland, Michigan, and I thought I had never been there before, but when we showed up at the theater, I went-OH WOW! I have been here. So far, the theater I will be at tonight seems like a new place, but I could tell you better when I get there.

BWW: Incredible to be on your third tour! Can you tell me a little about how you got into performing?
Sam: My family has always been pretty musical. Music was always around at home. I didn't grow up doing theater. I started doing theater in high school, when a friend of mine encouraged me to audition for the musical. It was kind of like a love-at-first-sight kind of thing for me. It was something about the exhilaration, the excitement of being onstage, everything is live and anything could happen. It was an incredible challenge, which is something that attracted me to it. [And] it's something I felt that I had talent for, so I decided to pursue it and went to university. I got my BFA in musical theater, and since then I have been working professionally.

BWW: Where did you study?
Sam: I went to the University of Wisconsin-Stevens Point. It's a state university system but they have an incredible theater program there. I'm from Wisconsin, so it was close enough to home that I felt comfortable. I wasn't ready to take the plunge and move all the way to New York or go to school in New York. I had gotten into [theater] late, and there was a little part of me that thought, "I don't know if this is going to work out or if this [is] right for me," but yeah, I guess everything ended up working out all right!

BWW: Sure did! You've been on tour before for other shows: what challenges have you faced in this new role as Elder Price in THE BOOK OF MORMON?
Sam: This role is one of the most vocally demanding things I've ever had to do. Very early in the rehearsal process, I was told by our music supervisor that this is like the male equivalent of playing Elphaba [in WICKED]. When it came out, there were very few guys that could really sustain it. Andrew Rannells, who originated the role of Elder Price, was one of the very few people who could actually sing the score as it was written. But, over the years, it's become part of the musical theater canon. When I originally saw the show in Chicago, I saw Nic Rouleau and I remember thinking, "Wow! That's the expectation." Going to school for this and having it built up in my training, I was thinking that this was the kind of role that I could do, and something that I have to be prepared for. Despite the fact that I have been aware of how challenging the role is, it's an absolute bear to do 8 times a week. It's a challenging role vocally more than anything.
BWW: It sounds very vocally demanding. Do you have a routine you follow to keep your voice healthy?

Sam: Yeah, absolutely! Obviously that's a difficult thing to do on tour when you're changing climates and constantly traveling, not getting as much sleep as you'd like-those are just some built-in challenges of touring. As a singer, I try to stay as hydrated as possible, not drinking [alcohol] too much-anything really that would dehydrate you. I drink lots of water, electrolytes, gatorade and things like that. I also have a robust vocal exercise that I do every single day, whether I am performing or not. It keeps my agility up. Particularly right before singing a show, it takes some time to put my voice in a place so it's ready for what it's about to do. If you're not ready for it, you can cause a lot of strain and stress on your vocal chords, neck and shoulders. The tension that can be built there if you're not ready for it can really knock you out for a long time.

BWW: Like yoga for voice! Are there any past experiences in your life that you've been able to draw inspiration from to bring a unique perspective to the role of Elder Price?
Sam: When I was 3 months old my parents left everything in the US and became Christian missionaries. They moved the whole family to Mexico and I was living there until I was about 15 years old. Originally, when we first moved there, we were living in a very remote area with an indigenous group of people called the Tepehuán, and my parents were part of the linguistics team who was learning their language and creating a written version of it for them. I grew up in the kind of environment that these characters are thrust into in the show. I have a lot of life experience of feeling like a fish out of water and learning how to process everything that was happening around me. I do have a unique experience that lends itself to the understanding of the character in this story.
BWW: A unique perspective indeed. You've had consistent work performing, so what was it like when the pandemic hit in 2020?


Sam: It was depressing. Everyone's industry was affected by the pandemic, and nobody expected it to happen. I had never considered that my entire career could just be halted immediately. My performances were one of the first things to hit and one of the last things to really come back. There was a moment where all of us were wondering if it even was going to come back. During that time, I shifted careers. I moved into recruiting in the finance industry for a firm in New York for about 7 months. Then I heard from my agent that the ANASTASIA tour was going to be starting up and they were interested in seeing me. I had auditioned for it before the pandemic-literally a week before! So, I went on my lunch break to Midtown to do a callback. Within a few days, I had an offer, and I thought, "Okay, I guess I'm going back to theater!" It was strange because at that point it had been two years, so I had already decided I'm done. It just felt like, even if theater did come back, it's not going to be the same. I was tired of just feeling sad about my predicament, so it was time to do something else I guess. It's strange even having this conversation with you because there was a period of time not that long ago where I thought, "I'm done with theater."

BWW: I think our readers will find that very inspiring, as I'm sure many performers felt similarly.

Sam: Yes! In fact, it was really emotionally overwhelming when we came back. When we did our first show of ANASTASIA coming back from the pandemic, it was not only our first time doing theater again in over two years, it was also the first time back for the audience. It was very emotional - and I'm just so grateful that things are back, and that I get to perform an all-time dream role of mine! THE BOOK OF MORMON was one of the first professional productions I had ever seen. My sister was living in Chicago at the time and she knew I was into theater, so she convinced me to come there and see a show. When I saw it, that was the moment I remember being like, "I can do this." When I got the offer for the role of Elder Price, I didn't know what to do with myself. I was in a daze for at least 6 hours. I just couldn't believe it.

BWW: It puts a big smile on my face just to hear you talk about it! Now you're on the road again: how are you enjoying touring life?
Sam: There's little details in touring, whether it be packing bags, how to get your laundry done, that kind of thing, and it can be kind of a pain point in touring when you first start off. But I've grown accustomed to it. I don't know if I want to tour my entire career, but I am very grateful for the work that I have and the roles I get to play. It's like any other industry: it's a job, and there are days where you love doing your job and there are days where you don't love doing your job. What it comes down to is being able to put your professional hat on, even on the days when you're tired from traveling. You still get to come into the theater and give the audience everything that you have in the tank. Even on my worst days, being out there and performing and hearing all the riotous laughter heals any misgivings I might have had about coming into the theater that day. That's one rewarding thing about theater that I haven't found doing anything else: the audience is there to show their appreciation for your work every single day.


BWW: Hard to be down about anything when you're doing what you love. You've mentioned that Elder Price has been a dream role of yours. What's something you love about this character?
Sam: Characters that I'm interested in playing are characters that aren't just always on the right side of an issue. The great thing about theater is that you get to show growth and change. In this show in particular, Elder Price goes through an immense amount of growth throughout the show. It's rewarding as an audience member to see it. He's so misguided and blinded by his own folly, and then to see him change and understand what his purpose is. Showing that growth and being able to play that every night is a blast.

BWW: What's something unique that this cast is bringing to THE BOOK OF MORMON?
Sam: Our tour director, Jennifer Werner, was interested in us finding our own way into the characters rather than doing a cookie cutter thing. It's all about how we find the truth in the characters. We bring our own perspectives and outlooks on the characters. There are little bits of storytelling that happen between the lines, non-verbal communication that happens because of who we are as people. I've been blessed with all the people I've been able to work with professionally, but I feel particularly blessed with this group of people. They bring out the best in me every single night, and everyone is pushing each other to do their best work. It feels like fireworks on stage. People really enjoy the chemistry we have as a cast, and it's a tangible thing that the audience can really clue in on.

BWW: Chemistry is what makes a show! Do you have any advice you'd like to share for other aspiring performers?

Sam: It's a very challenging industry to be in. You have to be able to deal with a lot of rejection. The truth is that 95% of the things you're auditioning for you don't get, and it can be hard to not take that personally. It's easy when you get rejected to think, "Oh, they think I suck" or "I'm bad." You have to be able to push past that and be confident enough in yourself...in what you have to offer. This industry rewards resilience for people who just keep coming into the audition room. Casting directors, at least from what I can tell, appreciate that. My advice would be: don't take things too personally. Understand that this is a job, this is work and a big part of it is auditioning, and a big part of that is rejection. I have found the most peace and success in my career thus far, the more authentic I am in the [audition] room. Less and less I am trying to give them what I think they want, and instead just being me and being secure in who I am. That's something people are attracted to. They want you to come into the room and see you be like, this is me. Be yourself!

BWW: That's great insight! Speaking of advice, if you could give your character Elder Price any advice, what would you tell him?
Sam: I think that the advice he needs to hear and learn is in the show. So I think audience members will see that happen. The advice I would give him is: don't take yourself too seriously. Not everything is life or death. There is a silver lining in everything. There's also something to learn in every circumstance, good or bad.
THE BOOK OF MORMON arrives in Schenectady in Proctors on Friday, February 3rd, 2023 and runs through Sunday, February 5th, 2023. Tickets and more information may be found at www.proctors.org